Get ready! Today, we've got a coffee maker showdown for you. It's the battle of the coffee presses:
The Aeropress vs. the French press.
While the brewing methods share many similarities, you'll learn they're also very different. (And they certainly don't resemble each other in appearance!) You won't find either brewing process in most coffee shops either.
The Aeropress is still somewhat new to the caffeine scene, a young buck in this fight.
On the other hand, the French press has years of experience on its side — not to mention tons of coffee lovers in its corner.
After reading this comparison, it wouldn't shock us if you decide to add both presses to your kitchen arsenal.
We'll use old-school board game rules here and let the youngest player go first.

---
Pros & Cons of the Aeropress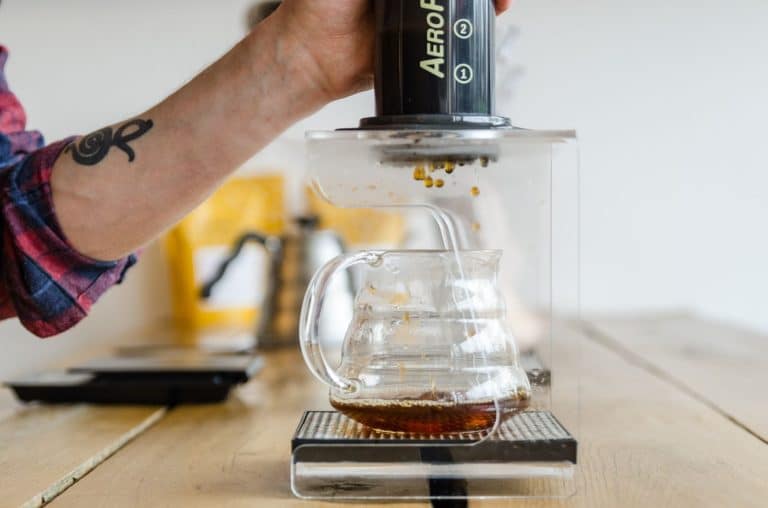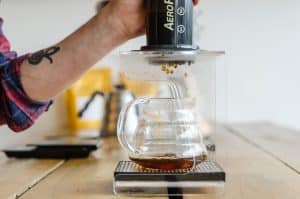 The Aeropress is made of durable polypropylene with a silicone seal. It's delightfully compact and free from BPA and phthalates.
Here's a look at some more of the good stuff about it:
What We Love About the Aeropress
Lightweight
Travel-friendly
Mimics espresso without an espresso machine
Durable
Shorter brew time
Easy to clean
Works for cold brew coffee
Less acidic than the French press
As you can see, the Aeropress has many unique benefits to it. There are a few downsides, though …
What We're Less Crazy About
It only makes a single cup at a time (~10oz per brew)
Needs paper filters (which remove coffee oils)
Trickier to use
You can ease some of these cons by purchasing a few accessories, which we'll discuss in our "Recommended Equipment" section below.
---
Pros & Cons of the French Press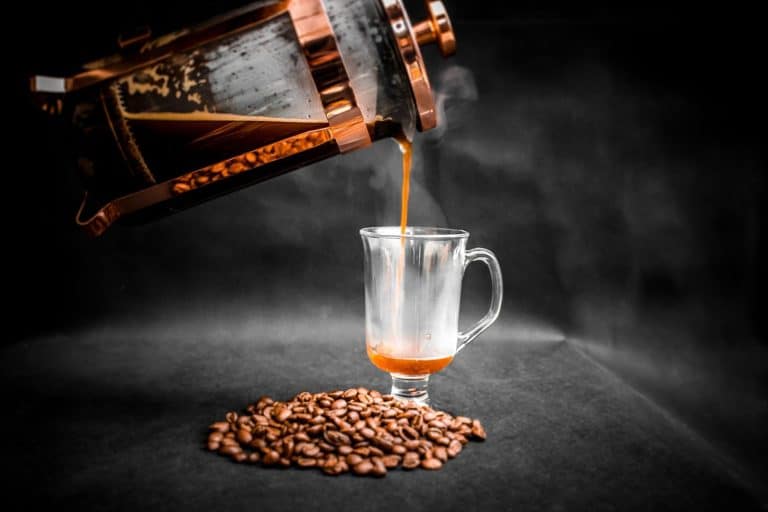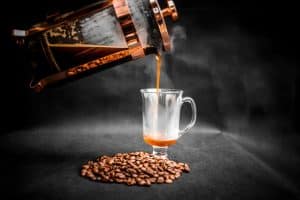 Now we'll hear from the defending champion.
French presses are often glass carafes in stainless steel frames.
That's not the only option, though. Some manufacturers offer full stainless steel carafes or even stoneware ones!
What We Love About the French Press
Makes more coffee (standard size is 32 ounces)
You can use it for cold brew coffee
No paper filter leaves coffee oils in your cup
Less acidity than drip coffee because of the coarser coffee grounds
Ease of use
Easy to clean
Can be cheaper (but not always)
Another serious pro is that French presses are available in many different materials and styles, whereas there's only one Aeropress design (for now!).
*Some of the simple glass carafe styles cost less than an Aeropress. But the dual-walled stainless steel or stoneware options are more expensive.
What We're Less Crazy About
Possibility of sediment in your cup
Glass carafes are not as travel friendly
Longer steep time
Again, some of these cons aren't as big of a deal with the right accessories, which we'll touch on later.
Have a hankering for something else? Consider a Nitro Cold Brew.

---
Aeropress Coffee vs. French Press Coffee: What's the Difference?
Of course, the most important question is:
How does the coffee taste?
Both presses rely on immersion brewing. So neither requires "bloom time," which you'd encounter with pour-over brewing methods. You will need boiling water for both unless you're making cold brew.
Because the Aeropress uses pressure to brew while the French press is more of a steeping method, the resulting flavor differs immensely.
French press coffee is bold and strong, and sans a paper filter, you get those tasty coffee oils. The mouthfeel is slightly velvety and rich.
Aeropress coffee uses a paper (or metal) filter but still allows just a fine bit of sediment through. Now, this isn't a bad thing; the sediment leads to a cup of coffee with excellent body. Aeropress also provides more clarity in flavor than the French press, with a smooth mouthfeel.
On the topic of acidity, the French press is more acidic than the Aeropress.
We also explored Moka Pot vs French Press.
---
How To Grind Coffee for Your Aeropress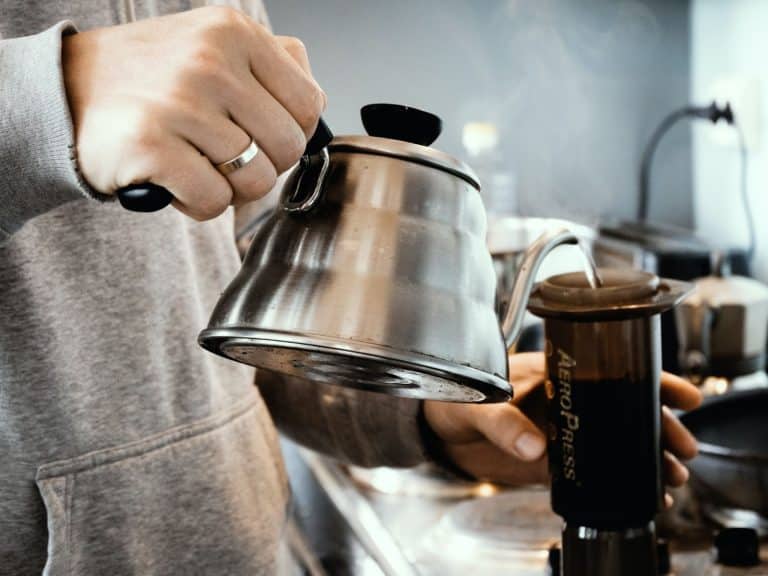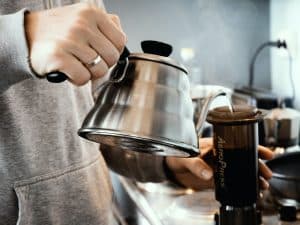 Let's talk grind sizes, now. For the Aeropress, you need a fine grind (espresso grind size works here, too!).
Great coffee starts with great beans. We always recommend buying whole bean coffee and grinding it yourself at home. That way, you have the freshest beans for the ultimate cup of bliss.
Need a grinder?
Since the Aeropress only makes one serving at a time, you can get away with a hand burr grinder here. Javapresse makes a great manual grinder; it's stainless steel, portable, and quiet.
Best Coffee Beans for the Aeropress
Because the Aeropress brewing process offers such great clarity of flavors, light roasts are a highly popular choice. Look for high-quality light roasts blends or even single-origins for a truly special cup of coffee.
Don't confuse flavorful coffee with flavored coffee. You'll see many tasting notes on bags of light roast coffee. Flavor notes vary from citrus to brown sugar, milk chocolate to jasmine.
These aren't added flavors. Rather, they're unique to the area where your coffee beans grew.
On the other hand, since Aeropress uses some pressure to brew, you can achieve an espresso-like beverage. So if you're trying to make Aeropress espresso, why not choose an espresso blend for your beans?
Discover: The Best Light Roast Coffees on the Market
---
How To Grind Coffee for the French Press
The grind size you use for the Aeropress is flat-out wrong for French press brewing! Fine grounds will sneak right through the metal mesh on your French press plunger, and worse — they won't properly extract.
For French press coffee, you'll need a coarse grind. Coarse ground leaves a greater surface area on the coffee beans, which is necessary because of the steep time.
If you don't have a grinder at home yet, we'd recommend investing in an electric burr one. A manual grinder might be too much effort for the amount of coffee you need to brew a full carafe.
Baratza makes a top-tier electric grinder, beloved by baristas everywhere. Or, check out the OXO burr grinder or the Cuisinart Automatic Burr Mill for more options that might better fit your budget.
Best Coffee Beans for French Press
Medium and dark roasts are the go-to for a good cup of French press coffee. The smoky, chocolatey flavors play well with this coffee brewer.
If you don't have (or even want) a coffee grinder at this time, check out our article on the Best Ground Coffee for French Press. It lists nine coffees ranging from inexpensive, readily-available-at-your-local-grocer brands to fancier online-only roasters.
It has all the juicy details on flavor notes, origins, and prices!
If you're all set with a grinder and ready for some whole bean action, we've got you covered there, too. Check out our review on nine of the best brands for French press coffee.
---
Recommended Equipment for Aeropress
Alan Adler, an American inventor, began designing the first Aeropress in 2004.
Almost 20 years later, you can buy one of his patented coffee makers in stores like Bed, Bath, and Beyond or from online retailers like Amazon.
A standard Aeropress goes for around $40.
The whole set-up includes:
The press itself
Funnel
Coffee scoop
Stirrer
Filter holder
350 microfilters
Grab some ground coffee, hot water, and your favorite mug, and you're ready to rock. However, this isn't the only option.
Since its invention, other manufacturers have come up with awesome accessories to make the Aeropress more versatile. That includes travel kits, cold brew attachments, reusable metal filters, and more!
You can check them out in our article here.
What Is the "Inverted Method" for Aeropress?
The inverted method is when you turn your Aeropress upside down.
Instead of placing the brewing chamber over a coffee mug, you'll set the plunger down first.
Put the brewing chamber on top of the plunger and ensure it's well-sealed. (It shouldn't leak. If it does, you may need to replace your rubber gasket.)
Next, add your coffee grounds, followed by some hot water.
Then, stir it and allow it to "bloom" for around 30 seconds (similar to how you'd make pour-over coffee).
Pour in the rest of the water and wait ~2 minutes.
Attach the cap with the paper filter to the top of the brewing chamber.
Flip it over a cup, so it's now right side up, and press down using slow, steady pressure for about 30 seconds.
Congratulations! You now know the inverted method.
On the topic of equipment, ever consider a Turkish Coffee Maker?
---
Recommended Equipment for French Press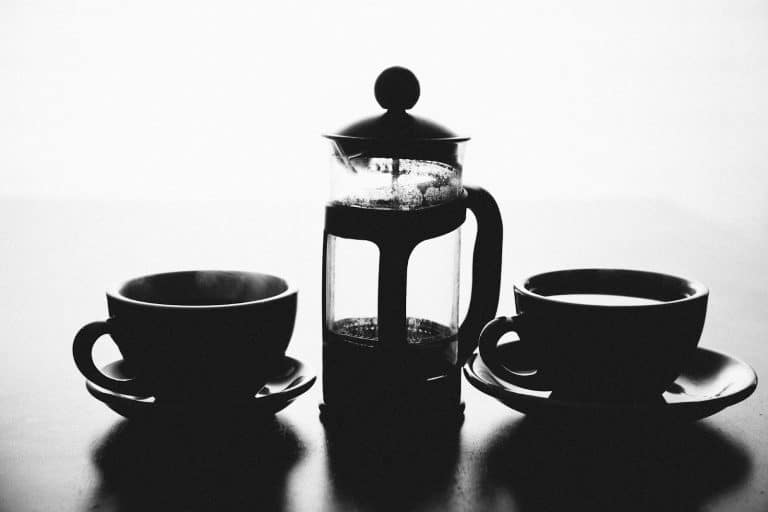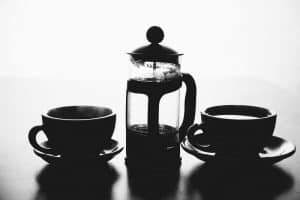 A standard French press, like the ones made by Bodum or OXO, can be comparable in price to the Aeropress.
This classic Chambord French press is only $30 for the 12-ounce size (but that's only one cup of coffee for most of us!). The OXO isn't as aesthetic, but for $40, you get a 32-ounce capacity.
Both of these budget-friendly options include:
Borosilicate glass carafes
Stainless steel exteriors
Plungers
Fine-mesh filters
Soft plastic handles
Because of their stainless steel mesh filters, you don't necessarily need paper filters with a French press. However, they are available if you want to cut down on cleaning time.
Our article detailing how to make French press coffee offers an even more in-depth look at the top brands.

---
How To Clean Your Brewing Devices
We've claimed that both these brewers are easy to clean, so let's dive further into that:
How To Clean an Aeropress
There's one real beauty of the Aeropress when it comes to cleaning. The pressure forces all the grounds into a dry puck at the base of the brewing chamber.
Pop the filter cap off, peel off the paper or mesh filter, and dump the coffee grounds directly in the trash (or the compost bin!).
If you're using the microfilters that came with your Aeropress purchase, they are both recyclable and compostable.
Give the brewing chamber, plunger, scoop, paddle, filter cap, funnel, and reusable mesh filter (if you have one) a quick rinse and let them air dry.
The pieces can store within themselves in a cupboard.
How To Clean a French Press
The French press is somewhat more involved with cleaning but still super straightforward.
Most of us don't use filters for French press coffee, so you'll need to clean out the grounds from the bottom.
Use a strainer to catch the grounds (don't put them down your sink drain) and deposit them in the trash, the compost, or directly into your garden!
Wash the carafe with warm water and let it air dry. Then, rinse the stainless steel filter and let it dry.
Some French presses are dishwasher safe (top rack), but hand wash is always the better option. You can use a little mild soap on the glass carafe if it really needs it but do so gently.

---
Conclusion
Which brewing device will you choose to enhance your home barista experience?
These two manual brewing options are ideal for smaller living spaces since they don't take up counter space like automatic coffee makers.
Yet, even coffee drinkers in large kitchens with plenty of space will enjoy having alternate coffee brewing methods on hand.
The more caffeine, the merrier, right?