There are a lot of perks to immersion brewing methods, especially when it comes to the Aeropress. It's a coffee maker that performs just as well at a campsite as in your cozy kitchen.
While an Aeropress does limit the number of cups of coffee you can make at a time, the resulting strong brew is infinitely satisfying.
Did you know you can even get accessories for the Aeropress to make cold brew? Or pour two cups at a time?
Whether you're already enjoying this espresso-style coffee on the regular, or you're in the market for some gift ideas, these are the best Aeropress accessories.

---
What Comes With Your Aeropress Coffee Maker Purchase?
If you have yet to become the proud owner of an Aeropress coffee maker, here's what's included when you buy one:
Press
Funnel
Scoop
Stirrer
Microfilters in a filter holder
Filter cap
All pieces are Phthalate and BPA-free, and the microfilters mean none of that pesky sediment in the bottom of your coffee mug!
All you need to start brewing strong, delicious coffee is coffee beans, plus a way to boil water.
Electric kettles like this one are great for pour-over, French press, or Aeropress setups. Electric kettles give you more control over temperature (you want the hot water just under boiling for your brew), and gooseneck spout designs allow you precision in pouring.
Swap Paper Filters For a Reusable Stainless Steel Filter
The first accessory that may interest you is a reusable Aeropress filter!
While the paper filters work great, they are a form of waste, and traveling with them is a bit more challenging than packing just one reusable metal filter.
You can, of course, wait until you use all 350 paper coffee filters that come with your Aeropress first! (Or order a few days before you run out for a seamless transition.)
Here's a great stainless steel mesh filter option with a lifetime warranty for under $11.
Get a Quality Hand Grinder
You can probably skip this one if you already have an electric coffee grinder on your countertop. If you don't own a grinder, though — you need one!
Specifically, you need a burr grinder, and while we wouldn't recommend a hand grinder for drip coffee machines, they grind the perfect amount for brewing processes like Aeropress or pour-over.
Grinding freshly-roasted coffee beans right before brewing will significantly improve the flavor of your coffee.
There are tons of hand grinders to choose from, but the one we're super digging on these days is the Porlex Mini. Simple stainless steel design, ceramic conical burrs, travel- and user-friendly.
Different settings allow you to grind from coarse (for French press) to fine powder (for Turkish coffee). For Aeropress, you'll want a fine grind much like what you'd use for an espresso machine.
Need Replacement Parts?
There may be a time when you must replace the rubber gasket in your Aeropress plunger. If you're brewing coffee and notice too much air is escaping when you press down, that's when you'll know it's time to consider a new piece.
Filter caps are small and easy to misplace, while replacement ones are thankfully inexpensive! You can get a plunger rubber gasket or a replacement filter cap for $7 each.
If you love the paper filters and don't opt for a reusable filter, you'll need to order more filters at some point. Replacement filters* come in packs of 350, or you can grab a two-pack for under $15 on Amazon.
*Some Aeropress users swear by Aesir filters. These filters boast consistent thickness and smaller pore sizes to further cut down on sediment. You can try a pack of 100 for only $8.
See also: The 7 Best Coffees for French Press Brewing

---
1. Kitchen Organization Accessories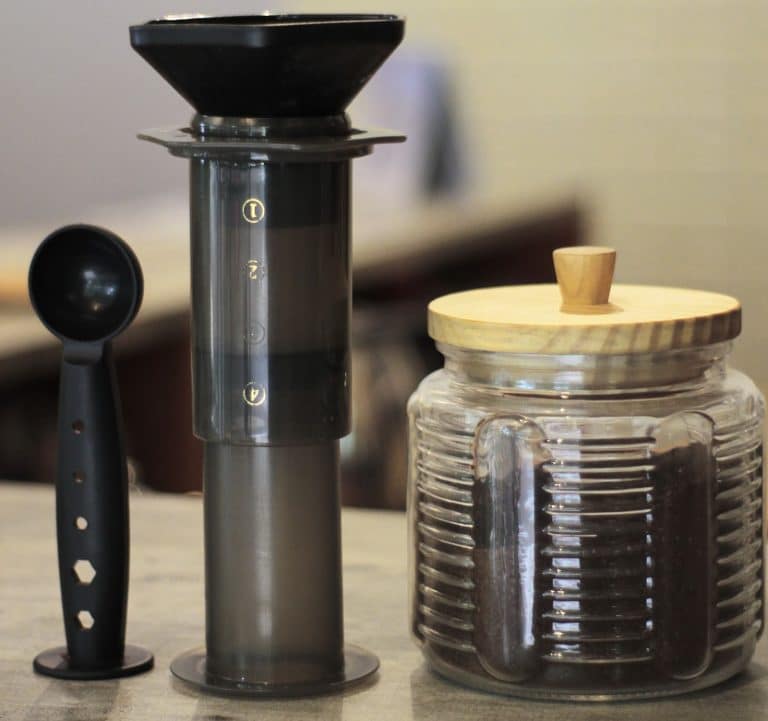 Now for some more exciting accessories. We don't know about you, but we get pretty hyped over kitchen organization!
Here are a couple of unique Aeropress organizers to fit different decor schemes:
Proper By Design Coffee Stand
If you have a little counter space available to display your Aeropress, this minimalist design is a perfect choice.
Instantly organize your Aeropress pieces with this water-resistant cork pad plus steel frame — no assembly required! As far as coffee caddy's go, this one is aesthetically pleasing and would make an excellent gift for a coffee lover.
It's only around $42 on Amazon and comes in three color options: stainless steel, matte black, or bright white.
Polished Bamboo Wall Mount Organizer
Low on counter space?
No problem! Make use of your kitchen's vertical wall space with this high-quality bamboo wall mount.
The handcrafted bamboo design is eco-friendly and non-toxic. It has cut-outs to perfectly hold your plunger and coffee press, slots to hold the stirrer and scoop, and carved spaces on the top shelf for your filter holder and funnel.
The best part?
It's under $20 on Amazon!
You can even pair it with another space-saver — a polished bamboo coffee mug rack!
Gofamo Aerotray
This compact and understated organizer will do the job for those not mad about bamboo!
It condenses all your Aeropress accessories into one accessible location, making clean-up a breeze. The tray itself is durable, and you can clean it as needed with soap and water.
You can even store it out of your way in a cabinet or on a shelf if you like. The dimensions are only 7.25" by 4.5", and it has easy-grab handles.
Snag yourself the organizer tray from Amazon for around $20.
Hexnub Organizer Caddy Station
Here's another bamboo offering for your kitchen organization. We like the Hexnub cause it's like a shadow box for your Aeropress.
You can tuck your Aeropress into the storage compartment immediately after washing and let it dry. It comes with two heat-resistant silicone mats to catch any spills.
The plunger and press hang inside while the scoop, stirrer, and paper filters have their spots outside. Rest the funnel on top, and you're all organized, as simple as that!
The Hexnub is the largest kitchen organizer while still relatively compact and reasonably priced at around $30.
Altura Under Cabinet Rack
Stop wasting cabinet space with this nifty under-cabinet rack.
Available in black or white, you can mount this rack either inside a cabinet or underneath. We rather like that it can go inside, though, hanging your Aeropress directly over your coffee mugs!
You can store two full Aeropresses on this rack if necessary or hang the funnel, chamber, and plunger of one on their own.
It's quite a steal at only $20 on Amazon!
Related: Top 13 Coffee Pod Holders

---
2. Take it To-Go
The Aeropress is lightweight, making it your best travel buddy. These accessories can enhance your transport experience as well!
Aeropress With Tote Bag
If you haven't bought an Aeropress yet, consider going for this option. It's the original setup, plus a zippered nylon tote bag!
Great for campers, boaters, or any wanderlust travelers!
Grab this option and get on the road for under $45.
Aeropress Go
The Aeropress Go is the classic Aeropress coffee maker, but with a few slight tweaks.
First off, it comes with a mug and lid that double as a traveling case. Other changes include a scoop with a shorter handle, a folding stirrer, and a compact to hold paper filters. (You still get 350 microfilters with your purchase, but only 20 at a time fit in the travel filter holder.)
No need to pack an extra mug and this setup fits easily into a backpack! Get your Aeropress Go for under $40 on Amazon.
Able Travel Cap
If you already have an Aeropress, just buy this travel cap for it!
Made in the USA out of food-safe elastomer, you can store ground coffee in the hollow space of your Aeropress (and some filter papers), pop this cap on, and you're ready to roll.
The Able disk also provides some padding on top of the plunger for when you're brewing your coffee. It's a great accessory for those who like to stay caffeinated no matter where they are, and it's less than $15.
JavaJug2 w/ JavaJacket
Now things are getting serious!
Press your coffee directly into the JavaJug and dilute with hot water if you want to turn your espresso-like beverage into an Americano.
Since you can serve from it, the JavaJacket will keep it warm if you need to take it to a meeting.
And when it's empty?
It conveniently stores the entire Aeropress inside! The JavaJacket comes in many colors like blue, black, lime green, grey, red, and even camouflage.
Check out the color options and see the price here.
Similar: The 9 Best Coffee Dispensers Available Today

---
3. Make Cold Brew!
Sometimes the order of the day is cold brew coffee.
Did you know your Aeropress can make cold brew? The truth is, you can make cold brew with your Aeropress with or without this accessory.
But here's why you'll like it:
The PuckPuck attachment ensures you're getting a slow drip of water over your coffee grounds, bringing out that smooth, sweet flavor that cold brew is known for.
A twist valve allows you some control over the end product as well. You can adjust it until you find the perfect cold brew setting for your tastes.
If you want to travel with it, just remember to pack some mineral water bottles for optimal flavor!
Get this BPA-free cold brew attachment for under $45 on Amazon.

---
4. Brew Espresso
Want your Aeropress coffee to taste even closer to espresso?
Then the Fellow Prismo attachment is what you're after! This cool gadget is a pressure-actuated valve, and it comes with a reusable metal filter.
Some of the most exquisite things result from times of extra pressure. Well, at least espresso and diamonds do!
Though we'll warn you, this attachment does call for a little extra oomph from your arm muscles — all worth it once you end up with a full-bodied crema-laden shot!
Ditch the inverted method and turn your press into an espresso maker for only $30!

---
5. Pour Coffee for Two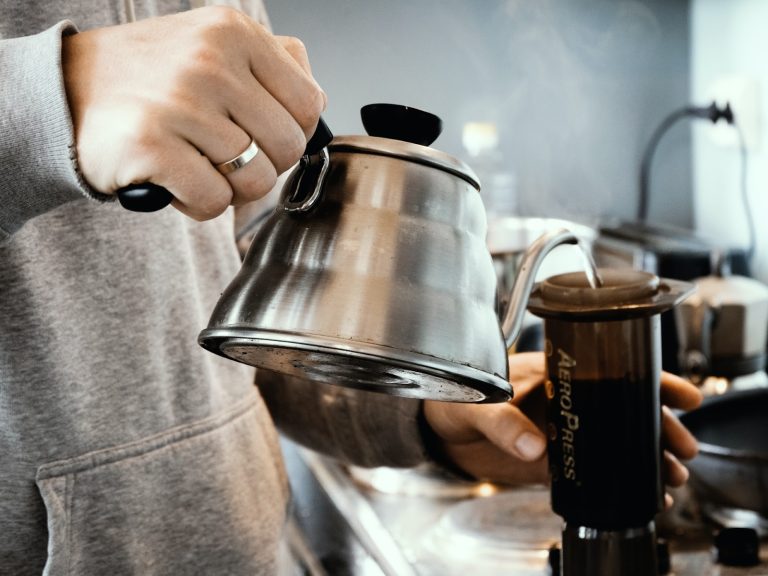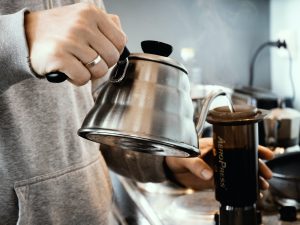 If you regularly use an Aeropress, you know it isn't the route to go for huge mugs of coffee. It only holds about eight ounces of hot water at a time. However, if your morning routine involves americanos for two, the 2Pour is a game-changer.
It doesn't affect how much water you can add to your Aeropress; it simply splits the pour evenly between two spouts as you plunge. (It's also compatible with most pour-over setups.)
Note that it was designed with European coffee cups in mind. Choose your shortest mugs as the maximum height under each spout is 3.85".
Your caffeine companion will love it, plus it's under $20.
Love the light and fruity taste of Kona brew? Then you need to discover The 7+ Best Kona Coffees [and Where to Find Them].

---
Conclusion
With an Aeropress, you're already getting a good cup of coffee, but why not pick up a new gadget (or two) and start making the best coffee possible?
Take the plunge!
The only downside is: that your local baristas may miss you!