With the rise of home coffee brewers that use coffee pods comes a unique new storage "problem." Essentially, you need a coffee pod holder solution.
That is to say:
How does one store coffee pods?
You certainly don't want to clutter the kitchen counter with those big boxes the coffee pods come in.
The solution you need is a coffee pod holder.
If you have the space available, you can do a coffee pod storage drawer. Or, if you already have an aesthetic coffee station set-up, add in a coffee pod carousel!
No matter the space you're working with, we've got plenty of storage solution(s) to share with you.
---
Best Small Capacity (30 or Less) Coffee Pod Holders
If you're only looking to store a couple of dozen pods at a time, this section will help!
Aayla Wall Coffee Cup Coffee Pod Holder
First off, what we appreciate about this Aayla metal coffee pod holder is that it's non-exclusive.
K-cups? Nespresso? Senseo pads?
You can store any brand of the coffee pod in this caddy since it's essentially just a basket!
Secondly, we love that it's a wall-mounted coffee pod holder. Talk about space-saving! We don't know about you, but we're very selective of what gets prime countertop real estate.
Third, it's good-looking—a textured brown finish with the "coffee" script in gold.
It's not just great for home kitchen decor. It would be an excellent organizer addition to small office space as well. You could even use it to store creamers, sugar packets, or other condiments.
Order yours off Amazon for just over $20. Or pay a few bucks if you prefer the standing version (not a wall mount).
Coffee Capsule Tray
This boutique option is for the Nespresso capsule users or Nescafe Dolce Gusto pods. The Nespresso model holds up to 35 capsules, and the Dolce Gusto will store up to 20.
This gorgeous handmade tray comprises 100% American walnut wood. It neatly stores your Vertuo or Originalline capsules out of sight but within easy reach for your morning espresso. You can conveniently place your coffee maker right on top of it.
It would also make a perfect Christmas gift for the coffee lover in your life.
Available on Etsy, this tray ships from Hong Kong, but the seller offers free worldwide shipping!
Since it is custom-made and handcrafted, it is more on the expensive side of coffee storage. Its current price is $287.78. It's low in stock and selling fast, so grab yours quickly!
Iperespresso Capsule Dispenser
Are you an Iperespresso machine user?
Then this one's for you!
Ily offers a capsule dispenser specifically for their pods, so you don't have to keep piles of boxes around. The dispenser holds up to 30 illy iperEspresso capsules at a time.
Enjoy the simple aesthetic of matching your storage solution to your coffee maker. It comes with a set of handy stickers so you can customize which capsule you're storing inside (helpful for office use).
Need more than one?
The good news ー they're stackable! Plus, you qualify for free shipping on orders over $50.
Each capsule dispenser is just under $30, and you can order them directly off the Ily website.
Sidekick Pod Holder Side Mount
It doesn't get more convenient than a pod holder attached to your actual brewer.
These Sidekick by Covena side mounts are super easy to install. They come with 3M adhesive strips and stick right to the sides of your Keurig. They come in packs of two, each holding five k-cups. You can add up to four on your coffee maker (meaning you can store up to 20 pods at a time!).
They'll fit on even the smaller Keurig brewers like the K-Mini Plus or the K-Express. However, you don't have to attach them to a coffee machine since they can go on the side of a cabinet or your refrigerator.
These space-saving mounts are also incredibly affordable. Try a two-pack to see how you like them, just under $10 on Amazon.
Keurig K-Cup Pod & Ground Coffee Storage Unit
For coffee lovers who have the My K-cup and like to use actual coffee grounds in addition to pods, this dual storage unit is a perfect solution. It's recommended especially for those who have the Keurig K-Duo brewers.
The sleek design will fit seamlessly next to your coffee machine. The drawer stores up to 12 coffee pods out of sight.
The top has two airtight glass canisters, one capable of holding 12-ounces of coffee grounds, the other 16-ounces. You can use one for grounds and one to hold extra K-cups.
While the canisters can go through the dishwasher, stick to handwashing for the lids and the drawer.
Bring home your coffee station for under $30 and enjoy the comfort of supreme kitchen organization.
K-Cup Coffee Pod Storage Spinning Carousel Holder
A fun way to display and store your K-cups is with a carousel-style holder.
With a 360-degree revolving base, you can easily see all your current K-cup varieties. It'll look so charming as part of your coffee station set-up, and it holds up to 20 coffee pods at a time.
This black one is made from durable, high-quality metal with a powder-coated finish. It's anti-rust and easy to keep clean. Just wipe it with a damp rag from time to time!
You can snag one off Amazon for under $20. Pair it with coffee pods and give one as a holiday gift to another coffee lover!
Interested in New Coffee Flavors? Try Chocolate Coffee!
---
Best Large Capacity (over 30) Coffee Pod Organizers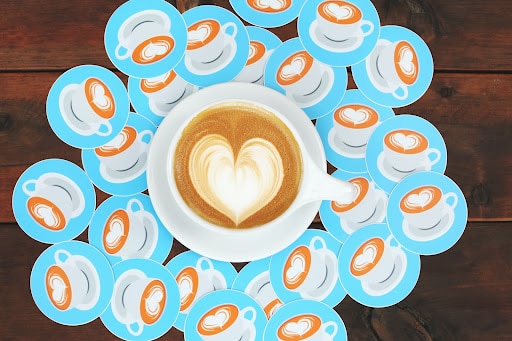 If you liked those options, but you're looking to store more coffee pods at one time — check these out!
Premium Steel Coffee Cup Pod Holder
This coffee pod holder is suitable for all coffee pods. It's a bit reminiscent of the product that kicked off this list.
Remember the wall hanging basket from earlier?
This pod holder is a more sizable, matte bronze, freestanding version of that! The storage basket is in the shape of a coffee mug and even says "coffee" on it. Use it for K-cups, Nespresso pods, or any other popular coffee capsules.
For K-cups, it should hold up to 35. For the smaller pods (like Vertuo capsules), you can store up to 50.
It's waterproof and rust-resistant, easy to fill, and would look so good on a coffee bar (or anywhere in your kitchen!). The bottom is smooth and flat so as not to damage your countertops. If you need to move it around, the handle is sturdy and offers an excellent grip.
Get one basket for yourself or buy one as a housewarming gift off Amazon for under $25.
Matte bronze, not your color?
This coffee pod holder is also available in black or white.
Nifty Coffee Pod Storage Drawer
Specifically for K-Cup organizers, we've got a couple of different designs for your pod storage.
The first is from the aptly named Nifty Solutions. This drawer organizer slides underneath your Keurig coffee maker, making it a true space saver.
You can choose between rolling or stationary styles. For rolling, don't worry; it locks into place, so your coffee machine doesn't go sliding across the counter!
This one holds 36 coffee pods, but they offer 24 and 42 pod capacity models as well.
It's durable, easy to clean, and won't even set you back $22 (before shipping anyhow, but that's why Amazon Prime is so great!).
Simesove Bamboo Coffee Storage Rack
Decorating with bamboo always makes for a clean, minimalist aesthetic.
This smooth, polished bamboo K-cup holder is undeniably a stylish piece of kitchen organization. Plus, bamboo is sustainable, making this an environmentally-friendly choice!
It comes in two pieces. Simply slide the display board into the mounting bracket, and you're ready to stock it with 35 coffee pods. It's quite sturdy and easy to clean (win-win!).
You can organize your coffee pods in the bamboo board by brand, taste, or even color. It will look attractive no matter which way you arrange them!
And your wallet will love it as well, seeing as you can order one now for just shy of $17.
Mind Reader Anchor Coffee Pod Drawer
This coffee pod drawer knows what you want. That's why they called it the Mind Reader (we're guessing).
Like the Nifty coffee pod storage drawer earlier, this organizer can nest directly under your coffee machine. It will look so at home there that no one will even realize it's storage until you pull open the silver-handled drawers.
But unlike the Nifty, this isn't one single drawer, but rather three separate drawers. Each drawer holds 12 coffee pods, and you can organize them from light to dark roast or whatever your preferences are!
When it needs cleaning, just wipe the surface and drawers with a damp cloth or paper towel.
Order yours for around $20 on Amazon.
Nifty Solutions 35 Coffee Pod Carousel
Another carousel, but make it bigger!
The last of our Keurig K-cup holder options, the Nifty Solutions pod carousel can hold up to 35 coffee capsules at once. The base spins like a lazy susan, offering you easy access to all your coffee pod roasts and flavors.
It's durable, doesn't take up too much counter space, and is as easy to clean as the smaller carousel.
Available in black, white, or chrome, get your K-cup carousel for under $21.
Williams Sonoma Coffee Capsule Holder
Now, let's discover some of the best Nespresso coffee pod organizers, like this mighty one from big-name Williams Sonoma.
Much like the K-cup carousels, this square tower spins, allowing you easy access to 56 capsules at a time (this is for serious coffee drinkers). Plus, you can store an additional four boxes of Nespresso capsules in the middle.
Sturdy stainless steel with matte black coating, this carousel has finger tabs for an easy grip.
It is a little more expensive but super reasonable for the capacity it holds. Order yours from the Williams Sonoma website for just under $40 (before shipping).
DecoBros Glass Nespresso Vertuoline Storage Drawer Holder
And, last but not least, our capsule storage pick for users of the Nespresso VertuoLine!
This Nespresso capsule holder is arguably the most stunning storage solution on our whole list. Crystal tempered glass forms the structure, and your Vertuoline Nespresso coffee machine sits directly atop it.
The drawer holds up to 40 small pods or 20 of the larger Nespresso capsules.
Since it is glass, you'll be able to see the Nespresso pods inside of it, so keep it fully stocked for best appearances!
This Nespresso pod holder is available for purchase on Amazon for just over $30.
Interested in Different Coffee Dispensing Methods? Check out our Guide.
---
Bonus Pick: Best for Office Organization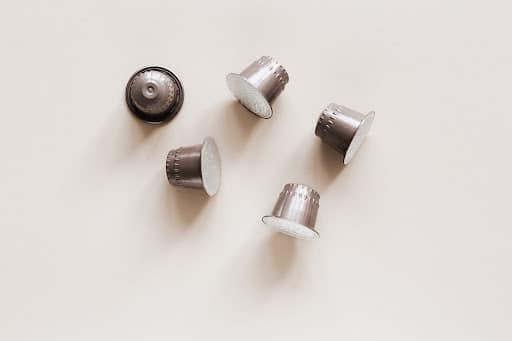 Best Small Capacity (30 or Less) Coffee Pod Holders
But, wait, there's more!
If you're looking for something for the office, this coffee station organizer is just the thing.
The Coffee Station Organizer has ten storage compartments so that you can use the top bins for K-cups, Nespresso capsules, or other coffee pods. The bottom bins are perfect for sugar packets, creamers, or other coffee condiments!
Made from black ABS plastic and transparent acrylic, you'll need a good amount of counter space for this professional storage option.
Order one for the office for around $83 (bulk discounts available).
---
Conclusion
Say goodbye to coffee pod clutter and hello to seamless kitchen organization with these stylish and functional coffee pod holders.
No matter your storage capacity needs or your choice of coffee pods, there's a smart solution out there for you.
We'll drink (coffee) to that!