When it comes to coffee, the phrase "the more, the merrier" perfectly sums up our feelings on the subject.
If you need a lot of coffee (or tea, or cocoa, or any hot beverage, really!), you also need a way to keep it hot (or cold!).
Hosting a big party? Need to transport a large number of hot beverages to an event?
Then guess what you need?
A coffee urn. An airpot. A thermal beverage dispenser with pump action.
If you frequent coffee shops — you know the type! Tall, vacuum-insulated, stainless steel, stunning …
Without further ado, here's a collection of the best coffee dispensers available today. We'll hit you with their key features and tell you where you can buy them. The solution to your caffeine dilemma is only a click away!


---
Reviews of Classic Coffee Pots & Beverage Dispensers
From two liters to over three liters, these coffee dispensers will have you serving up hot (or cold!) beverages all through your morning and afternoon meetings.
1. Cresimo 68-Ounce Stainless Steel Thermal Coffee Carafe
This Cresimo is probably precisely what you think of when you hear "coffee thermos." (Well, unless you picture a personal-sized travel mug first.)
68 ounces sounds like a lot, but consider this:
The average automatic drip coffee maker brews a 12-cup carafe or 60-ounces of coffee. So, 68 ounces will hold the equivalent of 8.5 cups of coffee.
Now, are you wondering why you would ever need a stainless steel coffee thermos when your coffee maker has a hot plate?
I think we all have experienced the flavor change that happens when your pot of fresh brew sits on a hot plate too long. Yuck.
If you transfer your precious java to a thermal coffee carafe — problem solved! The double-walled insulation of this Cresimo model will keep your hot beverages hot for up to 12 hours.
And you don't have to only use it for coffee! It can also hold tea, hot water, hot chocolate, etc.
You can even use it in the summer for cold drinks like:
Iced tea
Lemonade
Iced coffee
Cold-brew
Ice water
And any other cold beverages you can think of!
Pricing is super reasonable; pick one up for between $25-$30 depending on the seller.
Key Features:
Condensation-free exterior
Keeps hot for 12 hours
Keeps cold for 24 hours
Easy one-handed pouring
Worry-free one-year warranty
Ready to order one for your home or office? Grab this one off Amazon now.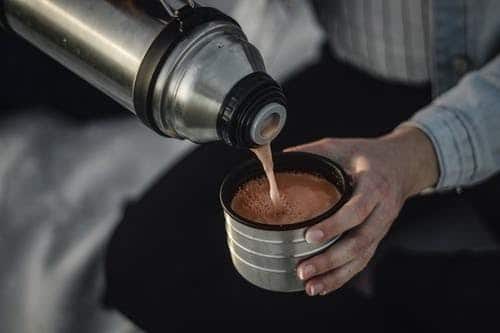 2. Proctor Silex 3 Liter Airpot Hot Coffee Beverage Dispenser
Proctor Silex offers both a 2.5-liter and a 3-liter size airpot. The larger 3-liter is less than $5 more, so there's no reason not to upgrade!
Three liters of stainless steel means at least 20 ounces of hot coffee at your convenient disposal (for up to 12 hours!). Or a full day of iced tea if you're in the heat of summer.
Our favorite feature of this particular pot?
A lockable dispenser. Meaning you can fill the hot beverage dispenser and transport it without worrying about any spills.
The large opening is a close second favorite, though. It makes this carafe easy to fill and easy to clean.
We have a third favorite feature, too. A convenient swivel base that makes serving an absolute breeze.
Key Features:
Easy to clean
Spill-proof
Keeps drinks hot for 12 hours
Keeps beverages cold for 24 hours
Brew-through lid
Buy two airpots, and then you can use one for decaf and one for full-strength brew!
3. Vondior Airpot Coffee Dispenser with Pump
For less than $40, you can keep 102 ounces of beverage hot for up to 20 hours.
That's 15 cups of coffee.
It's perfect for house parties. At such an affordable price, you can buy several to provide options for your guests.
Imagine wintertime parties. One for coffee, one for hot water for tea, and one for hot chocolate for younger guests. Toasty! (Or one for decaf or mulled wine if it's an adults-only party.)
Or summertime backyard shindigs. The Vondior will keep drinks cold for up to 36 hours — whoa! Use one for iced tea, one for cold brew, and one for icy cold water! Refreshing.
You could even take this coffee urn camping with you if you have room to pack it!
And as a final perk, Vondior throws in a free cleaning brush with your purchase! This brush makes cleaning your airpot a cinch.
Key Features:
Keep drinks hot for 20 hours
Dispenses quickly and easily
Wide-mouth top
Free cleaning brush included
100% money-back guarantee
Enjoy amazing coffee anytime and be the perfect host by ordering the Vondior airpot off Amazon now.
4. Air Bunn 3.8-Liter Lever-Action Airpot
This commercial-grade airpot will hold over three liters, 3.8 liters, to be precise.
The Air Bunn will run you a little more money than our previous three choices. Yet, it's still very affordable for its size and performance.
Order through Amazon, and it's only about $50.
It's easy to transport between home, office, outdoor events, or anywhere else you need to bring a larger volume of beverages.
The heat retention interior keeps your coffee hot while the exterior remains cool to the touch.
If you have access to a large enough coffee brewer, make use of the brew-through lid. If you are using a regular-sized coffee maker, consider filling your thermal beverage dispenser with hot water to pre-warm it before adding your fresh brew.
Key Features:
Brew-through lid
Easy to transport
Built to North American Electrical Standards
Stainless steel lining & finish
Keeps coffee warm 4-6 hours
Buy the one-gallon Air Bunn hot beverage dispenser now.
5. Zojirushi Stainless Steel Vacuum Air Pot Beverage Dispenser
The Zojirushi is the most expensive option on our first set of reviews (the classics!). Like the Air Bunn it holds 3.8 liters of hot (or cold) beverages.
Unlike the Air Bunn, you'll get a longer window of time for your drinks to stay hot or cold.
If you work in an environment that blazes through a lot of coffee (or other hot drinks), you'll appreciate the 1-gallon capacity. Constructed of stainless steel, this is one sturdy thermos!
The push-button spout is easy on the wrist, too. It's much appreciated by those of us who spend a lot of hours on keyboards and may suffer from carpal tunnel syndrome.
A single air pot beverage dispenser from Zojirushi will run you around $125. If you don't need a full gallon capacity, you can save some money by downsizing to their 3-liter option.
That one is under $80.
Key Features:
Keeps coffee hot 6-8 hours
Lever-style pump
One-gallon capacity
Sturdy stainless steel
Patented Brew-Thru stem stopper
Check out more reviews of the Zojirushi Air Pot on Amazon.

---
Larger Options: Coffee Urns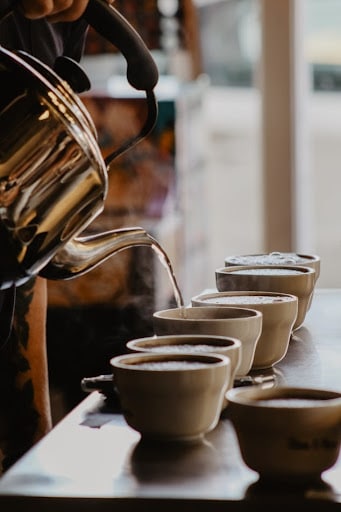 If you shook your head at us calling three liters of coffee a lot. This section is for you! These options will have you serving up hot beverages to bigger crowds.
6. HomeCraft Quick-Brewing Automatic Coffee Urn
Fifteen cups of coffee? Weak.
How about 30 cups of coffee? Better.
Plus, this coffee urn will do the brewing for you! The HomeCraft Quick-Brewing urn makes about one cup a minute.
Bring it to large events full of coffee, tea, apple cider, hot chocolate, or just hot water.
You never need to buy paper filters because it's equipped with a reusable filter. Easily keep the filter clean by popping it in the dishwasher.
And, if you're thinking this one will set you back a pretty penny, you're in for a surprise! This large-capacity coffee urn is under $40!
Key Features:
Keep warm function
Two-way dripless faucet
Reusable coffee filter
Cool-touch handles
Quick brewing time
Read what users have to say about this urn on Amazon.
7. Hamilton Beach 45-Cup Coffee Urn
Thirty cups still not enough for your needs?
We've got you.
Well, Hamilton Beach has got you.
This coffee urn can hold up to 45 cups of hot beverages at a time. The large handles make it easy to carry wherever you need to go with a twist-lock lid to prevent spills.
The inside of the urn has water level markings making it easy to fill. You don't have to make the full 45 cups every time. You can do as little as 15 cups, making this very versatile.
You can press a cup against the lever to easily do a one-handed fill. Or, flip the lever down for continuous pouring. Especially nice if you're filling a larger vessel from the urn. (Like a to-go coffee thermos!)
The coffee level window makes monitoring your hot beverages easy; you'll always know when it's time to brew more! A ready-to-serve light indicates when the drinks are hot and ready.
The brushed metal interior is easy to clean, and the urn comes with dishwasher-safe parts.
For pricing, you can snag one of these awesomely large beverage dispensers for between $65 and $70.
Key Features:
2-Way dispensing
Easy to fill & clean
Large handles for easy carrying
Coffee level window
Twist-lock lid
Check out more reviews on this ultra-large urn on Amazon.
For more, check out our in-depth guide on coffee urns here!
---
Coffee Dispenser With Built-In Brewers
Unlike the percolators above, this coffee dispenser is more what you'd find on a home kitchen countertop. This charming little brew station is the perfect machine for your home caffeine corner.
8. Hamilton Beach Coffee Maker with 12 Cup Capacity
This is another great option from Hamilton Beach. This one is unique from the others because it's more machine, less thermos.
That's right; there's no carafe.
It will brew up to 12 cups that you can then dispense easily one cup at a time. Since it's more like an automatic coffee maker, it offers programmable controls and multiple brewing options.
Remove the water tank for easy filling. Programmable timers mean you can prep everything in advance and have hot beverages ready for your guests when they arrive.
It's great for people who work from home and like to enjoy several cups of coffee over the course of the day. No carafe or hot plate means no bitter, overcooked coffee taste.
It won't keep your coffee hot as long as the thermoses above.
It taps out around four hours.
But as far as pricing goes, it's only $50. Which, when you consider all the features, is quite a steal!
Key Features:
Removable water reservoir
Brews hot or iced coffee
Adjustable auto-off feature
No carafe or hot plate
Keeps hot for 4 hours
See what else customers love about their internal storage coffee pots here.

---
Bonus: Ground Coffee Dispenser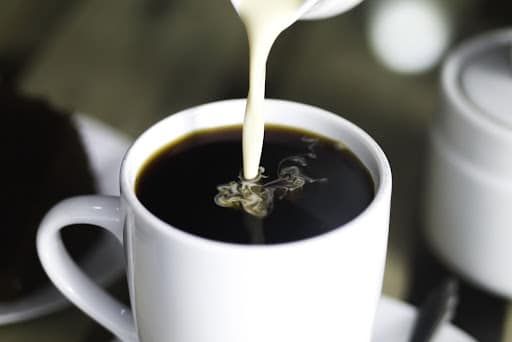 Don't leave your coffee grounds out of all the fun! Keep fresh ground coffee neat and organized in its very own dispenser.
9. Zevro Indispensable 1/2-Pound-Capacity Coffee Dispenser
Bring home this awesome accessory for your home coffee station for under $20!
The Zevro indispensable coffee dispenser holds up to ½-pound of fresh coffee grounds.
Simply squeeze the handle to dispense one tablespoon of coffee at a time. You can hold the dispenser over your automatic drip machine's filter and measure directly into the basket.
No coffee scoop required.
The airtight design ensures your grounds stay fresh, fresh, fresh. You can use it for pre-ground coffee or coffee you grind yourself.
And hey, if you like it, consider buying one for sugar dispensing as well!
---
Conclusion
From grounds to brew to your best coffee cup, this list has it all! Brew your favorite blends and keep them at the perfect temperature all day with the awesome coffee dispensers on this list.
You'll be the life of every party when you arrive with a hot beverage dispenser in hand. Not to mention everyone's hero if you're buying one of these double-wall drink dispensers for the office!
You'll give them something to spout about!