No matter which camp you pitch your caffeine tent in, there are a few universal truths all coffee lovers seem to agree on:
1. When it comes to coffee beans, freshness matters
2. Good coffee can turn a bad day around and turn an okay day into a great one
If your brewing method of choice is the mighty French press (high five), this list of high-quality coffee brands is precisely what you're after.
Fairtrade, fruity, organic coffee … whatever type of coffee you're on the hunt for — you'll find it here!
Ahead, we'll share our top nine picks for the best french press coffees. We'll also divulge tips on how to grind your own beans and how to brew the best french press cup of joe ever!
Next time you're pushing that plunger down in anticipation of the best cup of coffee ever, make it one of these top picks.

---
The Nine Best Coffees for French Press
Here are Caffeine Craze's top picks for the best coffee brands to bless your morning mug with.
1. Huck Ethiopia Aroma
Buckle up; this single-origin medium roast from Huckleberry Roasters will blow you away.
This Ethiopian Heirloom varietal is a delightfully floral and bright, washed process coffee. With tasting notes of tangerine, yellow peaches, and sweet tea, it's a unique experience you don't want to miss out on.
You also have a couple of options for ordering it.
The first is, of course, ordering directly through the Denver-located roaster Huck. You can get a 12-ounce bag or order in bulk (two or five pounds). Pricing starts at $20 for the 12-ounce bag of whole bean coffee.
The other option is if you have a Trade Coffee Box subscription. Huck is one of the roasters Trade Coffee partners with!
2. Stumptown Costa Rica Montes de Oro
Stumptown Coffee Roasters has a perfect track record of not letting us down. You can take a quiz on their site to get a personalized coffee match, or take our recommendation:
You've got to try their single-origin Costa Rica Montes de Oro.
The flavor profile sells itself, providing crisp green apple, syrupy apricot, and sweet caramel tastes. Swirl a little of your favorite milk into your mug of French press and let the flavor carry you into the Gold Mountains.
It actually runs about the same price as the Huck single-origin above, $21 for a 12-ounce bag of beans.
Discover: Pro/Con Comparison: Moka Pot vs. French Press
3. Jo Coffee Wild Jo
Jo Coffee feels perfection is worth striving for, which means they roast truly excellent artisan coffee beans.
Remember when we said French roast isn't always the ideal for French press brewing?
We recant that in regards to this Wild Jo French roast.
It's Kosher, USDA certified organic, and Fair Trade certified. Drinking Wild Jo may even be easier on your stomach because dark roast coffee is naturally low acidity.
What more could we want? Oh, right, let's talk flavor.
Wild Jo is intense like a good dark roast should be. The tasting notes are of dark cocoa and brown sugar.
You can order a 12-ounce bag of Wild Jo for about $12.50 directly from JoCoffee.com or snag a two-pound bag off Amazon for around $27.
4. Joshua Tree Coffee The First Roast
A Joshua Tree Coffee's customer favorite, First Roast is a medium-dark roast with a lot of character.
Colombian, Honduran, and Ethiopian coffee beans join forces to create this thick, syrupy sweet coffee blend.
Get your coffee roasted fresh to order, starting at $15 for a 12-ounce bag of beans, or subscribe and save 10%.
If you don't have a grinder yet, no worries, Joshua Tree has a French press grind size option available!
5. Volcanica Costa Rican Peaberry
This 100% arabica coffee from a single estate in Costa Rica will be a delight to your early AM senses. Peaberry coffee is rare, making up only 5% of most crops.
Enjoy the richer flavor of the peaberry coffee, roasted to a perfect medium. It's both Kosher, and Rainforest Alliance certified.
The unique tasting notes include lemon, honey, and almond. A balanced citrus fruit and sweet intensity make for a bright-tasting coffee flavor.
You know we'll always recommend going the whole bean coffee route, but the French press coffee grind is available as well.
Peaberries and single-origin coffees tend to come with a higher price tag. Yet this one is very reasonable at around $20 for a full pound.
You can order from Amazon or directly through Volcanica's website. If you order from Volcanica, you also have the option to subscribe and save 10%.
6. Stone Street Guatemala Antigua
Grown in volcanic soil, this dark roast is a force to be reckoned with. Stone Street's Guatemala Antigua comprises single-origin, 100% arabica coffee beans.
It's a strong coffee, smooth and full-bodied, with a smoky aroma and a floral aftertaste.
We appreciate that Stone Street packages their small-batch roasted coffees in resealable bags with one-way degassing valves for freshness.
You can order a one-pound bag of the whole bean Guatemala off Amazon for only $15.
If you want a dark roast that can do double duty as French press and cold brew coffee, check out their Colombian Supremo.
Related: How to Make Nitro Cold Brew at Home
7. Peet's Coffee Major Dickason's Blend
Peet's Coffee is widely available if you're looking for something you can pick up at your local grocery store.
Their signature dark roast, Major Dickason's Blend, is an especially popular choice for French press brewing. The tasting notes are of earth, spice, and everything.
If you crave something a little lighter, try the single-origin Brazil. It's a medium roast with a sweet taste and natural notes of hazelnut.
If you go through the Peet's Coffee website, they will roast your beans to order and ship them the same day.
Pricing for Major Dickason's Blend starts at around $18 per pound. Grind options include espresso and French press/percolator.
And when you want to explore other options from Peet's Coffee, try taking their coffee match quiz!
For serious coffee drinkers, subscribe to Peet's Coffee Club and enjoy 10% off plus free shipping.
8. Koffee Kult Road Dog
The first sip of Koffee Kult's Road Dog will have you daydreaming of walking out your front door and revving up your hog.
Or, maybe that is your reality, and if so, we salute your cool biker lifestyle.
This dark roast is a blend of 100% arabica beans sourced from both Colombia and Guatemala. Small-batched roasted in Florida, Road Dog's flavor profile is earthy, spicy, and boasts just a hint of nutmeg.
You can find this gourmet coffee on Amazon at around $20 for a 12-ounce bag of beans or ground coffee. Or take a look around Koffee Kult's website and see if any other of their offerings catch your eye!
9. Wonderstate Colombia La Piedra
We saved a true treasure for last on our list of best coffee beans.
Nestled in Wisconsin, Wonderstate Coffee's roastery is 100% solar-powered. And every year, they donate 5% of their profits to community-based initiatives.
If you love beans from South America, you'll flip for this honey process Colombia La Piedra. Wonderstate describes it as "punchy and distinctive," with tasting notes of dried cherries, bright lime, and floral undertones.
It's a light roast, so it packs quite a punch of flavor that we personally don't dilute with any milk or cream. But you can take it however you like!
$20 will get you a 12-ounce bag of whole bean or ground to your preference. If you totally fall in love with their specialty coffee (and there's a good chance of that), they offer subscriptions.
Speaking of subscriptions, good news for Trade Coffee subscribers — Wonderstate is one of their roasters!
---
"Cheat Sheet" for Coffee Roast Flavors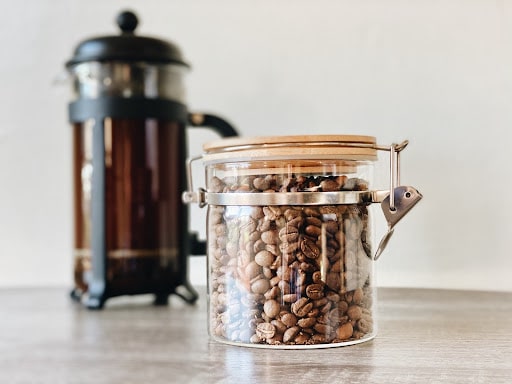 If you don't already lean toward a particular roast, this might help you pinpoint the one that most excites your palate.
Light Roast
As you can probably guess, light roast beans roast for the shortest amount of time.
Light roast coffee beans tend to retain more of their origin flavors. That's why they're often light, floral, or fruity.
They're also the highest in acidity of all the roasts. If acidic coffee doesn't agree with you, you might want to stick to darker roasts.
They make for a mild cup with complex flavor and are best suited to French press or pour-over brewing methods.
Medium Roast
Medium roasts are the Miss Popularity winners of the roast world — well-balanced in flavor, aroma, and acidity.
Roasting a bit longer than light roasts brings out some of the nutty, chocolaty flavors we all associate with coffee.
They're the go-to roast for automatic drip coffee brewers.
Medium-Dark Roast
This roast takes a medium just a stretch further, enhancing the body and adding more roast flavor.
Dark chocolatey flavors and a bittersweet aftertaste may be present.
This roast is also popular with the French press crowd.
Dark Roast
These dark and oily beans are full-bodied and often taste smoky (in addition to their dark chocolate flavors) from their longer roasting process.
Dark roast is a common choice for espresso.
You may have also heard of French, Italian, or Vienna roasts. These are all dark roasts, with Vienna being on the "lighter" side and French as the darkest.
The Best Roast for French Press Coffee
It's easy to assume French roast would be the best fit for a French press, but not necessarily. Baristas often use it in their espresso machines because the French roast is exceptionally dark.
While you can use any roast you like, medium-dark roasts are the preferred choice.
Whatever roast you choose, you'll want to always be sure to use coarse-ground coffee to avoid over-extracting your beans!
---
How to Grind Coffee for French Press
You should buy whole bean instead of pre-ground coffee and grind it at home yourself for the best French press coffee.
In an ideal world, you'd only grind as much as you need right before brewing.
To make this easier on yourself, invest in a high-quality burr coffee grinder like this one by Cuisinart. Or, if you like to sneak in an early morning arm workout, you can get a hand burr grinder like this JavaPresse.
For French press (or cold brew!) coffee, you'll always want a coarse grind.
See also: The Best Espresso Machines With a Grinder
---
Tips for Making Yourself the Best French Press Coffee Ever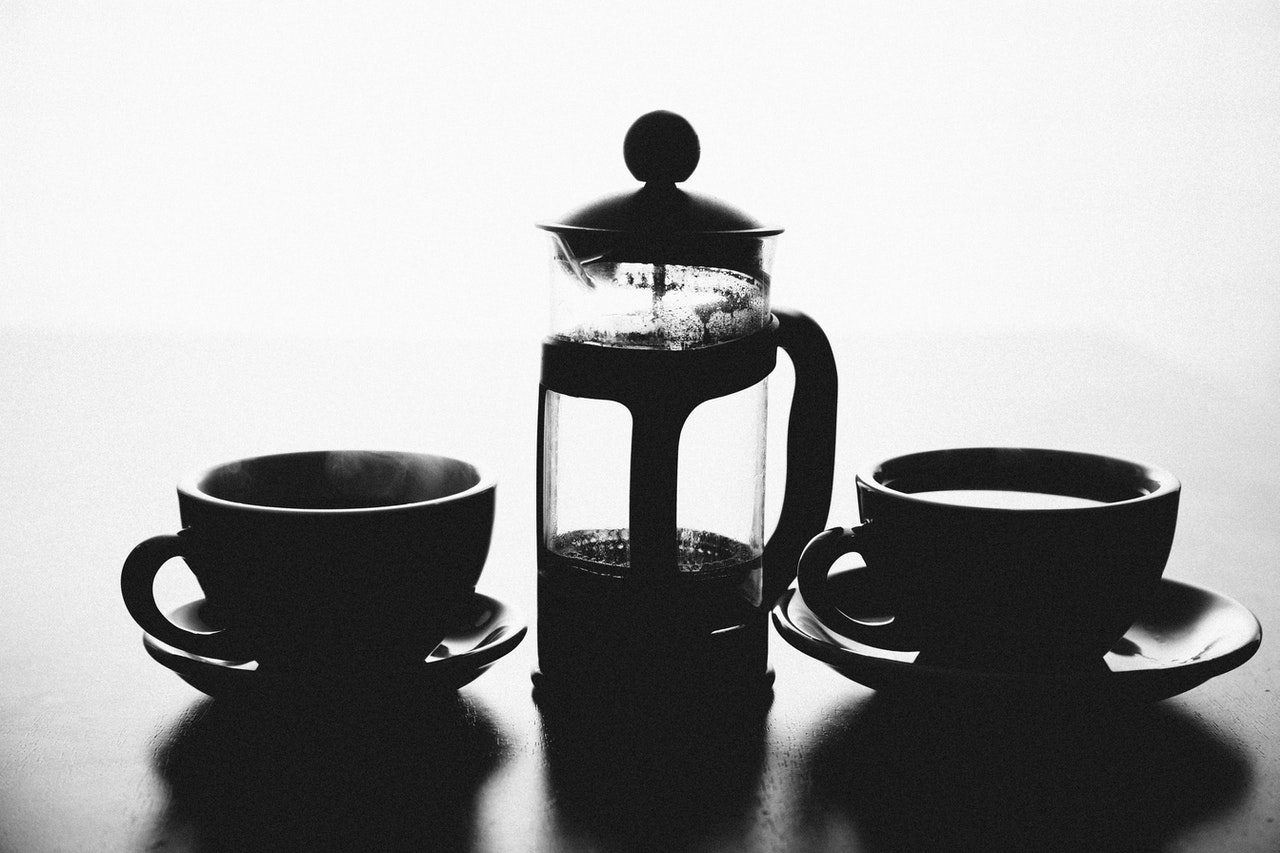 Here are some quick tips to really dial in your French press method.
Besides using the right grind and finding your favorite roast, here's what else you can do for a better cup:
Make sure you're using the correct water ratio (1:12 coffee-to-water)
Preheat your carafe with hot water
"Bloom" your grounds by pouring some hot water over them and giving them a quick stir before adding the rest of your water
Steep for four minutes (set a timer)
Serve immediately!
---
Conclusion
When we brew coffee, it's an essential part of our morning routine.
From the aroma of the fresh beans in the grinder to patiently pushing that plunger down the French press — we love it all!
Order one (or several) of these coffee brands, whip out your French press coffee maker, and put the hot water on.
It's time for you to have a cup or two of the good stuff.