Ready to graduate from "ol' reliable," aka the automatic drip coffee machine? Looking to join the honorable ranks of home baristas who pull their own shots of espresso at home?
We'll cheers with our demitasse cups to that!
Before you can start indulging in those creamy cappuccinos, you'll need the right equipment for this new brewing process.
Kill two birds with one nifty stone by investing in an espresso machine with a grinder. (Please note: No harm will actually come to birds by switching coffee makers.)
From grinding fresh coffee beans for a crema-laden shot to perfectly frothing your milk of choice, here's Caffeine Craze's list of the best espresso machines with grinders.
Clear a spot on your countertop and bid farewell to pre-ground coffee.
You're about to start slinging espresso drinks in style.

---
What's the Difference Between Semi-Automatic and Fully Automatic Espresso Machines?
The espresso makers on this list are a mix of both, so let's clear this question up first!
It mostly boils down to water control.
With a semi-automatic, after you've loaded your portafilter of espresso and turned it on, it's up to you to stop the machine. An automatic espresso maker will turn the water off for you after an allotted amount of time.
If you like more control over pulling your shots (cause the right timing can make all the difference in flavor!), you'll prefer the semi-automatic.
Opt for a fully automatic if a hands-free experience sounds A-ok to you.
So What's the Deal with Super Automatic Espresso Machines?
The super automatic is the most hands-off approach. Besides filling it with water and beans, your machine is the barista instead of you!
It grinds, fills, and tamps the portafilter for you, pulls the shot, and even steams milk for you automatically.
It leaves you to the crucial task of picking out your mug of the day and snapping "I woke up like this" selfies. (Or perfecting your TikTok dance in bunny slippers, whatever your morning routine involves!)
See also: Pro/Con Comparison: Moka Pot vs. French Press
---
Top Seven Espresso Machines with Grinders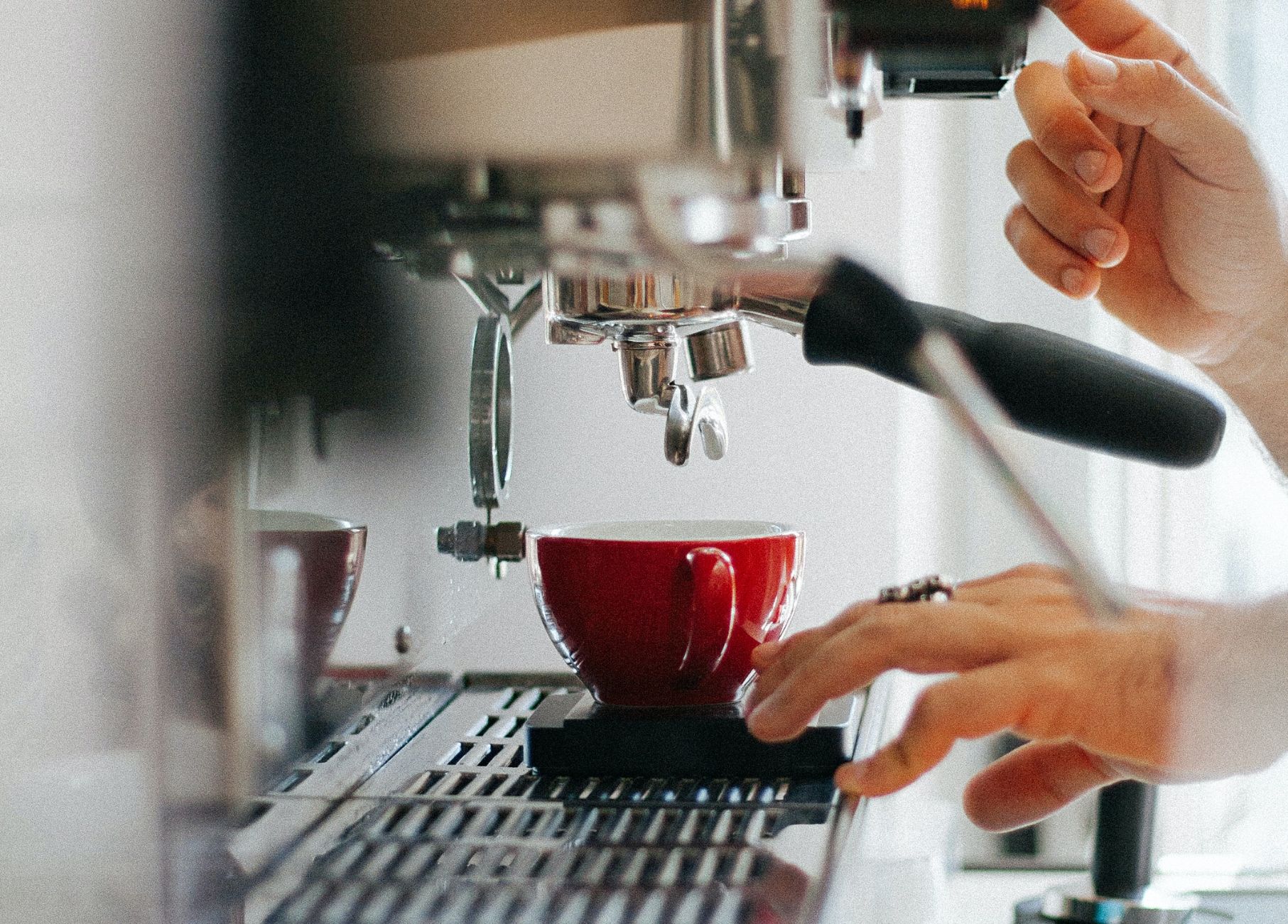 The creme de la crema, if you will.
1. De'Longhi Magnifica
Where passion for espresso meets Italian design (and Brad Pitt?!), you'll find De'Longhi. It's no surprise they've previously won "brand of the year" and Red Dot awards.
The warranty for De'Longhi fully automatic espresso machines is two years (free parts and labor). You'll have to cover shipping the machine to a service center, but they'll incur the return shipping costs.
We recommend the De'Longhi Magnifica foremost for its counter space-friendly compact design and easy-to-use control panel.
But here's a quick glimpse at its other merits.
Key Features:
Professional burr grinder with 13 settings
Programmable preferences
High power milk frother
Self-adjusts for your choice of one or two shots of espresso
Easy to clean (dishwasher safe parts include the removable water tank and drip tray)
The bean hopper holds over eight ounces at a time, and the water reservoir has a 60-ounce capacity. With an average heat-up time of around 75 seconds, you can whip up your favorite latte quick, fast, and in a hurry.
Whichever De'Longhi espresso maker you choose, you can go on their website and schedule a live consultation.
This is great for beginners or really just anyone wanting to master their home barista machine. Also, they can help you select the perfect device for you if you haven't bought one yet.
You can purchase the De'Longhi Magnifica directly off their website (and it qualifies for free shipping!) or off Amazon. It's currently an Amazon's Choice product selling just shy of $700.
2. Breville Barista Express
Breville is a respected and well-known name in the caffeine game. Well, in the entire realm of kitchenware, actually.
Founded in the 1930s, their products just get better and more innovative as time passes.
The Barista Express isn't their only offering with a built-in coffee grinder. They also have the Barista Pro, Barista Touch, the Oracle, and the Oracle Touch.
Breville won't steer you wrong with any of its devices, but let's look closer at the Express.
Key Features
Digital temperature control (PID)
Manual steam wand for milk frothing
Built-in conical burr grinder with adjustable settings
67-ounce water tank
One-year limited warranty
The Barista Express espresso machine comes in two color options: Stainless Steel or Black Sesame. Either will look sleek and stunning on your kitchen countertop.
No more coffee ground mess. Grind coffee beans directly into the portafilter, tamp, then pull your shot before topping it with silky, coffeeshop-quality microfoam.
Or use the hot water dispenser if Americanos are your cup of tea. Wait … no. Coffee. If they're your cup of coffee.
The espresso machine also comes with the following accessories:
Coffee scoop with integrated tamper
Water filter plus holder
Stainless steel milk jug
Brush tool and Allen key
Cleaning disc plus tablets
54mm stainless steel portafilter
Filter baskets for single or double shots
Razor dose trimming tool
The price of the Breville Barista Express is the same as the De'Longhi machine above, just under $700. Available through Breville or grab yours off Amazon.
If you hurry, Breville is currently running a promotion. Register any Breville coffee or espresso machine and receive a free bag of specialty coffee beans.
3. Gaggia Velasca Prestige Espresso Machine
If your go-to order at your favorite coffee shop is a cappuccino, this is the take-home machine for you.
The Gaggia Velasca Prestige is a one-touch automatic marvel.
If practicing latte art with a manual steam wand isn't one of your hobbies, you'll appreciate the automatic milk frothing feature.
Program it to brew your espresso drink for you, from bean to cup, with brew strength and temperature control settings.
The design is perfect for using up counter space under low-hanging cabinets. It even has a front-loading water reservoir and a dreg bin for your spent coffee grounds.
Key Features:
Ceramic burr grinder with 10 settings
10.5-ounce capacity bean hopper
54-ounce capacity water reservoir
Automatically steams, froths, and pours milk
Removable dishwasher-safe milk carafe
We're a little in awe of this impressive machine, and being fully automatic, it does run a little higher than the first two coffee makers on our list. Order a touchscreen Gaggia Velasca for around $850 on Amazon.
Discover: SOWTECH Espresso Machine: Is it Right for You? [2021 Review]
4. Calphalon TempIQ Espresso Machine
You know them for their fantastic cookware line, but did you know Calphalon makes appliances too?
Toasters, blenders, slow cookers, and most interesting to us — coffee makers!
The Calphalon TempIQ pairs a thermoblock heating system with PID temperature control, delivering perfectly-extracted, great espresso every time.
Steam milk with the powerful frothing wand and enjoy a creamy, dreamy latte anytime you've got the hankering.
Key Features:
15-bar pump
Integrated conical burr grinder with 30 settings
Pre-programmed single and double shot settings
2.8-liter removable water tank
Cup warming tray
Your purchase includes a stainless steel milk jug, tamper, and tools for cleaning (disc, brush, pin).
Perhaps best of all: the TempIQ also comes with a three-year limited warranty.
Order the Calphalon TempIQ straight for their site and enjoy free standard shipping.
It's currently an Amazon's Choice product, and at around $680, it's about $20 cheaper than the De'Longhi or the Breville.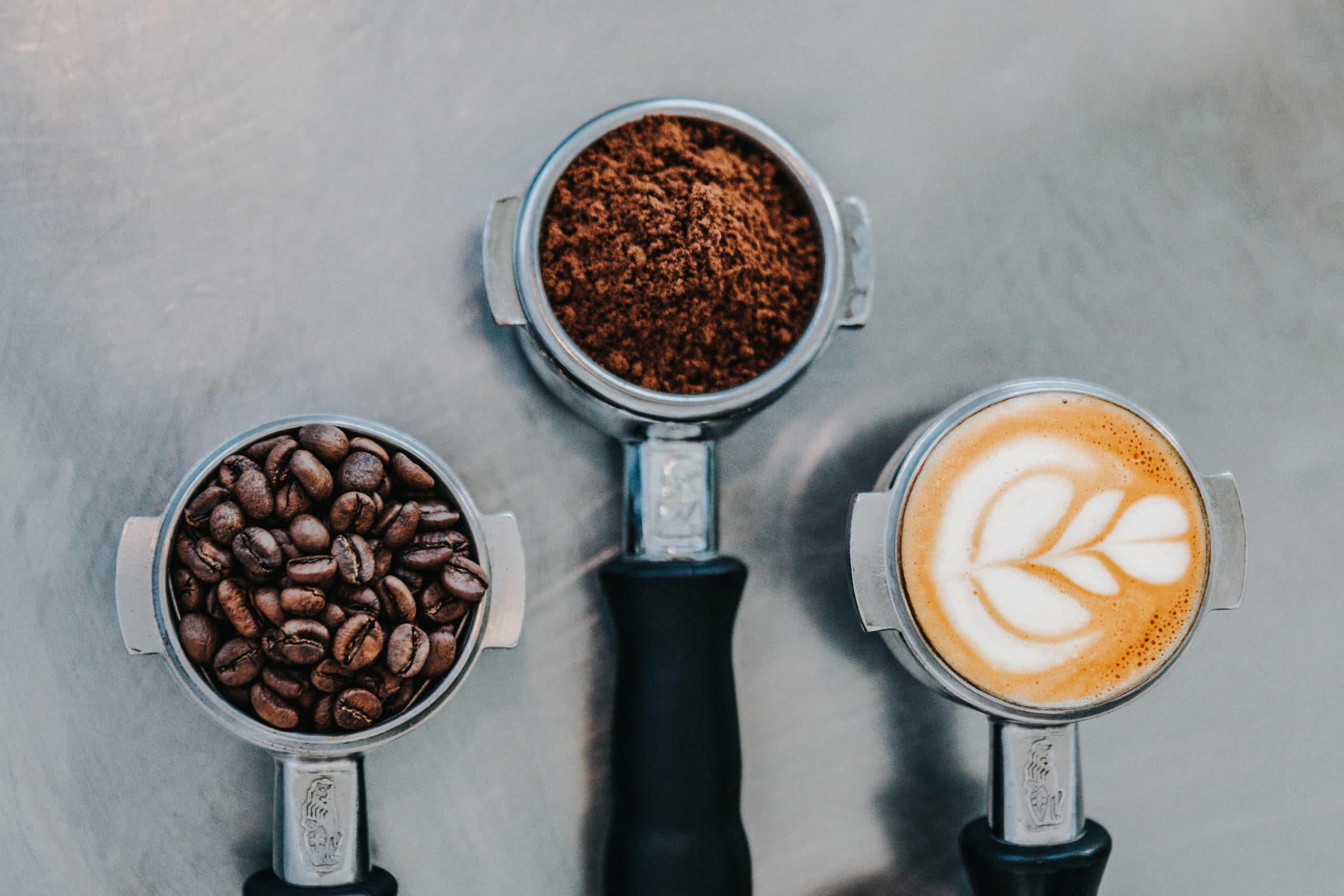 5. Jura D6 Automatic Coffee Machine
If you want a more hands-off, single-serve approach to espresso (that skips the capsules/pods), you want a Jura automatic coffee maker. They have a lot of models, but here's the skinny on the D6.
Individual cup brewing and one-touch preparation are the true MVPs of early morning wake-up calls.
Instead of a touchscreen, the D6 has a plain text display and rotary switches for simple operation.
Thanks to Smart Connect, you can even make your cappuccinos using your smartphone or tablet!
Key Features:
CLEARYL Smart water filter
Seven different specialty programs
Pulse extraction process
Aroma G2 integrated grinder
Smart connect app control
That water filter protects the machine from limescale and removes heavy metals and chlorine to keep your coffee tasting precisely as it should.
The filter cartridge wirelessly links to the coffee maker using RFID technology, which automatically alerts you when it needs replacing.
The D6 comes in two color options: all black or platinum. The machine is just shy of $1,000 on Jura's website. You can save almost $50 if you opt for the all black model and order off Amazon.
6. Saeco Xelsis Super Automatic Espresso Machine
The Saeco Xelsis super automatic espresso machine should probably be wearing a cape — it's that super.
Premier programming allows you to control dose, temperature, and texture.
Once you've figured out your perfect espresso drink, save it to your profile for future easy access. You get six customizable user profiles, great news if you're a household with a lot of coffee drinkers!
Customize your foam amount and stick the milk carafe in the fridge between uses.
The AquaClean filter purifies your water and prevents scale build-up. Replace the filter regularly and enjoy up to 5,000 cups before the machine needs descaling.
You can make 15 different coffee drinks or simply use one of the spouts for hot water.
Key Features:
3.5" touchscreen
Hygiesteam system
Front-access water tank
Adjustable spouts
Scratch-resistant drip tray
The built-in grinder is high-quality ceramic to gently grind your coffee beans without overheating them. It has 12 settings so that you can find your perfect grind size.
The Saeco Xelsis is the most expensive on our list, coming in around $1775-$1920. It's currently an Amazon's Choice product, and if you buy it there, we recommend selecting the option that includes the extra AquaClean filter.
While it's currently out of stock on the Philip's website, you can also order it through Walmart.com. Xelsis offers a two-year warranty on this machine wherever you choose to buy it.
7. Mr. Coffee Cafe Barista Espresso Maker and BVMC-BMH23 Automatic Burr Mill Grinder Bundle
If a super fancy all-in-one super automatic espresso machine isn't in the cards right now, never fear! You can still whip up macchiatos at home with this budget-friendly pick.
Mr. Coffee Cafe Barista semi-automatic espresso machine is also an excellent choice for beginners. If you're a new home barista, this is a beautiful machine to learn some skills on.
It's a bundle, so you're getting two separate machines, not an espresso maker with a built-in grinder. It'll take up slightly more counter space, but neither machine is very large.
Key Features:
18 custom grind settings
One-touch control panel
Automatic milk frother
15-bar pump system
Removable water tank & bean hopper
The burr grinder holds up to a half-pound of fresh coffee beans, and it has cord storage, which we're into.
Buy this bundle off Amazon for under $250!
Related: How to Make Nitro Cold Brew at Home
---
Conclusion
If you want to make the best coffee possible without leaving your house, you'll need at minimum two things:
A high-quality espresso maker and some freshly-ground beans.
By opting for a semi or fully automatic espresso machine, you are guaranteeing yourself single-serve espresso drinks on demand.
And when it's paired with a built-in grinder?
You'll be nigh unstoppable. We like that in a fellow coffee drinker.