Thinking about joining the home espresso machine game?
Good. For. You. We super support this.
There's no greater feeling than rolling out of bed after an extra "snooze" button session. Knowing you're still right on time for your day.
Why?
Because you're going to put on some slippers and pad down to your kitchen for your morning coffee fix. No waiting in lines for you!
If you've already begun researching home espresso makers, you've seen the Sowtech espresso machine. It's deeply affordable and seems like a good starting point for an aspiring new barista.
Not so fast.
Before you click "add to cart" or call to see if the Sowtech is available for pick-up at your local department store — let's chat. It has plenty of attractive features, but let's look closer at whether it's the rich espresso maker for you.
In this article, we'll compare the Sowtech model to other leading brands. Then you can confidently decide before you break out that credit card.

---
Sowtech 3.5 Bar 4 Cup Espresso Maker & Cappuccino Machine
Quick, easy to use, and compact.
Not to mention that low, low price tag. As you can see, there's more than one temptation to bite the bullet and order the Sowtech.
But will it really meet your home espresso needs?
It's worth mentioning that the standard pressure for a shot of espresso is nine bars. You'll notice many of the higher-end models of home espresso machines offer at least 15 bars of pressure.
At 3.5 bars of pressure, the Sowtech will give you something espresso-like, but maybe a little less authentic than you were hoping for. If your espresso's flavor nuances are of utmost importance to you, that's something to consider.
If you're new to the espresso/home barista game, though, this stainless steel space-saving machine might be exactly what you want to lean on. The single-switch knob is as user-friendly as it gets.
Then you have the frothing arm. So you can transform your freshly pulled espresso shot into a milky latte, foamy cappuccino, or even a mocha if you've got some cocoa around!
You really can't beat the price of this espresso coffee maker either. It goes for $45 if purchased through Walmart, or grab one for $40-$45 on Amazon.
But don't just take our word for it:
Check out how other users feel about it before you buy.
Reviews of the Sowtech 4-cup Espresso Machine with Steamer.
Pros:
Budget-friendly
Compact design
Removable drip tray
22-second extraction time
Easy-pour glass carafe
Cons:
Low pressure
Largely made of plastic
---
De'Longhi Stilosa Manual Espresso Machine
If you're looking for a more "hands-on" experience with your latte fix, opt for a manual espresso machine. While this one will cost you around twice as much as the Sowtech, your investment will be well worth it.
De'Longhi makes a range of products. But their longstanding reputation for high-quality coffee makers is what we're here to speak (write?) on.
For a manual espresso machine, the De'Longhi Stilosa is comparatively compact. It will fit neatly on your countertop, and the construction is quite durable.
Not to mention, well, elegant!
The portafilter is ergonomically designed. So you'll feel confident holding it in your hand whether you're pulling a single or a double shot of smooth crema-loaden espresso.
You'll love playing home barista with the manual milk frother. It allows you to create creamy, dreamy textured foam using the milk of your choice. If you opt for non-dairy milk, oat milk is the next best substitute for a creamy latte.
Priced at just around $120, this is still a reasonably affordable home espresso maker. If you aren't on a super strict budget, the 15-bar pressure of this machine will meet your espresso needs more satisfyingly than the small Sowtech.
If you're ready to buy it, you can find it here. Don't forget to add a bag of espresso coffee beans to your order as well!
Pros:
15 bar pump
Stainless steel boiler
Ergonomically-designed portafilter
1-year warranty
Two-level cup holder
Cons:
Twice the price of the Sowtech
---
Nespresso Essenza Mini Original Espresso Machine by De'Longhi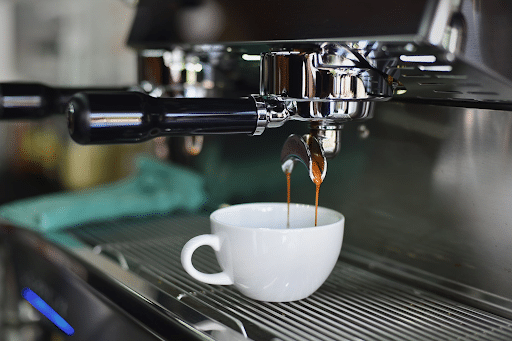 Look! There on your countertop!
It's a Nespresso, it's a De'longhi, no — it's both!
We find the Nespresso Essenza Mini (available in superhero red) deserving of a good hype up. Like a true environmental superhero, it's energy-efficient. It has an energy-saving mode that shuts off the coffee espresso maker automatically after nine minutes have passed.
While it commands attention with its good looks, it's also incredibly compact (space-saving if you will!). Preserve precious counter space by tucking the Nespresso anywhere. Or, store it in a cupboard — it's uniquely portable for an espresso machine.
We will admit. This small capsule-dependent machine is best for smaller households with fewer caffeine demands. Or for households where everyone's espresso preferences are a little different.
The single-brewer allows you to choose between two different programmable settings:
Traditional espresso vs. lungo.
This compact caffeination station's price is reasonable for its minimalist style and convenience. It's usually available for around $180.
Get the Nespresso Essenza Mini Original Espresso Machine here.
Want to make more than just delicious cups of espresso?
Save on the Aeroccino milk frother by buying both machines in a bundle on Amazon.
Pros:
One-touch operation
19 bars of pressure
Includes capsule welcome kit
Removable 20-ounce water tank
Adjustable cup size
Cons:
Single-serving only
You have to buy the right capsules for it
Check out these awesome Nespresso-compatible espresso capsule variety packs from Peet's Coffee!
---
Breville Barista Express Espresso Machine
If money is no object, you just want the best of the best. Bring home the durable steel Barista Express!
(No list of the best espresso machines is complete without a Breville.)
Treat yourself to the full third-wave gourmet coffee experience with this large stainless steel espresso machine. Whether you're a seasoned barista or still learning, the choice between manual or automatic won't disappoint.
The Barista Express comes with a built-in precision burr grinder.
You'll hear in the coffee industry to always use the freshest beans available and grind them fresh for every cup. With this machine, you can add the perfect amount of ground coffee directly into your portafilter right before you pull your shot. Now, every fresh pull will be rich and full-bodied rather than weak or watery.
The digital temperature control (PID) has your back, ensuring the water is perfectly heated before brewing. Enjoy a balanced extraction and consistently-delicious java!
A pre-infusion soaks your grounds, guaranteeing that water can pass through evenly when it's time for the machine's 9-bars of pressure to kick in. Drink your perfectly-pulled espresso straight, add hot water for an Americano, or …
Use the powerful steam wand to transform it into a work of art! Manual microfoam texturing allows you to create creamy lattes or thick cappuccinos. With this kind of control, you can spend your mornings indulging in practicing your latte art.
Wait, so how much is it?
Well, we did warn you this is not for the tight budget.
This awesome machine goes for just shy of $750. Which isn't bad when you consider the cafe quality you'll be enjoying from the comfort of your own home! Not to mention the money you'll save in the long run by skipping the coffee shop.
Buy the Breville Barista Express on Amazon now.
Pros:
1-year warranty
Dose control grinding
Digital temperature control
All accessories included
Compact footprint
Cons:
Analog gauge button control
More expensive
---
Hamilton Beach Espresso Machine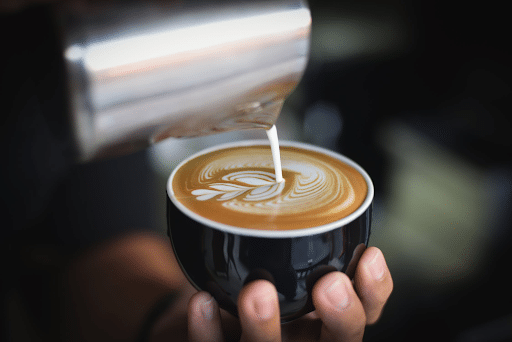 It's difficult to follow the mighty Breville, but Hamilton Beach is another great budget-friendly pick for you to consider!
Despite its much lower price of around $185, the Hamilton Beach cappuccino maker with milk frother houses a 15-bar Italian pump. It's easy to set up and just as easy to use.
You can use your own espresso or espresso pods in this coffee machine. It comes with a measuring scoop/tamper, single & double espresso filters, and a removable water tank.
The steam wand swivels for effortless milk frothing access. You'll be able to make a wide range of coffee drinks, which is great when you have company! (Note: You will need to purchase a froth pitcher separately.)
Ready to bring home the Hamilton Beach Latte and Cappuccino Maker?
Pros:
Cup warmer
Removable drip tray
Swiveling steam wand
Space-saving design
1-year warranty
Cons:
Machine is largely made of plastic
---
Mr. Coffee One-Touch CoffeeHouse Espresso Maker and Cappuccino Machine
Mr. Coffee is a household name. Their automatic coffee brewers have been a countertop staple for a hot minute.
Well, now you can enjoy that same convenience they provide for automatic drip coffee, but for espresso coffee drinks!
What we dig most about this steam espresso machine is the unique appearance of having a milk reservoir. It negates the need for a carafe for one thing. Secondly, its capacity can handle producing up to six cappuccinos (or three lattes) at a time!
Leftover milk? No problem!
Stick the milk reservoir directly in the fridge to use again later.
Oh, and did we mention it's an automatic milk frother?
Let the machine turn your preferred milk into a light, frothy foam while you finish up that crossword.
When you bring home the Mr. Coffee one-touch espresso maker, it's like you brought the entire coffeehouse home with you. You're about to get even more popular with the ability to produce multiple drinks on demand!
If things get too out of hand, you can always ask your friends to B.Y.O.B. We mean Bring Your Own (Coffee) Beans in this case!
As far as price goes, this model is around $300. Mr. Coffee backs the product up with a 1-year limited warranty,
You can always check out what Amazon users have to say about the machine's durability before you make your final decision. But, if you're sold, grab it here!
Pros:
1-button interface
19-bar Italian pump
Automatic milk frother
Removable milk & water reservoirs
Adjustable cup tray
Cons:
Unit must be primed properly before first-time use
---
Keurig K-Cafe Coffee Maker
It seems Keurig single-brewers have popped up in offices everywhere these days. We'll level with you. As far as flavor goes, Keurig isn't our top pick.
But it's still on the list!
They are the height of convenience; we'll give them that. And now, they even have single-serve espresso machines.
Are you already familiar with Keurig pods but want to switch from regular brewed coffee to espresso-like coffee drinks? Then, the K-Cafe is your dream come true!
The best part is:
This machine does both regular coffee and espresso-style drinks, which opens you up to a world of beverage possibilities.
(Cafe au lait, anyone?)
It has the usual cup size options for coffee (six to twelve ounces), a shot button for your lattes or cappuccinos, and a strong brew option for a more robust cup.
The frothing carafe has buttons for latte or cappuccino foam and even an option for cold drinks. You can use whatever milk, dairy or non, that you like best. For easy cleanup, pop it in the dishwasher when you've finished making coffee.
This unit usually sells for between $160-$200. Grab your K-Cafe here.
Pros:
Travel mug friendly
Compatible with reusable filter (my K-cup)
Large 60-ounce water reservoir
Auto-off feature
Dishwasher safe frother
Cons:
The Keurig lacks the steam pressure for true espresso, so these drinks are just espresso-style
---
Conclusion
For those on a budget or who wouldn't call themselves coffee aficionados, the Sowtech espresso machine is a great low-cost option. But if you're looking for something that will last and blow you away with perfect espresso crema in every pull …
Pull the trigger and grab a higher-rated machine. The extra initial cost will be worth it in the long run.
Life's too short to drink a subpar cup of coffee on the daily!