Some things are simply meant to be. Romeo and Juliet. Peanut butter and jelly. Jack and Sally. Macaroni and cheese. Coffee chocolate?
But we can name an even more iconic duo:
Coffee + chocolate. Yes, coffee chocolate.
Did you also audibly sigh?
We turn to both coffee and chocolate when we need energy, a pick-me-up, or an indulgence. That afternoon iced mocha latte hits right for a reason — dark chocolate adds between 5 to 20mg of caffeine per ounce.
Dark roasts and milk chocolate, light roasts and dark chocolate, any way you pair them, you can't go wrong!
Warning: mouthwatering content ahead.
Proceed with enthusiasm. This list features the best coffee-flavored chocolates and chocolate-flavored coffees!
---
Best Coffee Flavored Chocolates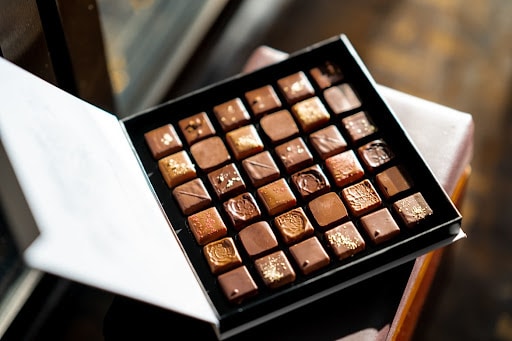 Get ready for some bean on bean action!
But, first:
Did you know neither coffee beans nor cocoa beans are true — well — beans?
Coffee plants yield bright, juicy berries with one to two seeds inside. Two is most common. When there's only one, it often gets put aside and used for peaberry coffee.
Cocoa beans are seeds from cacao pods.
Suffice to say, neither of these fruit seeds belongs to the legume family.
While claiming the coffee chocolate bar you're snacking on is a "fruit" salad will get you some raised eyebrows, we'll back you up. (Plus, there are health benefits to consuming both coffee and chocolate!)
---
1. See's Candies
While we typically only spy giant boxes of See's Candies floating around near Valentine's Day, you can surprise a coffee lover with them anytime!
Their line of coffee-flavored chocolates is to die for. From decadent truffles to classic chocolate-covered coffee beans — there's something for every coffee lover on your list.
Chocolate Coffee Beans
See's makes their chocolate coffee beans using none other than Peet's coffee!
They use dark chocolate, and this indulgent delight is Kosher.
You can order a six-ounce bag for around $12 and enjoy a rich, crunchy snack that packs a punch of caffeine.
Note that they are heat sensitive, so don't ship them to a friend at the height of summer.
Coffee Truffles
Is there anything more swoon than a good truffle?
See's offers four luscious varieties:
Cafe au lait – white chocolate, cream, and coffee surrounded by dark chocolate with a milk chocolate lace.
Cafe Hazelnut – white chocolate, coffee, and hazelnut paste covered in milk chocolate with a dark chocolate lace.
Milk Mocha – Coffee and cream center with a milk chocolate coating and chocolate sprinkles.
Kona Mocha – Creamy coffee chocolate inside coated in white chocolate with toasted coconut flakes.
Can't decide which to get?
Then don't! Build your own box and try them all.
Custom boxes start at $30.50. You can order one, two, three, or a mighty five pounds of coffee chocolate goodness.
More Gift Options from See's Candies
While not technically chocolate, the Cafe Latte Lollypops are a popular choice. Feel like a kid, get buzzed like a responsible working adult with this gourmet candy. (Plus, they're safer to ship in warm weather!)
The Cafe Latte Krispys are where it's at. Wafer-thin squares of coffee flavor surrounded by smooth milk chocolate. Snag an eight-ounce box of individually wrapped candies for under $13.
---
2. Tcho's Mokaccino
This chocolate bar is something to get psyched about. It's won ten international chocolate awards since 2012.
It sounds simple enough: milk chocolate with rich espresso.
But, the coffee they use?
It comes from a micro-roaster we love, Blue Bottle Coffee!
These bars are organic, Fairtrade certified, and Kosher. The ingredient list is short and sweet, free of anything you can't pronounce. You also don't have to worry about trans fat here!
One bar is 2.5 ounces and costs under $5. You can even qualify for free shipping if you spend over $50, so why not stock up?
TCHO also makes it easy to add a small donation to your order, which goes to the Human Rights Campaign Foundation.
---
3. Theo's Chocolate
As the first-ever organic, Fair Trade certified chocolate maker in the U.S., Theo's cares about people and our planet. That's why they submit all their products for rigorous third-party certification, so you can feel good about where your money is going.
Shopping Theo's coffee chocolate collection is an absolute dream. Their selection (for coffee flavors anyway!) isn't massive, but it hits all the spots.
Need Something for Storing Your Coffee? Try Jars.
Coffee Toffee
This one is Theo's dark chocolate bar. At 70% dark chocolate, it's not playing around. It will perk you right up!
Crunchy toffee with rich coffee complements the semisweet chocolate beautifully. Further, it's soy-free, gluten-free, Kosher, and non-GMO.
Buy a single chocolate bar (three ounces) for $4.25 or a 12-pack for $51. They make wonderful stocking stuffers for those who celebrate Christmas.
Coffee & Cream
For milk chocolate, Theo makes this delightfully smooth coffee and a creamy chocolate bar. It's 45% milk chocolate mixed with finely ground fair-trade coffee. It's like biting into a mocha latte — yum!
Grab a bar or two for yourself from their website to try (or one milk and one dark!). Or try the coffee and cream cups, a single pack is $2.29, or you can buy a 12-pack for only $27.48.
Coffee and Chocolate Lover Gift Box
If you are in the market for gifts, Theo's gift box option is, in a word, amazing.
For $26.99, you get:
(2) Coffee Toffee dark chocolate bars
(1) Coffee & Cream milk chocolate bar
(2) packs of Coffee & Cream Cups
(1) pack of Milk chocolate coffee caramels
Buy the Coffee & Chocolate Lover gift box now!
---
4. Grocer's Daughter
Sure, we talked about those truffles earlier, but our list would be far from complete without a hazelnut chocolate candy bar.
We went with a sinfully dark option from Grocer's Daughter. They source their chocolate from small-scale farms in Ecuador, but the candy hails from Michigan.
70% dark chocolate, roasted hazelnuts, and ground espresso coffee beans make up this irresistible dairy-free bar.
Snag one (or three, who's going to stop you? Not us!) for $6.50 before shipping. Don't forget to spend over $50 to qualify for free shipping!
---
5. Living Koko's Koka Moka
Another dark chocolate (70%) option you can feel good about ordering. Living Koko's Koka Moka is organic, vegan, allergy-safe, gluten-free, and ethically traded.
Each bar is handmade in Australia using cacao beans from Samoa and coffee beans from the Kingdom of Tonga.
A 38-gram bar will run you a little under $5. Or get a bigger bar (100 grams) for just under $12.
---
Best Chocolate Flavored Coffees
You can drink coffee and eat chocolate. You can eat your coffee (thinking of you, tiramisu) and drink hot chocolate mix. And now you know you can eat coffee-flavored chocolate and drink chocolate-flavored coffee.
Isn't it so beautiful how the coffee and chocolate industry combine to produce even more unique flavors for us to enjoy?
Here are a few of our favorite chocolate coffee options:
---
1. Stone Street Chocolate Hazelnut
There's something so irresistible about chocolate with hazelnut.
If you've ever found yourself eating Nutella, straight out of the jar, by the spoonful* …
This coffee choice is for you!
Stone Street is an artisanal coffee roaster in Brooklyn, New York. We're a fan of quite a few of their coffees, including their cold brew and breakfast blends.
But today, we're focusing on their nutty and sweet chocolate hazelnut flavor. It's a medium roast of 100% arabica coffee beans, freshly ground and shipped to your door.
Buy a pound of this smooth, mellow blend off Amazon for around $15.
*Did you say, "no way, that isn't me" about that whole Nutella-by-the-spoon thing? Then, check out Stone Street's chocolate raspberry or chocolate indulgence instead!
---
2. Jim's Organic Double Chocolate
What's better than chocolate coffee?
For chocolate and coffee lovers, the answer is obviously double chocolate coffee.
Jim's Organic Coffee is a certified B Corp. Meaning they meet the highest standards for both social and environmental performance. They give back to coffee communities through charity partnerships — now that leaves a good taste in the mouth!
Their coffee is 100% arabica sourced from the best organic farms worldwide. It's artisan roasted and Kosher to boot!
Their rich chocolate flavor coffee is a light roast and available for sale already ground. With a bag of this coffee, you can indulge that craving for sweets ASAP (and without the carbohydrates of a candy bar!).
Get a 12-ounce bag of ground coffee off Amazon for under $13.
Ready to Pour Your Coffee? Here are the Best Coffee Dispensers.
---
3. Bones Coffee
What really gets us pumped about Bones Coffee (besides their amazing selection of flavors) is their super fun packaging. It's like Halloween year-round with Bones Coffee and their host of skeletal characters.
They have so many coffees that include chocolate flavor, prepare yourself for this sweet list:
Chocolate Raspberry
Chocolate with sweet, tangy raspberry flavor?
Yes, please. This medium roast will delight you at any time of the day.
Chocolate Orange
Were you always hyped to get one of those chocolate oranges around the holiday season? Well, we guarantee you're going to flip for this.
It's as decadent as the raspberry but with tangy orange flavor instead. 100% arabica and roasted to order; what are you waiting for?
Frankenbones
Another chocolate hazelnut offering, with a spooky twist!
Spark your tastebuds to life with this nutty medium roast, also available in coffee pods.
Army of Dark Chocolate
While most Bones Coffee is a medium roast, they went dark roast for this heavy-hitter.
If campy horror movies with chainsaws are your cup of tea (wait…no…coffee), order a 12-ounce bag of this bad boy java.
Mint Invaders
Some people think mixing mint and chocolate is just so wrong. The rest of us know the truth: It is so right.
Now you can enjoy the flavor of mint chocolate chip ice cream without the calories. Add a splash of whole milk for ultimate bliss (while still keeping carbohydrates low!).
Plus, adding a bit of milk may help cut some of the acidity. It's a win-win.
Salty Siren
We used to think you couldn't improve on caramel, then the salted caramel craze hit and blew us away.
Salty Siren is sea salt caramel with mocha. That's a siren song we're not going to turn a deaf ear to.
S'morey Time
Get that campfire feeling anytime and anywhere by brewing up a pot of S'morey Time coffee. Chocolate, toasted marshmallow and a hint of sweet graham cracker infuse this medium roast.
While you're waiting for your 12-ounce bag to arrive, maybe brush up on some ghost stories … just in case. (Also available in decaf, in case you want to, you know, drink it at night around a campfire!)
Cookies 'n Dreams
Another ice cream flavor, what?!
It's true. Chocolate cookie sandwich plus vanilla ice cream — but make it coffee. You'll be dreaming with your eyes open when you drink this flavored coffee.
Can't decide?
We hear you. Good news, though. You can order a sample pack with up to five different flavors!
---
4. Volcanica Coffee
After reading all the Bones coffee flavors, it's a tough act to follow. But we think Volcanica Coffee does a great job holding its own in the flavor department.
All 100% arabica, available as whole bean or ground coffee, and you can get them all decaf if need be.
Choose from:
---
5. CoffeeAM
Did we save the best for last?
It's possible! Especially if you were waiting for truly epicurean flavors such as these.
CoffeeAM coffee is all organic, fair trade, and fresh-roasted daily.
White Chocolate Mousse
Smooth white chocolate with subtle vanilla, mmm.
Available regular or decaf. Choose from whole bean, drip grind, or French press.
You can get a whole pound for under $13. If you love it, sign up for a subscription and get it delivered every week, every other week, or every month!
German Chocolate Cake
Does it weird you out that coffee cake doesn't usually have coffee in it?
Maybe that's just us. Still, the point is:
This coffee somehow has cake in it — at least the flavor! It captures the taste of layers of chocolate cake, caramel swirls, toasted coconut, roasted pecans, and, oh yeah, chocolate frosting.
Try it for yourself; pricing starts at $12.49.
Peanut Butter Cup
We used to frequent a coffee shop that offered milkshakes made with peanut butter syrup, chocolate ice cream, and a shot of espresso.
You can harness that powerful flavor bomb without the sugar crash by brewing up this Peanut Butter Cup coffee!
Peanut butter and chocolate are definitely another iconic duo, but adding coffee to the mix?
Hello, iconic trio.
Hot Fudge Brownie
Okay, we had to throw in just one more because … fudge it!
Freshly-baked brownies straight from the oven, but it's actually straight from the coffee brewer, and you're in heaven.
So go ahead and top your mug with whipped cream. We won't tell.
Hints of maple walnut, creamy vanilla, and toasted pecans are all present in this blend. Feel free to use the complimentary bag personalization option to write yourself a love note from your tastebuds.
Know the biggest coffee-chocoholic? Heck, are you the biggest coffee-chocoholic? Then, order the Chocolate Lover's Gift Set and get six half-pound bags for under $40.
---
Coffee Chocolate Conclusion
Sorry, the writer couldn't provide a conclusion due to a so-called self-induced "coffee-chocolate coma."
We trust they'll make a full recovery.