Tall, dark, and delicious.
If that's the descriptive phrase that runs through your mind as you stare at your full carafe of fresh French press coffee — we're with you. That's why we explore the best ground coffee for French press.
If you've got your French press brewing method down to a smooth science but want to make your coffee routine a little quicker (and quieter), we have just the thing.
A list of the best pre-ground coffees to use with the French press method.
Skip the coffee grinder. These full-body single-origins and blends are ready to rock and roll the minute your eyes open.
Ready to take the plunge? (Or rather, push that plunger down?)
Here are the nine best coarse-grind coffee beans for your morning* cup of coffee.
*Any time of day, honestly.
---
Pros of the French Press Brewing Method
Coffee lovers everywhere sing the praises of French press coffee.
Why?
We think it's got to be because of the ease of brewing (not to mention cleaning!) and that rich, dark flavor.
Also, you can buy a French press reasonably cheaply. It also uses no electric power on its own (though you will need a hot water source), and you can even use the carafe to prepare cold brew coffee!
Plus, there's some buzz about French press and cold brew both being great methods for achieving low acidity coffee at home.
See also: Pro/Con Comparison: Moka Pot vs. French Press
---
Cons of Using a French Press
While convenient and easy to use, it's not quite as simple as, say, a single brewer. It does require you to be more "hands-on." Plus, you need to stay aware of the time, or else your coffee might end up over-extracted.
The taste can vary depending on the water ratio, your grind size, and of course, the type of coffee you use in it.
---
How to Make French Press Coffee
If you're a coffee drinker looking to switch up your go-to brewing method, check out how easy it is to prepare French press!
Grind Size and Water Ratio for the French Press Method
To brew French press style, you'll want coarse ground coffee.
If you aren't starting with one of the best pre-ground coffees from this list, then …
Start with the freshest whole beans you can find and run them through a grinder (preferably a burr grinder) on the coarse grind setting.
FYI, this is also the setting you'd use for cold brew coffee. A coarse grind allows your coffee beans to retain more surface area. It helps lessen the risk of over extracting your beans during the French press process.
Now we'll calculate your water ratio:
The French press rule of thumb is to use a coffee-to-water ratio between 1:12 and 1:15. If you enjoy strong coffee, use the lower water ratio. In a standard 8-cup carafe, a 1:15 balance will be around 860mL of hot water.
How Much Coffee Should I Use in My French press?
For example, if you have an eight-cup carafe that holds 860mL of hot water, you'll want to use 54 to 71 grams of coarse ground coffee.
If you don't own a digital scale, you can measure it by tablespoons. Eight to ten tablespoons will give you a 1:15 ratio.
Step by Step Instructions for French Press Brewing:
Heat enough water to fill your empty French press carafe, let it preheat
Heat more water for the actual brew cycle (Ideally, you want it just below boiling ~200 degrees F)
Grab your bag of high-quality arabica beans and measure out enough for your size French press (1:12 or 1:15 ratio recommended)
Empty the carafe, put the pre-ground coffee inside, and pour just enough hot water on top to submerge the grounds
Give it 30 seconds, then stir
Fill the carafe to the top with hot water, replace the lid, but don't push the plunger yet!
Wait four minutes
Slowly, gently, push the plunger all the way down
Pour, sip, smile!
Similar: Product Review: The Best Espresso Machines With a Grinder
---
Nine Best Coffees for French Press (Pre-Ground)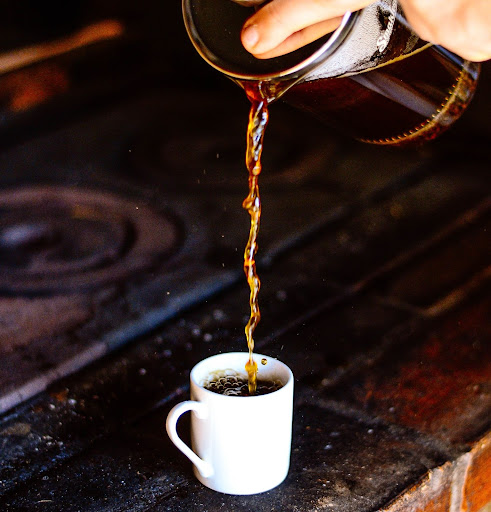 Now we get to the best part — the coffees themselves.
This list of nine high-quality arabica coffee blends will have you swoonin' and groovin'.
1. Bulletproof Coffee – French Kick
Kicking the list off is a heavy-hitting 100% Arabica dark roast coffee.
Bulletproof markets their coffee as "clean."
What does that mean?
It simply means they test for toxins (including mycotoxins), aiming to put only the highest-quality beans into your mug. They're also rainforest alliance certified, sourcing their beans from Guatemala, Colombia, and Brazil.
While Bulletproof offers light roasts, medium roasts, and even a medium-dark, we think you'll get a kick out of brewing up their smooth and sweet dark roast. It has a medium body with tasting notes of smoky chocolate.
One caveat:
Their pre-ground coffee doesn't allow you to customize grind options. That means you'll likely end up with a bag of medium (better for drip coffee or even pour-over) instead of coarse ground coffee. The mesh filter of your French press can handle this grind, and you shouldn't see much sediment in your coffee cup.
However, you may wish to increase your brewing time from four minutes to five to seven.
You can try a bag of this keto-friendly coffee for yourself by ordering directly from Bulletproof's website, where it's priced around $16 for 12 ounces. Or, head to Amazon and grab that 12-ounce bag for $15 and use your Prime account for free shipping!
2. Wonderstate Coffee – Driftless
This cozy organic coffee comes from a roastery in a region of the U.S. not covered with ice during the last ice age, lacking in glacier deposits. Hence the name — driftless.
Wonderstate is committed to sustainability practices, as seen by their 100% solar-powered roastery. They also donate 5% of their profits every year to support community-based initiatives such as non-profits like On the Ground.
This is coffee you will feel good about buying, and you'll feel good about how it tastes! Flavor notes of toasted almond, cocoa powder, and toffee make this a balanced brew that makes even the darkest of mornings that much brighter.
It's a medium roast with a medium body, and you'll quickly see why it's a best seller.
Unlike Bulletproof, Driftless does offer grind size options. If you have a burr grinder at home, we encourage you to go for the whole bean coffee.
But, since this is a list of the best ground coffees, you can just order 12-ounces of the Driftless already coarse ground and ready to brew! That 12-ounce bag goes for $15 or subscribe and save 10%.
If you ever find yourself rambling through the Driftless region, swing by one of their three coffee shop locations. Order a maple latte with oat milk and chat with their baristas — you won't regret it!
3. Stumptown Coffee Roasters – Ground Hair Bender
Stumptown typically only sells whole bean coffees, but they've made an exception for two of their most popular offerings:
Hair Bender and Holler Mountain.
Let's talk about Hair Bender. This one is a go-to espresso for Stumptown coffee shop baristas. This blend is named after a beauty parlor and boasts coffee beans from Latin America and Africa.
Like Bulletproof, Stumptown only offers one grind size — standard medium grind. If you missed our notes on that above, it still works for your French press, but you may wish to brew it for a little bit longer and take extra care when plunging.
A 12-ounce bag of Hair Bender is $16 before shipping, but Stumptown does offer subscription options if you want to check those out. You can even take a coffee quiz first to match your perfect brew.
Need a new French press coffee maker? Stumptown sells Bodum brand French presses on their site, or you can grab one off Amazon.
4. Stone Street – Colombian Cold Brew
Stone Street's Cold Brew Reserve pulls double-duty. It makes for a fantastically bold French press or an icy glass of cold brew coffee.
This dark roast coffee is already coarse ground and ready to brew as soon as you get it home.
Gourmet Arabica beans from Colombia make up this strong and smooth blend. Only the largest and highest-quality beans are selected, netting them the ranking of "Supremo." Then it's freshly-roasted by small-batch roasters in Brooklyn, NYC.
On Amazon, a 16-ounce resealable bag of this ground coffee costs around $15. If you like dessert-tasting coffees, check out their flavored blends like blueberry, chocolate hazelnut, and french vanilla.
5. Koffee Kult – Thunderbolt
Koffee Kult's Thunderbolt is an electrifying ultra-dark roast, a French roast, that is! It's full-bodied and fully delicious with a long finish.
This 100% Arabica coffee is roasted and hand-packaged in Hollywood, Florida, in a resealable bag with a one-way valve to de-gas the coffee. A blend of Colombian and Brazilian coffee beans, Thunderbolt is undeniably strong with cupping notes of molasses, smoke, and tobacco.
Order 12, 32, or 80-ounces off the Koffee Kult website, where prices start at $20 before shipping. Check out their subscribe and save options and have fresh coffee delivered to your door on your schedule.
No custom grind options, so expect a medium grind on this one as well.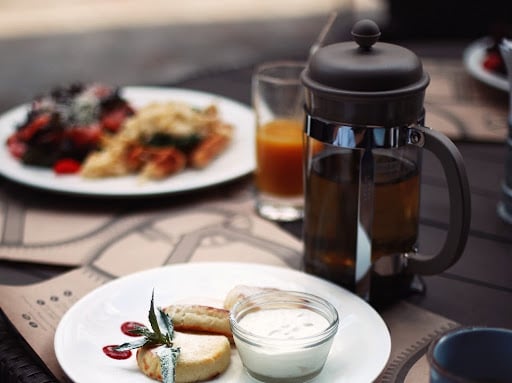 6. Peet's Coffee – Columbia
Surely you know Peet's Coffee! It's the brand on our list you're most likely to find at the local grocer. (Though maybe not this particular single-origin coffee offering.)
You've probably seen their highly-popular Major Dickason's Blend, which would also work great for your French press. But, this time, let's take a look at their single-origin Colombia.
Peet offers a press pot grind option for this full-bodied Colombian coffee. It's a dark roast, but you'll find it shining and sweet. It has a delightfully nutty profile with flavor notes of caramel, citrus, and toasted nuts.
Washed process, hand-roasted to order, and sealed for freshness — what more could you want?
Order off Peet's website, and this coffee will run you around $17 for a full pound. Peet's also has a subscription program. And check out their coffee quiz if you have the time!
7. La Colombe – Brazil Beleza
In Portuguese, Beleza means "beauty." The cup of coffee you'll get from French pressing this South America-grown coffee will indeed be a thing of beauty.
It's a medium roast from the Minas Gerais region that's fruity-sweet, nutty, and has a soft and creamy body. The flavor profile boasts black currant, dulce de leche, and cashew — exotic!
A 12-ounce French press ground coffee bag starts at $15 before shipping. La Colombe has a subscription deal, too, if you fall in love with this good coffee!
8. Volcanica Coffee – Ethiopian Yirgacheffe
This organically grown coffee from Ethiopia is a best seller from Volcanica Coffee that you need to know about. It's a single-origin coffee with pleasant acidity.
This complex offering from Volcanica Coffee is Fair Trade and Kosher certified. Enjoy exotic winy tones and lemon, blueberry, and blackberry flavors in this light-medium roast coffee.
Order it from Volcanica's website for $20 per one pound of French press ground coffee. (Or, subscribe and save 10%!)
9. Colectivo – Dark Sumatra
This is a brand that only recently stole our hearts. Colectivo offers organic, Fair Trade coffee at super reasonable prices.
Their Dark Sumatra (clearly a dark roast) has an earthy flavor and a full body. It's grown by small farmers on the northern tip of the island of Sumatra, making it another single-origin coffee on our list!
Get a load of its flavor profile:
Molasses, licorice, and dark chocolate.
Order from Colectivo, a one-pound bag (ground for French press!) starts at just $16. Or, at the risk of sounding like a broken record here, subscribe and save 10%.
Need the whole coffee brewing picture? Check out our Coffee Brewing Methods: The Complete Comparison guide!
---
Best Ground Coffee for French Press Conclusion
Light roast, medium-dark roast, French roast — no matter your taste preferences, French press coffee won't disappoint you.
All you need is hot water, a carafe with a plunger, and a bag of specialty coffee to be on your way to caffeine nirvana.
Oh, and four minutes. You need four minutes for ideal brewing time as well.
Find your best coffee beans and start enjoying coffee shop quality drinks at home today!