There are subscription boxes for just about everything we love these days — including our favorite caffeinated beverage.
There's no doubt about the math:
Coffee subscriptions + coffee lovers = ultimate bliss.
Maybe you've heard of options like Atlas Coffee Club or Blue Bottle.
But have you heard the buzz about Trade Coffee's subscription options?
With a Trade coffee subscription, you can get high-quality coffee beans delivered right to your door.
You can even try a new coffee every month.
From single-origins to blends, no matter your coffee preferences, there's a bag of coffee with your name on it!
Keep reading to learn how to get the hookup for different coffees you won't find on Amazon or in the local grocery store.

---
Why Sign Up for a Coffee Subscription?
If you're a coffee fanatic, you're taking a lot off your weekly to-do list when you sign up for coffee curation.
Think about it:
Less time spent hunting down the best roasters since they're all curated and ready for you to scope out in one location (online)!
You won't ever get stuck in a caffeine rut. In fact, you can try a new coffee from a different roaster as often as you feel like it with the click of a button.
Note: Just update your order at least one full day in advance before your ship date.
Find yourself overloaded on light roasts?
Switch up your roast level and order a medium or even a dark for your next shipment.
Need a bag of decaf for an upcoming holiday party you're throwing?
Your subscription means you save money on any bag of coffee on Trade's website.
While you might miss your favorite barista at your local coffee shop, know what you won't miss?
The lines, the crowds, their sometimes inconvenient or unpredictable shop hours …
And, for the cherry on top, you can rest assured knowing you're supporting farmers and ethical trade practices with your subscription! (Not all, but most of their coffee is Fair Trade certified. Read more about that here.)
Further, Trade recently switched from cardboard shipping boxes to compostable coffee bags.
---
Trade Coffee Subscription Review
Signing up for a Trade Coffee subscription is easy peasy.
Plus, it's fun!
Trade Coffee offers a wide variety of coffee.
Before you get overwhelmed, here's what to expect:
1. Get Matched With Your Perfect Cup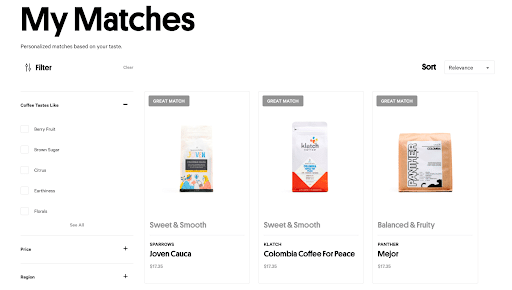 The first thing you'll want to do before signing up is to take Trade's coffee quiz! We love taking online quizzes, and this one is great at figuring out your unique caffeine needs and preferences.
The quiz will ask about how you brew coffee at home. If you have a grinder at home, you'll probably want to go for whole bean every order, but pre-ground coffee options are also available.
If you're a Keurig or other pod-brewer user, you can still benefit from a Trade subscription if you use refillable pods. Trade can hook you up with ground coffee to use in your single brewer!
It will also ask about your flavor preferences, coffee knowledge, and how you take your coffee.
Are you a decaf drinker?
There's even an option to have Trade only show/pair you with decaf offerings.
And if you don't love your first coffee, Trade will replace it — for free! (They call this their First Match guarantee.)
2. Choose Your Shipping Frequency
Now that you've selected or been matched with your first flavor journey, it's time to choose how often you want it to arrive.
You can pick if you want to receive one bag or two every delivery. Shipping options are available in one-week increments (anywhere from every week to every six weeks).
If you find yourself unable to drink your coffee fast enough, you can update your frequency or even pause your subscription anytime.
Plus, if you find yourself running low on coffee (the horror!), you can adjust it to deliver more frequently or up your quantity.
Oh, and did we mention as a subscriber, you'll always get free shipping?
3. Your Coffee Selection is Roasted to Order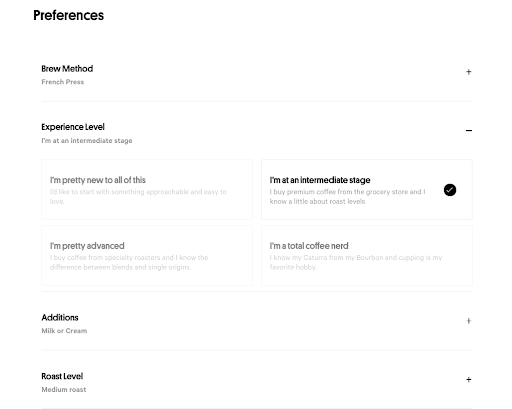 No more stale coffee from the grocery store. You don't have to live like that anymore!
Every bag of coffee beans you get from Trade will be roasted and shipped within 24 hours of submitting your order (via USPS priority).
Speaking of roasters, you can view all the coffee roasters that work with Trade here.
4. Subscription Tiers and Pricing
Trade has two subscription tiers with varying price ranges depending on the coffee you choose and the quantity!
Once you sign up for a subscription, you can edit your shipping frequency, update order dates, pause (or even cancel if you need to) at any time.
The Classics
If you like coffee that tastes like coffee, this is the tier for you. Nothing too wild and adventurous, yet you'll still be enjoying new coffees to keep your tastebuds singing!
This curated list of specialty coffees has over 200 craft blends and single origins.
The price range for this tier is $12.50 – $14.75 per bag of beans. And again, as a subscriber, there are no shipping costs!
The Hookup
The next tier is the one for the caffeine thrill-seekers — a premium catalog of over 450 unique coffees.
Varying roasts, origins, and flavor notes but still curated for you based on your coffee quiz answers (You can always go rogue from your quiz results, Trade won't stop you)!
The price range here goes from $15 – $22 per bag of coffee with free shipping, of course.
Refer a Friend
Trade also has a referral program that's easy to use.
Check it out:
Pick up to six friends or family members you think would love Trade Coffee Co.
Get a personalized code through the "refer-a-friend" button under your account
Click "share now"
If your friends use your code to sign up for a subscription, they get their first bag of coffee for free
After they use your code, you get a $3 store credit
Simple, right?
---
A Sneak Peek at Some of the Coffees on Trade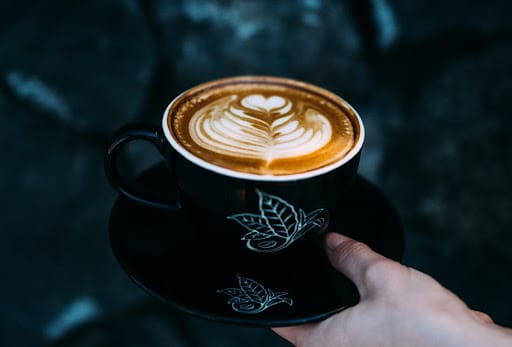 Now that we've covered how a subscription works, let's talk about our favorite subject:
Fresh coffee beans!
Single Origins
These will be the priciest picks, but single-origin coffees are worth it. Plus, if you subscribe, you'll always receive 15% off.
Several caught our eye (and by eye, we mean credit card info):
Coffee Blends
These blends won't disappoint you or your favorite coffee mug.
Espresso
The perfect creamy, dreamy latte starts with a crema-rich shot of good espresso.
There are currently 55 choices of espresso coffee on Trade's site.
Here are our top picks for your home espresso machine:
Decaf Coffee
Some people say, "decaf coffee? Why bother?"
But as others say, "if you know, you know." You still deserve to get your coffee flavor fix, even if you're caffeine sensitive.
Trade has your back with tasty choices like:
---
Drink Trade Gift Box Options
Scouting around for the perfect gift for your fellow coffee drinkers?
Trade Coffee offers a gift box option, called (drum roll, please) …
Celebration Box
With this one-time gift option, you can send someone a flight of coffee!
It includes three specialty bags plus one tailored to their preferences — for a total of four bags of coffee. Choose whole bean or ground; the price is still $72 (shipping included).
But, wait, there's more!
Trade Coffee Gift Subscriptions
Alternatively, instead of sending multiple bags at once, sign them up for their own subscription.
Prices start at $40 (free shipping) for this option, and you'll need the recipient's e-mail. Once you purchase, Trade will send them a redeemable code, and they can take the coffee quiz and customize their type of coffee.
Corporate Gifts from Trade Coffee
This is the celebration box with a cool twist.
Trade lets you add your signature branding to this gift box option.
---
Coffee Equipment from Trade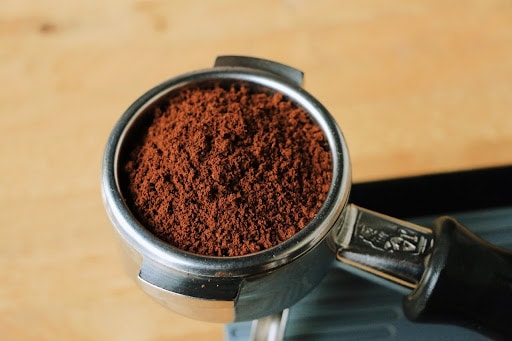 We're sure you already have some sort of brewing method at home, but when you love coffee as much as we do …
You need all the accessories!
Whether you're a diehard coffee lover or just starting out, here are some things you might want to check out:
If good coffee is truly your passion, check out their electric kettles and precision scales as well. Then you can really dial in your pour-over or French press skills!
---
Conclusion
Coffee subscription services are a fun and convenient way to find the new best coffee for your unique preferences!
They also make amazing gifts for the other coffee lovers in your life. If you know what kind of coffee they like, surprise them with the freshest beans from Trade Coffee Co.
With a craft coffee subscription through Trade, your morning (or afternoon or, heck, evening) cup of coffee is about to get even better!