If you've had Kona coffee, you already know what all the buzz is about.
But, if you haven't?
It's time for your Hawaiian coffee initiation!
Kona coffee beans grow exclusively on the Big Island of Hawaii, specifically on the slopes of two volcanoes. The rich volcanic soil of the Hualalai and Mauna Loa mountains lends a helping hand in making truly excellent tasting coffee.
Sunny days, some elevation, plenty of shade, and steady rain all pitch in, a microclimate ideal for coffee-growing conditions.
When scouting around for this quality coffee, make sure the beans you buy say they're from the Kona region.
Kona coffee beans are often a bit pricier (for good reason!), and while coffee blends may be cheaper, they'll likely contain much less authentic Kona coffee beans in them.
That said, we will still recommend a few tasty Kona blends for the budget-conscious.
Let this act as a buying guide for you on the best Kona coffee brands that you can find in-store or exclusively online.


---
What is Peaberry Coffee?
As you go through this list of our top picks, you might notice quite a few choices are "peaberry" Kona coffee. If you aren't familiar with peaberry coffee, let's clear that up right now!
Well, first off, did you know coffee is technically a fruit?
It's true.
Okay, it's a fruit seed.
Coffee farms grow coffee cherries which typically contain two coffee seeds. A natural mutation occurs every once in a while, resulting in only one single seed inside the coffee cherry — a peaberry.
Because peaberries are on the rare side (they make up anywhere from 5% to 10% of a coffee harvest), they're processed in small batches and sold for a higher price.
How's the flavor, you ask?
Experienced coffee drinkers will note it's both brighter and a bit sweeter than non-mutated beans!
If you haven't tried it before — treat yourself.
Coffee connoisseurs refer to peaberry as "the champagne of coffee." The price is worth knocking a new experience off your caffeine bucket list (you have one of those too, right?).

---
Top Five Kona Coffee Brands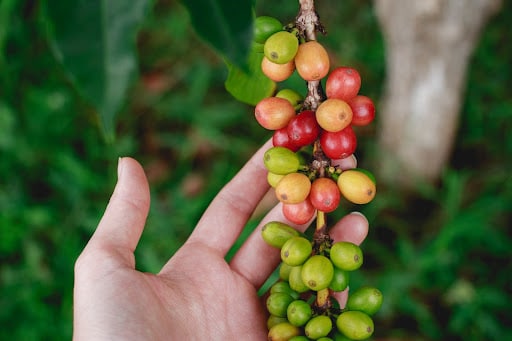 Here are our top picks for Kona coffee that you can find for purchase online (and a few of them in select grocery stores).
1. Koa Coffee
Touted as the authentic taste of Aloha, the Hawaii coffee company, Koa, offers several award-winning 100% Kona coffees.
Once upon a time, Koa coffee even made a Forbes 50 of America's Best list.
Grown on the nourishing slopes of the Mauna Loa volcano, their Kona coffee is handpicked and expertly roasted before shipping.
Here are a few of our favorites, none of which are Kona blends — all authentic flavors of aloha:
Estate Kona Coffee
When you order the Estate Kona coffee, it's a guarantee that your coffee beans are only coming from a single Kona coffee farm.
You can order this single estate coffee as a medium or a dark roast.
Choose from whole bean or pre-ground options. (Unfortunately, there doesn't seem to be a grind customization option, so we assume it's a medium grind for standard auto-drip brewers.)
Try the natural process medium roast if you want to truly experience the flavors of Hawaii. The natural process of letting the coffee cherries dry still in their skin in the sun allows the bean to absorb more of those fruity tasting notes we love.
At $32/8 ounces, you'll be sure to enjoy every luxuriant sip. Or save a couple of bucks by doubling up with their Kona Estate/Natural Estate Duo.
Private Reserve Kona
While this is still 100% Kona coffee, the Private Reserve is Koa's "secret" blend.
This proprietary blend is smooth and well-balanced. It's available in medium or dark roast, ground, or whole bean.
It's a hair cheaper than the Kona Estate. A half-pound bag will run you around $30.
Grande Domaine Kona
Coffee lovers, prepare for excitement. The Grande Domaine from Koa Coffee was selected as a Kona coffee cupping contest winner!
It is the Kona creme de la creme for medium-dark roast enthusiasts — a Vienna roast. With tasting notes of the Mauna Loa region and the oily roasting flavors, it's the best of both worlds.
Available ground or whole bean, this one is a touch more than the Estate Kona at $35/eight ounces.
Peaberry Kona Coffee
The last one we want to mention before moving on to our next Kona coffee brand is Koa's Peaberry Kona.
A rare delight, Koa's Peaberry coffee has low acidity, is full-bodied, and offers a smooth aftertaste. Like their other coffees, they sell it as medium or dark roast, but only available in whole bean form.
P.S.: Do you have a good grinder yet?
As for the price, you're looking at $45/eight ounces. You can opt for the Duo pack to save a dollar off each bag. Maybe a fellow gourmet coffee lover will want to go in on a two-pound bag of coffee beans with you!
2. Volcanica Coffee Company
State of Hawaii certified, straight from Aloha Farms, Volcanica offers this Extra Fancy Kona coffee.
When shopping for 100% Kona coffees, you'll encounter terms like:
"Kona fancy"
"Kona extra fancy"
"Kona select"
"Kona prime"
And even "Kona number 1"
These are how Kona coffee experts grade each coffee, so to speak.
Kona Extra Fancy is the highest of the five coffee grades. It means these coffee beans are the largest, heaviest in moisture content, and the most blemish-free.
The price tag certainly reflects this standard, with a one-pound bag going for about $125! You can buy it in a coffee tri-pack or save 5% with a five-pound bag of coffee beans.
Volcanica's Hawaiian Kona is a single-origin medium roast (washed process), and Kosher certified. We know you'll enjoy the flavor profile of jasmine, bright citrus, floral fruits, tart cherry, and irresistibly sweet caramel!
If you don't want whole bean, you can select from the following grind options:
Drip grind (medium)
Espresso grind (fine)
French press (coarse)
If you prefer to order through Amazon, you can find this Volcanica Kona coffee here. It's the same price as buying directly through Volcanica, and both sites offer free shipping.
3. Bad Ass Coffee of Hawaii
If the name doesn't immediately sell you on this coffee, maybe this next bit of info will!
This Hawaiian Kona coffee company gets its name from the donkeys that cart loaded fresh coffee beans down from the Kona coffee plantations at one time.
They were strong and badass — which is how we like our coffee!
Bad Ass Coffee of Hawaii 100% Kona Peaberry
Leading with the Kona peaberry coffee this time around!
For the coffee "nerds," these beans are a Guatemala Typica varietal (grown in Hawaii still, of course!). They offer bright acidity with flavor notes of sweet cherries and citrus fruits.
They roast their 100% Kona peaberries to medium (full city roast), and the result is decadently smooth and satisfying.
Choose from whole bean, drip, French press, or espresso grind. A 12-ounce bag of the Bad Ass Peaberry will run you near $70, but you can subscribe and save 10%.
Bad Ass Coffee of Hawaii 10% Kona blend
For those without the champagne dreams, here's our first Kona blend pick!
Bad Ass Coffee of Hawaii mixes 10% of their premium Kona coffee beans with other international coffees resulting in a luxurious cup without the hefty price tag.
This medium roast is a much more budget-friendly option at just $18/12 ounces. Order the whole bean or choose the grind that best fits your at-home coffee maker needs.
4. Royal Kona Coffee
Get your crown or tiara ready; we're talking Royal Kona Coffee next.
Royal Kona has been in the coffee roasters game since the late 1960s. They have a chef's series of blends created by, yup, world-famous Hawaiian chefs!
You'll likely find Royal Kona served in the best restaurants if you visit the Big Island.
Private Reserve Kona
This full-bodied medium roast is Royal Kona's most popular Kona roast.
Available whole bean or what they call an "all-purpose" grind, you'll find it delightfully aromatic and smooth.
As far as pricing goes, it's pretty on par with Koa Coffee. A seven-ounce bag falls around $25. You can also find Royal Kona on Amazon.
This medium roast is also available decaffeinated. This makes us so happy — after all, we don't want the decaf crowd left out of the Kona coffee experience!
Note that they only sell pre-ground when you purchase the decaf beans.
More 100% Kona from Royal Kona
Here are some more options we dig:
100% Kona Peaberry – As gourmet as it gets, intensely aromatic, sinfully smooth, about $38/seven ounces of the highest quality whole bean coffee
100% Kona Natural – Natural process means the coffee beans dry in their cherry skins, delicate with a silky mouthfeel, around $26/seven ounces
100% Kona Estate – Extra fancy grade and from a single estate farm, this lively and bright coffee will run you around $28/seven ounces
Flavored & Gourmet Coffee Kona Blends (10% Kona)
Do you have champagne fantasies on a beer budget?
We hear you. If dropping $70 on a bag of coffee isn't in the cards this month, these top picks will still have you feeling pure Kona coffee vibes at a fraction of the price.
These are all priced at around $10 per eight ounces of coffee. Most are available either pre-ground or as whole bean.
Are you a fan of flavored coffees?
Get a load of these tantalizing flavors:
Toasted coconut
Honey, vanilla, or chocolate macadamia
Mocha latte
Hazelnut
Vanilla creme brulee
Try the white chocolate strawberry flavor if you're looking for something extra special and dessert-like. Enjoy it hot or chilled. Royal Kona recommends topping this one with some freshly whipped cream!
5. Kona Joe Coffee
There's just something satisfying about enjoying a cup of joe that comes from the success of a former "average Joe."
Yes, there really is a Joe behind Kona Joe coffee! You can read his story here.
Here are some of their straight-from-the-Kona-Coffee-Belt offerings:
Signature Trellis Grown 100% Kona Coffee
Kona Joe's coffee plants grow along trellises. This intricate system allows every branch to gain maximum exposure to that wonderful Hawaiian sunshine.
This pure Kona coffee is available in several size options, with prices starting around $45.
Estate Trellis Reserve 100% Kona Coffee
Available in fancy and extra fancy coffee grades, the Estate Trellis Reserve is a medium roast that uses only the highest-quality Kona coffee beans.
The volcanic soil of the Kona district paired with a medium roast creates a swoon-worthy balance of nutty and fruity coffee taste.
Choose from whole bean or ground, and prices start around $55/eight ounces (or subscribe and save 15%!).
Kona Peaberry Coffee
This one will make your tongue tingle!
Rare peaberries make for a more concentrated coffee taste.
Put this one on your holiday wishlist. Pricing starts at around $110 for an eight-ounce bag.

---
Best Kona Coffee Subscription Boxes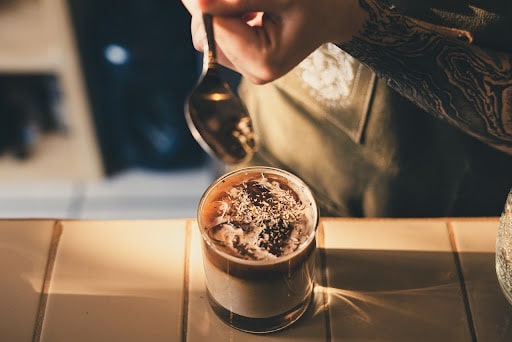 Subscription boxes are almost too good to be true. Every month (or so), products you absolutely love show up magically on your doorstep.
Okay, it's not magic, you probably signed up, but it feels pretty magical all the same!
If you want to try Kona coffee in a subscription box, here are some options for you:
Kona Coffee & Tea Coffee Club Subscription
Kona Coffee & Tea is a family-owned, operated, and award-winning farm.
They work from a single estate in the Kona coffee belt, so all their coffee is single-origin!
They grow the Arabica Typica coffee varietal and are among the few on our list that offers a light roast 100% Kona coffee.
You'll receive a fresh bag every 30 or 60 days with a coffee subscription.
You can try all their 100% Kona coffee offerings, every roast, peaberry, flavored coffee, or even order a bag of unroasted beans!
Bean Box Coffee Subscription
You've probably heard of Bean Box. This is a dreamy option if you want to try Kona coffee, but you don't want it every month.
Bean Box has a ton of coffees to choose from and even coffee goodie gift boxes with chocolate or biscotti!
For Kona coffees, they have Keala's Hawaiian Coffee 100% extra fancy Kona and 100% Fancy Waikiki Coffee Kona.
The Keala's extra fancy Kona is a nutty medium roast with tasting notes of passion fruit and coconut. Washed process and great for French press coffee!
The Waikiki is also a washed process medium roast, but its flavor profile includes chocolate, mango, and passion fruit. They call it a tropical vacation in a mug, and we are smitten!
Follow this link to sign up for a Bean Box Coffee subscription now.
---
Conclusion
From the "champagne of coffees" to 100% Kona to Kona blends, we hope you enjoy exploring this corner of the caffeine world!
If you've been curious or wondering, "is Kona coffee worth the price?" it's high time you found out for yourself (and we vote a hearty, "YES," for the record).
When you start with high-quality beans, you really can't go wrong.
However, we recommend pour-over or French press for the ultimate Kona cup of coffee.