Maybe you've signed up for a rad coffee subscription that delivers freshly-roasted coffee beans to you on a bi-weekly basis. Or you pick up a bag from your favorite local coffee shop whenever supplies are running low. Did you realize that you need a coffee jar too?
Yet, how you store your coffee beans once you bring them home also has a massive effect on how long that fresh flavor lasts.
Unsure if your coffee bean storage is up to snuff? You need a coffee jar.
Not just any food storage container will do for your precious beans or ground coffee. While wide-mouth mason jars are a popular choice for kitchen decor, they might not be the ideal option for those beans.
Here's how to choose the best coffee jar for both freshness and looks.
---
The Four Horsemen of the Coffee Apocalypse
That glass canister, while attractive, isn't your bean's best friend. Not to be too dramatic about it, but your fresh coffee beans have four natural enemies:
Air
Too much air exposure will lead to stale coffee beans.
That's why leaving your coffee in the bag it arrived in isn't generally recommended (though some coffee brands boast airtight seals on their bags). If you do choose a glass container for your beans, be sure it has an airtight lid.
Moisture
You've likely met (or been) a person who swears by keeping their coffee beans in the freezer. If you buy beans in bulk, you can go this route.
But proceed with caution.
Coffee absorbs moisture from the air (not to mention odors), so if you're going to keep it in the fridge or freezer, you'll need an airtight storage canister.
Be careful when removing beans from the freezer too. Take as much as you need out and return the rest to the freezer before any condensation can form.
Heat
Store your beans in a cool and dry place in the kitchen. So they can't hang out in the cabinet with the spice jars that you keep closest to the stovetop.
The pantry or a shady corner of the countertop might be your new bean-friendly not-so-hot spot.
Light
Picture this:
A glass storage jar with a loose cork lid and the afternoon sun hitting and shining off the oil of your favorite dark roast beans.
It paints a pretty picture … but now you know it all equals terrible news.
If you don't want to shut your coffee away in a cupboard, make sure the storage container you put it in doesn't allow in the light.
---
The Best Coffee Storage Containers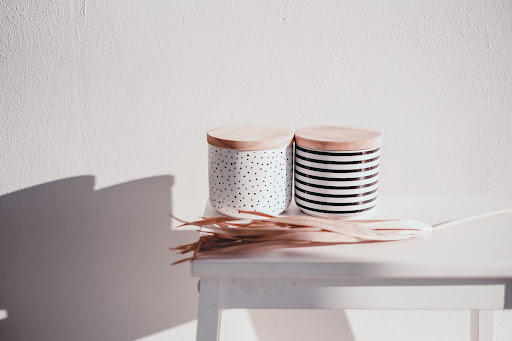 Safeguard your caffeine stash in style with one of the following 11 attractive coffee canisters.
---
1. Amazon's Choice: Veken Coffee Canister
You can likely see why this coffee jar is a best seller.
First off, you can buy several of these for a streamlined kitchen storage canister set. You can use them to store anything from flour to tea.
But here's why you want at least one of these for your coffee.
Key Features:
16 or 22-ounce capacity
100% BPA-free silicone sealing lid
Date tracker
Free scoop included
Measurement markings inside
Further, this storage canister comes in several different colors, so you can try to match the rest of your kitchen storage! Choose from black, gray (our favorite), copper, a retro shade of green, or matte silver.
There's only about a $2 price difference between the 16-ounce and the 22-ounce, so we vote you go for the larger capacity canister. Snag one off Amazon for under $25.
---
2. Kopmath Ceramic Kitchen Canister
If Bohemian style is your jam, then this one's for you.
The Kopmath ceramic coffee jar boasts a unique starry sky design.
A rubber ring inside the attractive wooden lid keeps air out and ensures your beans or coffee grounds stay safe from moisture. Likewise, the ceramic will keep sunlight out. So you can display this cute canister on your countertop next to your coffee maker with pride!
Key Features:
Super airtight
Opaque high-temperature ceramic
Dishwasher-safe (hand wash the wood lid)
850-gram (~4 cups) capacity
The rubber sealing lid is BPA-free
This storage canister also makes a great housewarming or Christmas gift. You could also buy several and use the others for herbs, sugar, dog treats, or even use it as a cute candy jar.
It's available on Amazon for under $16.
Coffee at Your Doorstep? Consider a Peet's Coffee Subscription.
---
3. Urban Outfitters Colina Ceramic Canister
Urban Outfitters — we love their clothes, their home decor, and now?
We love, love, love their kitchen canisters.
Their imported Colina food-safe ceramic canister is white with speckled blue dots topped by a bamboo lid. Note that it is handwash only. It measures 4.25" by 4.33", so it is a little on the smaller side — a good choice if you only like to store a week's worth of beans/grounds at a time.
You can buy it on their website; it's on sale for $14 (usually $18). Before you hit "checkout," remember you can get free shipping for spending over $50. So don't forget to throw a few more of their unique storage canisters in your cart!
---
4. CoffeeVac Coffee Container
For the serious coffee lover, we have this serious coffee container from Coffeevac.
The patented design creates a partial vacuum seal, keeping your coffee safe from air and moisture while letting it breathe and degas.
If all black is a little too much for you, it also comes in a dark rainbow or white floral.
Key Features:
Airtight
Moisture-free
Recyclable
Holds up to 1-lb.
30-day warranty
It's not as aesthetic as the ceramic containers. Yet, this NSF-certified food-grade plastic coffee jar offers great protection for preserving your coffee bean's freshness.
Amazon is offering them for around $15 right now.
---
5. Airscape Coffee and Food Storage Canister
The Airscape design is similar yet expands on the Coffeevac idea. It features a patented plunger lid and a two-way valve to pump excess air out of the canister. You should hear a comforting "swoosh" sound when using it!
It's a striking coppery color that they call mocha brown — perfect for a coffee canister, no?
Key Features:
18/8 restaurant-grade stainless steel
BPA-free
Stackable
Stain/odor-resistant
Holds approximately 1-lb.
It's handwash only and costs about twice as much as the Coffeevac, but the freshness and flavor protection is well worth the investment.
Get yours for $32 on Amazon and store up to one pound of whole bean coffee or 1 ¼ pound of coffee grounds!
---
6. Jamie Oliver Food Storage Jar with Wood Lid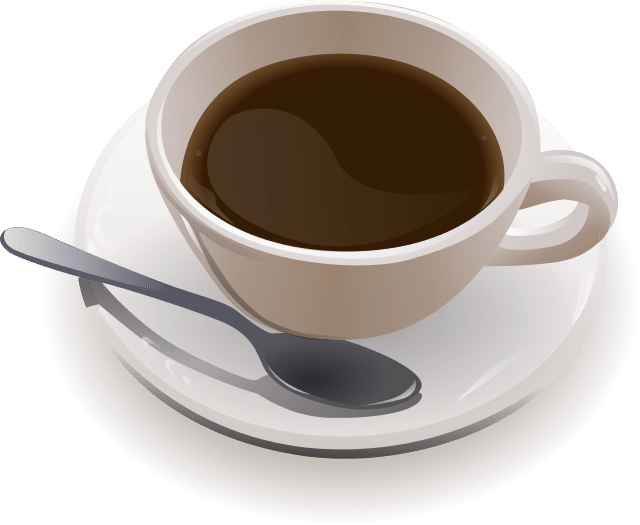 Feel like a professional chef without leaving your kitchen by adding Jamie Oliver ceramic jars to your countertop.
This small, sleek food jar can hold up to half a pound of ground coffee. The base is off-white ceramic topped by gray. The lid is Acacia wood with a silicone seal to make it airtight for dry food storage.
Currently, only the small size is in stock on Amazon, and we'd recommend buying a canister set! You can get the small option for under $20.
---
7. Mixpresso Stainless Steel Airtight Coffee Container with Date Tracking
Available in classic black or a striking red, the Mixpresso coffee container is another Amazon's Choice.
The easy-to-use date wheel lets you keep track of when the coffee was roasted or when you put it in the canister (whatever date is most helpful to you, really!).
The metal lid has a one-way valve, keeping out light, oxygen, and moisture while allowing gas to escape.
Key Features:
Premium food-grade stainless steel
Airtight and lightproof
16-ounce capacity
BPA-free
1-year warranty
Best of all?
It's deeply affordable! Keep your coffee beans safe from all four "enemies" for under $17 on Amazon.
---
8. Yamazaki Ceramic Coffee Canister
We felt the list would be incomplete without at least one offering that says "coffee" on it.
This coffee storage solution from Yamazaki comes from Japan, and you can also get matching plain ones or canisters that say "sugar" or "salt."
We love the simple, clean elegance of the white ceramic with its ash wood lid. It'll look so perfect next to your coffee maker or as part of a canister set lining your countertop.
Stick to handwashing this piece and use a soft sponge. It holds just over 15 ounces, so almost a full pound of coffee!
Buy it on the Yamazaki website for only $14 (before shipping).
---
9. Belari Faceted Storage Canister
You'll see right away why we like the Belari storage container — it has such a unique shape! Minimalism meets modern-day mathematicians in this geometric kitchen storage solution.
Its uses extend beyond kitchen decor, but the matte black finish makes it ideal for keeping light and air out of your coffee beans. The wood lid makes it pop, even more, bringing style to your coffee corner.
The large size is seven inches tall with a six-inch diameter, excellent for holding a week's worth of beans or coffee grounds.
Buy it off the Belari website for just under $30 (before shipping).
Don't Run Out of Coffee – Blue Bottle Coffee Subscription.
---
10. OXO Steel POP Coffee Container with Scoop
For those looking to store larger quantities of coffee beans, we found this great option from OXO.
At first glance, you might say, "Hold up, that storage container is not opaque." And you're 100% correct. Yet, it does have a tint to block out UV rays. We still recommend keeping it in a dark, cool place like your pantry, though!
Key Features:
1.7-quart capacity
Space-saving design
Comes with a scoop
Dishwasher-safe parts (handwash lid)
Airtight silicone seal
If pictures of perfectly-organized pantries do it for you, this is the kind of kitchen storage container you've been looking for. The included scoop is two tablespoons and is very handy for measuring out coffee grounds.
(Note: Don't pick up the container by the lid!)
Available in other sizes on Amazon as well, but this option is just over $20.
---
11. Williams Sonoma Sicily Canister Set
This canister set is the most expensive option on our list of food jars, but arguably, the most striking!
The inspiration for this elegant pattern is vintage Italian dinnerware. This durable, high-quality stoneware canister will stand out with deep blue, buttery yellow, and hints of red and green.
Available in small, medium, large, and as a canister set of three. Each size has a slightly different handpainted motif. They're suitable for all manner of dry food storage; the large capacity one would make an excellent cookie jar (perhaps espresso cookies, mmm!).
The small size holds up to 2 ¼ quarts, the medium is 3 quarts, and the large can store 3 ¼ quarts.
Pricing starts at $39.95 (for the smallest canister), but if you buy the set of three, you'll save around $10. They're an exclusive from Williams Sonoma.
---
Coffee Jar Conclusion
Freshly roasted beans + a stylish sealed jar = ultimate caffeine bliss.
Ditch (or repurpose) that borosilicate glass container and protect your single-origin whole bean or your favorite flavored ground coffee with one of these airtight coffee jars instead!