In this fast-paced world, coffee on demand is now becoming non-negotiable. So if an essential part of your business model includes keeping people moving, caffeine accessibility is vital.
Enter ol' reliable — coffee vending machines.
These hot beverage vending machines do more than just hot coffee. They often offer hot chocolate and specialty coffees like cappuccinos or mochas, too.
A high-quality coffee vending machine is an incredibly welcome aid in this working world, from gas stations and hotels to office break rooms and hospitals.
There are several options available, so take a close look at your unique needs before buying.
Here are five things to consider while you're shopping around!
---
Things To Consider Before Buying a Hot Beverage Vending Machine
From drink selection to size to energy consumption, let's create a snapshot of your coffee brewing needs.
1. How Much Power It Will Use
Sustainability is in.
Energy-efficient is more than a buzzword; it's crucial for the planet's future.
Also, it's just a dang smart business practice to know how much energy your appliances are consuming.
A regular ol' drip coffee maker needs between 300 and 1500 watts per pot. A single-cup brewer uses about 200 to 400 watts per cup. While that's technically less, it'll add up fast if you're brewing several cups back-to-back.
Needless to say, a coffee vending machine is going to need at least a bit more wattage. For example, this vending machine from Well-Mark uses up to 1600 watts for its heater.
How much power a coffee vending machine uses daily depends on how high the beverage demand is and its subsequent water usage.
Energy Saving Options
So, what can you do to help make an environmentally and economical choice?
Look for commercial coffee brewers with the Energy Star mark. You can also qualify for rebates or incentives by buying an Energy-Star qualified product.
You'll find a list of Energy-Star certified commercial coffee brewers here.
Save money, save energy, all while serving up hot coffee all day long!
2. The Space You Have Available
Of course, you'll need to measure the space where you intend the coffee vending machine to go. Space is less of a concern for gas stations but crucial for smaller areas like office break rooms.
A beverage vending machine will need much less space than a snack vending machine. (At least, when it comes to the coffee variety, Coca-Cola soda machines are pretty large!)
A good rule is always to measure twice.
You'll need to know the length, width, and depth of your new machine. And, don't forget to measure access points (if you can't get the vending machine through the door or down a hallway, it won't help your coffee service!).
3. The Drink Selection
Are you looking for a coffee vending machine for your convenience store?
Chances are, you'll need it to have more drink choices than if you were shopping for an office.
Most coffee vending machines are capable of offering several hot drinks at a time, including:
Lattes
Cappuccinos
Mochas
Hot chocolate
Tea (or hot water)
Other espresso drinks
While a vending machine can't rival a barista in a coffee shop, you can still make sure it has enough variety to please everybody.
Don't forget to include a decaf option for the less-caffeinated crowd!
Remember the Extras
Is your coffee dispenser mainly used for regular drip-brew coffee?
If so, you'll need to offer a selection of creamers, sweeteners, and other popular additives on the side. Not to mention various sizes of cups, lids, drink sleeves, and stirring sticks.
4. How Much Maintenance It Requires
Some machines will need a lot more upkeep than others. From cleaning to reloading, it's crucial to vet your options thoroughly.
For commercial locations, a machine that's easy (and quick!) to reload is of the utmost necessity.
How to reload your machine will vary depending on which vending machine you buy. It should come with thorough instructions, and there may be helpful tutorial videos available online explaining it as well.
Look for a vending machine with a self-cleaning feature to keep things running as seamlessly as possible!
5. The Payment System (If Applicable)
If you're in the business of offering gourmet coffee gratis, then you can likely skip this section.
Making the checkout process simple is critical if your beverage vending machine is in a high-traffic area. Look for easy-to-use touchscreen machines that accept credit cards as well as cash.
Can't Decide on the Best Coffee Flavors? We suggest this flavored coffee.
---
Best Coffee Vending Machine for the Break Room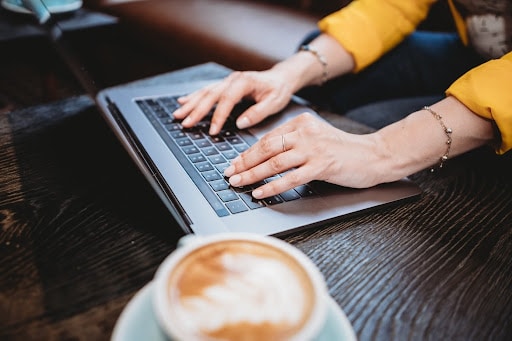 If you're shopping for office coffee, single brewers are popular for a good reason. You can offer reusable mugs, or employees can bring their travel mugs to refill as needed.
Keep the break room stocked with K-cups or coffee pods in various roasts and flavors to keep everyone happy and productive. After all, there's nothing like a fresh, caffeinated afternoon pick-me-up!
Keurig Office Pro Commercial
The Keurig Office Pro Commercial coffee maker is an excellent choice. With auto on/off, less than a minute brew time, and a 90-ounce removable water reservoir, you can keep the go-juice flowing from nine to five (or whatever your office hours are!).
Key Features:
4 brew sizes
Full-color LCD touchscreen
3 language settings
Adjustable brew temperature
Removable drip tray (to accommodate travel mugs)
Check out some more reviews of this machine on Amazon.
Flavor Comparison: Coffee Vending Machine vs. Keurig K-Cups
If you've had vending machine coffee, you know it tastes way different than your normal drip-brew from your favorite coffee beans. Or even coffee from a single-brewer that uses pods like a Keurig.
Why is that?
It's because most vending machine coffee uses instant or freeze-dried coffee granules. K-cups use actual ground coffee, making them closer in flavor to filter coffee than vending machine coffee.
Yet, as the times change and coffee grows in popularity, modern machines are kicking quality up a notch.
A machine like Crane National's COTI Freestanding Coffee Vending Machine will give customers more power of choice/flavor.
COTI Freestanding Coffee Vending Machine
Mirror the coffee shop experience by putting one of these freestanding vending machines in your business. This machine gives users an extensive, customizable drink menu to appeal to unique tastes.
Key Features:
A "Save my drink" option
Big touchscreen
Requires 15-50% less cleaning time than other machines
Supports digital advertising
Reusable cup option
---
Best Coffee Vending Machine for a Hotel Breakfast Bar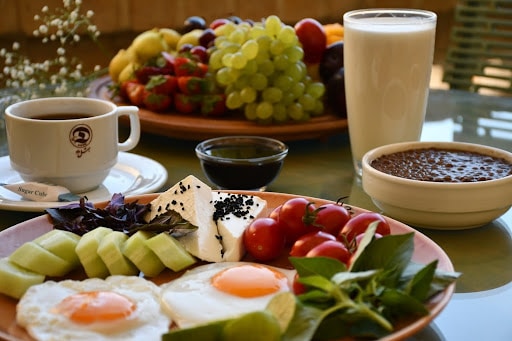 For a hotel breakfast bar or anywhere you're expecting to serve many patrons, it's best to take a combo approach.
Offer large coffee dispensers of freshly-brewed hot coffee. And have a drink vending machine for those who prefer espresso-style drinks.
Like this option:
Bunn Espresso Machine
This three-hopper espresso machine by Bunn can provide up to 83 cups of coffee an hour.
Key Features:
Adjustable legs and drip tray
5.2 gallon/hour output
1800 watt rating
Variable powder-to-water mixing ratios
Easy to fill hoppers
If three hoppers are too many for your needs, Bunn also offers a single hopper version.
Need a Way to Store Your Mugs at Home? Try a Coffee Mug Tree.
---
Best Coffee Vending Machine for a Larger Service Area
If you're looking to offer something at a hospital, bank, or university, you'll need a vending machine with a little more oomph.
Micro markets are closely related to vending machines. They're often combos, offering snacks and beverages, where users can buy anything from fresh fruit to sandwiches. But they always have a self-checkout.
If you're only looking to offer coffee, though, you'll want something like this:
MarketOne Vending Machine
This one has 11 core hot beverages, allowing for a total of 34 combinations. It's also available in freeze-dried or fresh brew models.
Key Features:
LED showcase lighting
iVend cup sensor system
2-year limited parts warranty
Braille keyboard
Coin mech and bill validators
Learn more about this vending machine here.
Cafecture Controlled Coffee Pod Merchandiser
Another option is to offer a Keurig alongside purchasable coffee pods.
This machine can hold up to 256 coffee pods at a time. The glass front display makes it easy to see the selection and choose a pod. Its compact design is also perfect for countertop storage.
Further, it has a Braille keyboard and energy-saving LED lighting.
Learn more about this product here.
---
Conclusion
Whatever your unique coffee service needs may be, rest assured there are drink kiosks available to support them.
From drink selection to maintenance, your consumer's caffeination needs will be well in hand. A coffee vending machine is easy to manage and saves a lot of time — a precious commodity in the business world and beyond!