Of all the brewing methods, the French press stands out for its bold, rich taste.
Since the French press is an immersion brewer, you'll wind up with a fuller flavor than pour-over or drip methods provide. (On the other side of the coin, pour-over produces an unbeatable smoothness.)
Admittedly, making French press coffee takes slightly more work than brewing a carafe of automatic drip coffee, but it's worth it!
How do you turn hot water and coffee grounds into the best cup of coffee?
This step-by-step guide will show you how to brew your perfect cup every time. From how to grind your beans to precise measurements to accessories — it's all here!
---
How to Make Perfect French Press Coffee
Grab your French press and put the kettle on; it's time to brew coffee!
We've broken the brewing process down into five easy steps for you:
1. Figure Out Your Coffee to Water Ratio
The coffee to water ratio for the French press will vary depending on your individual tastes. Some people are happy with a ratio of 1:12 (stronger brew), while others prefer to go as high as 1:17 for a weaker cup of coffee.
We recommend starting in the middle of that range — 1:15. Then adjust the next pot's ratio if you crave a stronger or weaker cup.
A standard French press holds 32 ounces. That means you'll need 12 tablespoons of ground coffee to achieve a 1:15 coffee to water ratio. (If you use a scale to measure your coffee, measure 64 grams.)
2. Dial-in Your Water Temperature
If you're using a kettle on the stovetop for your French press coffee, let it sit for one minute after coming to a boil. Using boiling water for your coffee could lead to over-extraction and a bitter taste.
You can buy an electric coffee kettle that'll give you control over your water temperature. That way, you can ensure your hot water is a perfect 205 degrees for your press! (195-205 degrees Fahrenheit is your sweet spot.)
You can also "preheat" your French press by filling it with hot water before brewing coffee.
3. Soak Your Grounds
Once you've measured out your coffee grounds and you have your hot water, take time to let your coffee "bloom."
To do this, pour enough hot water over the grounds to submerge them. Then, give it a quick stir with a wooden spoon to saturate the ground coffee.
(We recommend a wooden spoon because most French presses are glass, and you don't want to crack them with a metal spoon!)
4. Keep an Eye on the Brew Time
After soaking your grounds, fill the French press the rest of the way with hot water and start a timer (or watch the clock) for four minutes. If your water was on the cooler side, it might take up to five minutes.
Don't go far away, though. If you leave it to brew too long, you risk over-extracting the coffee!
5. Make the Plunge!
Now for the super fun part:
When your brew time is up, place the lid on the press. Slowly push the plunger down, trapping the sediment at the bottom of the carafe.
Pour gently to prevent any grounds from escaping into your cup of coffee.
---
How to Make Cold Brew in the French Press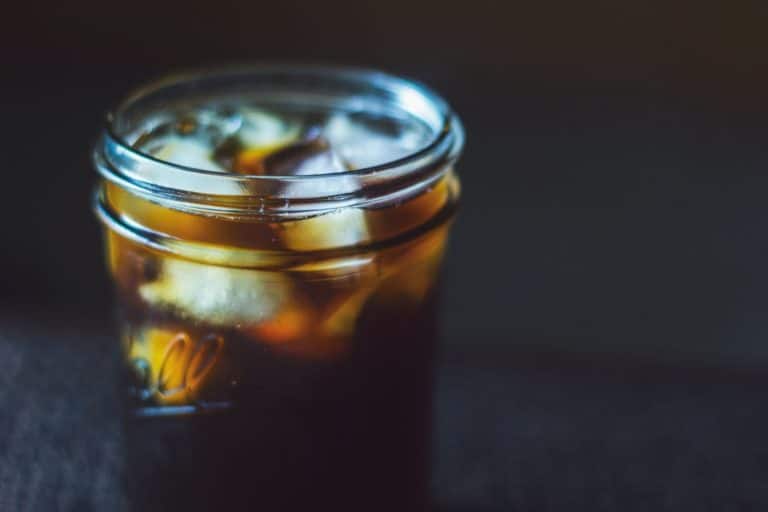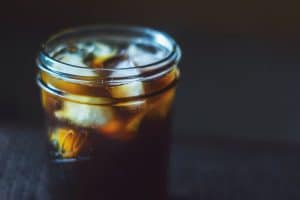 Now that you know how to make French press, we have great news for cold brew coffee lovers:
You can make it in the same carafe!
It's simple; it just requires a time commitment. (You won't be able to use your French press for 24 hours!)
Step-by-Step Instructions for Making Cold Brew in a French Press
You'll need more coffee grounds to make cold brew than a traditional French press. You'll be using a coffee to water ratio of 1:6.
Buy coarse ground coffee or use your grinder on some fresh beans. You'll need around two cups for a standard-sized press (~140 grams of coffee).
Add the coffee grounds to your French press.
Top with 3.5 cups of cool or room temperature filtered water. You'll need 840 grams of water if using 140 grams of coffee.
Stir the grounds and water.
Cover the press with plastic wrap or foil, unless your fridge has enough room for the French press lid without the plunger down.
Stick it in the fridge for at least 24 hours.
Plunge after the 24 hours are up.
Dilute with some water or milk and serve over ice if desired!
You can also make cold brew concentrate in your French press using the same process but with a 1:1 coffee to water ratio.
---
How to Grind Coffee Beans for French Press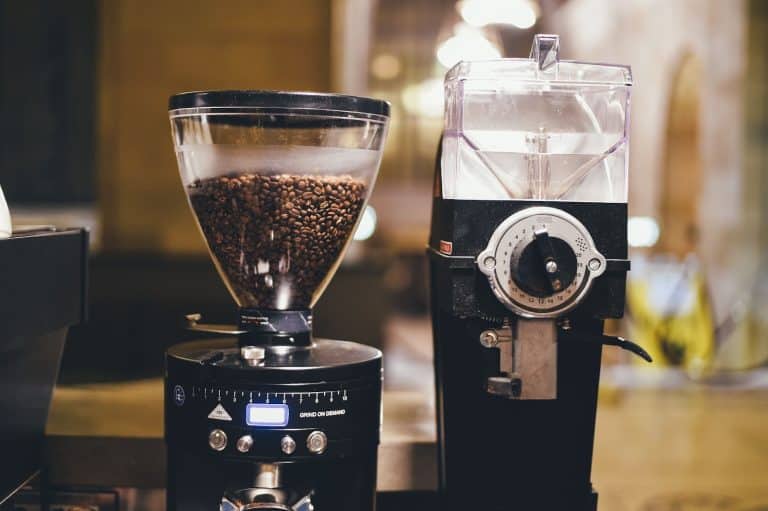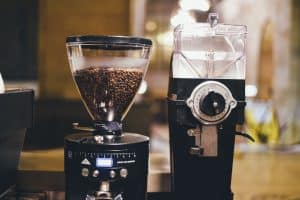 The best-tasting cup of French press coffee comes from freshly-roasted whole coffee beans. Buy the freshest whole bean coffee you can source and grind it yourself before brewing.
The optimal grind size for the French press is coarse and a very coarse grind for cold brew coffee.
For this, we recommend investing in a burr coffee grinder. We prefer a burr grinder over a blade grinder because it gives you a more consistent grind and works faster. In other words, there's less chance of the beans getting heated during the process.
The Cuisinart DBM-8 automatic burr mill is a popular choice, and an electric grinder will make your life that much easier! But, of course, if it's an arm workout you're after, you can go old-school with a manual burr grinder.
---
Best French Press Coffee Maker Brands
If you don't have a French press yet, or if you're looking to upgrade your current set-up, here are some of our favorite brands:
Bodum Glass Carafe
Classic look plus durable design, the Bodum has a one-liter capacity (so you can expect about four 8-ounce cups of coffee).
Key Features:
Glass carafe, plunger, and filter are all dishwasher safe*
Safety lid to prevent spills
Borosilicate glass carafe withstands high heat without breaking
Lightweight
You can buy a Bodum French press coffee maker from Amazon for just over $30. They also have it available in other colors or finishes (even copper!).
*You will need to handwash the frame and lid (with a non-abrasive sponge).
Fellow Clara Stainless Steel Coffee Press
The Fellow French press coffee maker offers better portability and insulation than the classic Bodum style.
Key Features:
Insulated for better heat retention
Hot water and coffee measurement lines inside the carafe
All-directional pour lid
Non-stick coating
Agitation stick for even extraction and no bitter flavor
The Fellow press is more expensive than the Bodum, going for around $96 on Amazon. Yet, the price is worth it for their attention to fine detail and sturdy, brew-from-anywhere design.
Le Creuset Stoneware French Press
Le Creuset stoneware is handcrafted in France, which is so fitting for something we call a French press, no?
Their legendary enamel resists scratches and stains, which is essential for a coffee maker!
Key Features:
Glazed interior is nearly non-stick for easy cleaning
Microwave, dishwasher, oven/broiler, and even freezer safe (though you likely won't be putting it through most of those ordeals!)
Stainless steel plunger and mesh filter
34-ounce capacity
Available in a rainbow of colors
It is a tad heavier than classic French presses and not quite intended for travel. Yet, it's not as expensive as the Fellow press. You can grab one off Amazon for just under $80!
Espro P6 Stainless Steel French Press
We can't create a list of the best French press brands without an Espro offering!
The insulated double-walled stainless steel makes this French press your best camping/outdoor/travel coffee maker.
Key Features:
Patented double micro-filter (no more grit!)
The filter stops extraction completely
BPA, BPS, and phthalate-free
32-ounce capacity
Also available in matte black
The one downside is that it's hand wash only. (We prefer to hand wash all presses even if they're dishwasher-safe.)
It will cost you more than the other options on our list, but this French press will be your buddy for life.
Interested in Something Different? Try a Turkish Coffee Maker.
---
What Roast Makes the Best Coffee for French Press?
The answer depends on your unique palate.
When it comes to a great cup of French press coffee, dark roasts always deliver.
That said, if dark roasts don't do it for you or you find them too smoky, a medium roast works just as well!
And what about the lighter side of the coffee bean spectrum?
While we prefer to use the pour-over method for light roasts, they work in a French press.
If you're unsure which roast is your favorite, start with a medium-dark and work from there.
We even have an article to help you find the best coffee roasters. Check out: The 9 Best Coffees to Make with a French Press
---
Accessories for Your French Press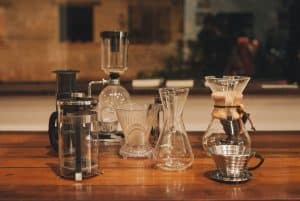 Now, get ready for some fun extras!
These are our favorite French press accessories:
Coffee Decanters
If you already have a classic French press, kick your home barista game up a notch with a coffee decanter. Decanting ensures your perfectly-brewed coffee doesn't continue extracting, leading to that bitter flavor. Decanting can also keep your brewed coffee hot until you're ready to drink it.
We love these Lafeeca thermal carafes. They come in plenty of fun colors and are double-wall vacuum-insulated.
French Press Cozy
If you don't want to decant your coffee, you can buy a little sweater for your French press instead!
These adorably rustic accessories are hand-crocheted and come in nine different colors.
Bamboo Stirring Stick
Bamboo won't absorb heat from your brew or damage your carafe while stirring.
This organic bamboo stir stick from Diguo is an affordable little accessory for your French press and dishwasher safe to boot!
Paper Filters for French Press
If you find your cup of coffee has more sediment in it than you'd hoped for, it could be that your grind size isn't quite right. Yet, even with a coarse grind and a good mesh filter, it's hard to avoid some sediment from the last cup of the carafe.
The good news is:
Paper filters for the French press exist!
Check out these paper filters from Caffi. They're easy to use and cut down on cleanup time. Best of all, they're compostable (along with your spent coffee grounds!).
Along the same vein, you can also try out these nifty French Press Brewing Bags. They work for tea and cold brew coffee as well!
Replacement Parts
Even if you baby your French press, a few parts might need replacing after years of use. Plus, if you don't have a shatterproof-glass carafe, accidents do happen.
The good news?
Replacement parts are pretty easy to come by. You can find them through your French press manufacturer or on Amazon.
Here are some of the most common parts you may need to replace:
Filter (or just the filter screens)
Related: 11 Best Coffee Decanters [Benefits of Decanting Coffee]
---
Conclusion
You're well on your way to being a French press brewing expert.
Although, you may wish to bookmark this article so that you always have the step-by-step instructions nearby.
We hope you pick up some fun new accessories to try, and, as always:
Drink delicious coffee!