When it comes to brewing coffee at home, one method leads the pack:
The mighty French press.
With other brewing methods, the paper filter catches most of the delicious oils present on your beans. By allowing the grounds to steep without going through a paper filter, you end up with a bold, more flavorful cup.
While it might look tempting to grab a French roast, this isn't always the best coffee for French press brewing.
Though that isn't a hard rule! Sometimes those beans are the top choice. In fact, wait until you see review number seven!
With this handy list of reviews, you can shop for whole bean or ground coffee online or off store shelves with confidence.
After the reviews, check out our frequently asked question section for even more tips and tricks to help you brew a better cup of joe.


---
1. Best Choice – Bulletproof French Kick
If morning coffee is more an intentional ritual than a mindless habit for you, treat yourself to a bag of Bulletproof French Kick.
The flavor on their French Kick blend is smooth, smoky, and even a little sweet. Medium-bodied with tantalizing tastes of chocolate. You'll enjoy the excellent flavor — hold the bitterness and acidity!
This organic dark roast is everything your French press dreams about.
The Bulletproof process includes beans sourced from sustainable farms in Guatemala and Colombia. The beans are grown at high altitudes and hand-picked. Then they're washed, dried, and thoroughly tested for toxins before packaging.
And, unsurprisingly, they are Rainforest Alliance certified as well as Climate Change Friendly. There's nothing quite like drinking a good cup of coffee with the satisfaction of knowing it's beneficial for the rest of the planet too!
You can purchase a bag directly from their website here or buy it off Amazon if you have Prime and need it to ship even quicker.
Trust us, we know how scary it is to run low on coffee beans!

---
2. Budget Pick – Seattle's Best Coffee Portside Blend
Are you in the market for a smooth medium roast that won't break the bank?
Seattle's Best Coffee has you covered. Their popular Portside Blend is hearty, well-rounded, and has a full body.
All the best adjectives for a French press-friendly brew.
These beans are available pre-ground, but we recommend you purchase them whole. That way, you control the grind size. Pre-ground beans are ideal for drip coffee makers, but you're going to need a coarser grind.
100% Arabica and sourced from Latin America, the flavor for Portside Blend is distinctly smoky — without being sour.
Stock up on it in bulk from Amazon and if you're a fan of flavored coffees, check out their toasted hazelnut blend!

---
3. Best Whole Bean – Koffee Kult Colombia
For fresh-roasted gourmet coffee, Koffee Kult has got your back.
These small-batch roasted 100% Arabica beans hail from Huila in Southern Colombia. Koffee Kult is family-owned and artisan-roasted to order.
Fresh is best, and that's what you get when you order from these roast masters!
How's the flavor?
Smooth and bright notes of cinnamon tickle your tastebuds. This medium roast sits heavy-bodied on your tongue. And it leaves you with a long finish.
Yeah.
We're ready to order some more bags of beans too! Get it straight from the source here. There's even an awesome option to subscribe for auto-shipments and save money!

---
4. Best Ground Coffee – Stone Street Coffee Cold Brew
If Koffee Kult is a little too rich for your blood, here's another Colombian choice. Stone Street specializes in blends for making cold brew coffee.
This smooth, low acidic, coarsely ground dark roast will work perfectly with your French press plunger, too, though. Made from 100% Colombian Supremo beans, this organic coffee is bold on the flavor and won't disappoint.
Also Rainforest Alliance and Kosher certified.
Small-batch roasted and Fair Trade certified, your grounds come in a resealable foil bag to keep the flavor sealed in. It even has a degassing valve to preserve freshness.
And if you don't like it, pass it along to the cold brew coffee lover in your life. (But we think you'll like it, that's why it made number four on our list after all!)
If you're ready to try, buy a one, two, or five-pound bag off Amazon now.

---
5. Peet's Coffee – Major Dickason's Blend
For fans of spicy and complex, Peet's Coffee delivers!
Major Dickason's Blend is much talked about, and for a good reason. Suitable for a refined palate, this full-bodied dark roast tastes just like coffee should.
That is: rich, smooth, and layered.
Hand-roasted to order in small batches, these beans are 100% Arabica and certified Kosher.
Order a bag of whole beans off of the Peet's Coffee website and see for yourself what all the fuss is about.

---
6. Death Wish – Whole Bean Organic
A serious name for a serious cup of dark roast coffee.
We think it's safe to say that Death Wish is for serious coffee drinkers. They call it the "World's Strongest Coffee," boasting that it has double the strength of an average cup of joe.
Fair warning: It's highly caffeinated.
Death Wish's USDA-certified organic whole bean coffee is a blend of Arabica and Robusta beans. They are also Fair Trade certified, making this purchase a decision you can feel ethical about.
The flavor profile includes smooth chocolate and subtle fruity notes of tart cherry. It's low in acidity and not bitter with no artificial additives or ingredients used.
Buy a single bag to try or if you already know you love these high-quality beans, sign up for a coffee subscription and save!
Note: Maybe don't use this bag of beans to make cold brew coffee with!

---
7. Real Good Coffee – French Roast
If the name is any indicator, this coffee isn't just good.
It's really good.
All kidding aside, the Real Good Coffee Company cares about the environment. They've recycled over four million coffee pods!
Their dark roast — the French roast — is packed in 100% recyclable bags. It's roasted fresh in the coffee capital of the USA: Seattle, Washington.
So, what's the flavor profile like on this French Roast?
We're glad you asked! Get excited.
Rich undertones of tangy-sweet raspberries meet dark chocolate in this French-style blend.
But that's not all!
An exotic spice joins the party: Mediterranean spice anise. Just a hint, just enough to surprise the socks right off of you when you take that first morning sip.
Buy a two-pound bag directly from them now. It's even blessedly affordable (thanks, Real Good Coffee Company)!
French roast for your French press, now that's French squared! Last one: double the French, double the fun? Okay, we're done, we promise.

---
Frequently Asked Questions
And tips for everything French press brewing, bean storage, and beyond!
Tips for Using a French Press
Here are a few ways to brew your French press coffee even better.
Put boiling water in the empty carafe to warm it before brewing.
Use the freshest beans you can find. Check your area for a local roaster.
Use coarse ground coffee. The type of coffee definitely comes into play as well. Rather than a light roast, opt for something darker and with low acidity.
Use the right water ratio. For a standard French press coffee maker, the water ratio is 1:12 (For example, 30 grams of ground coffee per 350 grams of hot water).
Don't over-steep the grounds. Proper steeping time will vary depending on the size of your French press carafe.
Take things a step further by pre-warming your favorite mug! (Use hot water or a microwave.)
Curl your fingers around the mug. Inhale the dark aromas deeply and say, "ahhhh." Then sip and carry on with your day!
Should You Grind Coffee Fresh for French Press?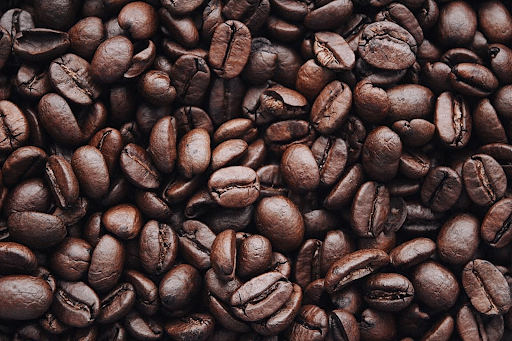 Absolutely.
Whenever possible, you should grind coffee beans fresh for every cup. This is how you'll get the best coffee flavor every time.
One of the top tips from baristas and coffee lovers worldwide is to invest in a high-quality burr grinder. Buy the freshest and best coffee beans available. Use your coffee grinder right before brewing, and play around until you find your perfect grind size.
There's an ideal coffee grind for your French press coffee maker, one for your drip coffee maker, and a different one for your pour-over brew method.
Finding the setting for your whole bean coffee will make a world of difference when it comes time to your next brew.
What is the Best Grind for French Press?
For French press coffee, you want a coarse grind. Coarse, but even that is. That's why a burr grinder is especially going to be your best friend in this case.
While blade grinders can get the job done quickly, they tend to leave your coffee beans with an inconsistent grind.
Take things a step further and grab a hand grinder to protect your beans from getting damaged by heat.
Also, it's blessedly quiet, which we love for those early mornings!
Here's a great stainless steel hand burr grinder you can buy on Amazon.
What is the Difference Between French Press and French Roast?
French press refers only to the immersion brewing method where you use a mesh filter and plunger. Since you're here looking for beans for your French press, we assume you know the method fairly well!
French roast refers only to a roasting style.
It's traditionally the darkest of the roasts, producing oily, rich chocolate-colored beans with smoky flavors.
There may actually be some health benefits to consuming dark roast coffees.
A word of caution: some consumers claim their French roast coffee beans don't stay fresh as long, that they are quicker to turn stale.
Our solution?
Drink up and drink fast!
How to Store Beans
If you pre-ground your beans and have some leftovers, here's how best to store them.
Ground coffee's greatest enemies are heat, light, and moisture.
To protect your precious flavorful grounds:
Store in an opaque container with a tight-fitting seal.
Store in your pantry (or a breadbox works).
Do not keep it in the refrigerator or freezer.
It's best to consume your ground coffee within two weeks.
Roasts and Caffeine Levels Explained
Some believe darker roasts have more caffeine. Likely because of their densely smoky and robust flavors.
According to most studies, the longer the time the beans roast for, the more caffeine leaches out, making light roasts surprisingly the heavier of the two on the caffeine scale.
Most studies also say the difference is pretty minimal, though.
Espresso tends to be the pack leader on caffeine content, though that's larger because of its volume.
---
Conclusion
Now you're all set to brew a better cup of go-juice right from the comfort of your own home!
We don't know about you, but all these coffee reviews have got us buzzing.
We'll leave you with one last fun caffeine craze tidbit — three out of five studies find caffeine to be helpful in the fight against cognitive decline.
Pour yourself a cup of strong-brewed health.
You deserve it!