If caffeine gets you going, sourcing new beans get you hyped, and trying new brew methods is your passion …
We have great news.
You're going to love learning how to use a Turkish coffee maker.
Ever heard of one?
Whether you've tried Turkish coffee in a middle-eastern restaurant or this concept is brand new to you, here's everything you need to know. From selecting beans to grinding them and even which Turkish coffee maker to buy, we've got your back!
---
What Is Turkish Coffee?
If this is the first you're hearing about Turkish coffee, prepare for excitement!
As a coffee lover, learning a new brewing method is always fun, right?
The first appearance of Turkish coffee dates back to the Ottoman Empire. In Turkey, you prepare coffee in a special pot called "cezve." In other countries in the Middle East, you may hear the pot called an "ibrik" instead!
You can use any coffee beans for Turkish coffee, but they have to be very, very finely ground. Most commercial coffee grinders have a unique setting for Turkish coffee — it needs an even finer ground than espresso.
Coffee and water (and often sugar, too) boil together in the cezve or ibrik. When the coffee froths and starts to boil over, you can remove it from the heat.
But the coffee isn't ready yet! So it gets reheated another time or two until it reaches the desired frothiness.
Turkish coffee is usually served in small individual cups (like demitasse cups). Because this method forgoes the use of filters, coffee grounds will likely be present in your mug!
What Does It Taste Like?
This brewing method is most similar to using a moka pot (or other stovetop coffee maker), yet the flavor is even more robust. It's much stronger than drip coffee, French press, and, yes, even espresso!
Some Turkish coffees use spice blends (like cardamom) and sugar during brewing — resulting in a sweet and spicy cup!
Interested in Light Roast Coffee? We reviewed 8.
---
How To Use a Turkish Coffee Maker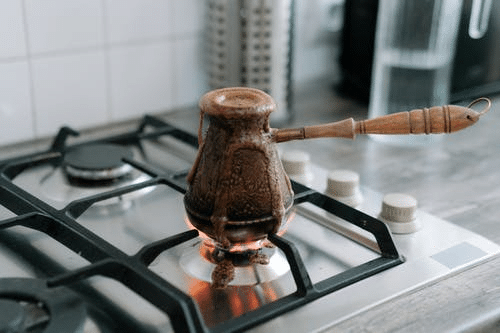 If using an electric Turkish coffee maker, refer to the instruction manual that came with your machine. Most are straightforward, though. Add coffee and water to the gadget, press some buttons, and you're good to go!
How To Use the Stovetop Version
First things first, assemble your equipment and ingredients.
You Will Need:
Cold, filtered water
Your cezve or ibrik
Extremely finely ground medium-dark roast coffee beans
Turkish coffee cups
Optional: granulated sugar
How To Measure Your Water:
This step depends on how many cups of coffee you want. A good hack is to use the coffee cup to measure your water. Using this "cup" (not a standard measuring cup), measure out one and a half cups of water per serving.
For example, if you're making four cups of coffee, add six demitasse cups of water to your pot.
How To Measure Your Coffee:
For each cup of water poured into the ibrik, add one heaping tablespoon of coffee grounds. For example, if you expect to end up with six cups of coffee, add six heaping tablespoons of ground coffee.
If you're using sugar, add it now.
How To Boil Your Coffee:
Place the cezve on a burner over medium heat. Slowly allow it to come to a boil.
It will take at least three to four minutes — don't walk away! Keep an eye on it. As the coffee warms, you'll see a dark foam building.
When the water is close to boiling, scoop a teaspoon of foam into each coffee cup. Leave the carafe on the heat.
As it boils, pour half of it out into the waiting cups on top of the foam.
Return the ibrik to the stovetop and boil the coffee still in it for ten to fifteen seconds more.
Fill the Turkish coffee cups to the brim.
For a traditional experience, serve with cold or room temp water and a sweet treat!
Check out recipes for Turkish Delight if you want to really impress your guests.
How To Make a Turkish Coffee Latte
If you love the idea of playing home barista and crafting creamy cappuccinos and luscious lattes at home, we're with you! Skipping the lines and saving money are both big draws to the home espresso game.
You can use a Turkish coffee maker instead of an espresso maker to craft coffee shop-style beverages.
You may wish to invest in a separate milk frother, though. Turkish coffee is foamy on its own, but latte and cappuccinos demand silky, milky microfoam!
Latte Recipe:
Pop a few cardamom pods into your grinder along with your beans, grind until extremely fine.
Prepare your ground coffee using a Turkish coffee pot.
If you're using sugar, you can add it before or after brewing.
Heat milk and froth (using either an electric milk frother, a battery-powered whisk, or a French press).
Use less milk and more foam for a cappuccino-style drink, or more milk with a bit of foam for a latte.
For an iced latte, skip the milk frothing and pour over ice!
---
What Beans Are Best?
When choosing your beans for Turkish coffee, while you can technically use any kind, some roasts will hold up much better during brewing.
Much like espresso, opt for a medium-dark to dark roast blend. You can even use an espresso blend to make your Turkish coffee!
Further, look for a roast that's all Arabica beans rather than a blend with Robusta beans.
For the most authenticity, you can try to find coffee sourced from Yemen. One option is Al Mokha, which is 100% authentic Yemeni mocha coffee.
---
What Grind To Use for Turkish Coffee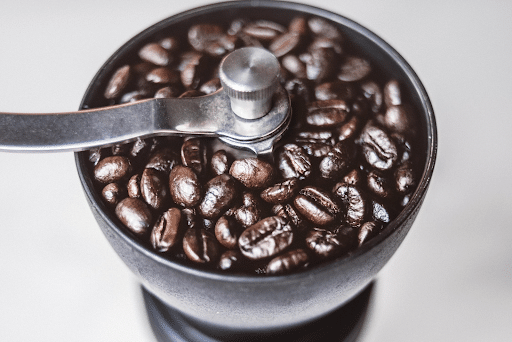 As we touched on briefly earlier, you want a finer grind than espresso for Turkish coffee. You want an extremely fine grind.
An extremely fine grind should look and feel like powder. This grind gives Turkish coffee its distinct flavor.
Achieving this grind varies depending on the coffee grinder you use. There are blade grinders, burr grinders, electric grinders, and manual grinders!
We recommend picking up a quality hand or electric burr grinder. This brushed stainless steel manual burr grinder from JavaPresse is a popular choice. For an electric version, check out this Cuisinart model.
---
Top Recommended Turkish Coffee Maker Machines
Thanks to modern technology, you can enjoy Turkish coffee made by machines!
We'll recommend a few electric Turkish coffee maker options and then a few more traditional copper carafes.
Enjoy perfect Turkish coffee in mere minutes with the Arzum Okka Minio machine. Easy to use, easy to clean, and takes up minimal counter space (ideal for small or apartment kitchens!).
Add your coffee grounds and water to the stainless-steel bottomed pot, and you're one button push away from caffeinated bliss.
The brewing detection sensor stops the brewing process automatically when your coffee is ready to serve.
Pour it into your "fincan" or Turkish coffee cups and sip in style.
Key Features:
Brews at low heat
Washable pot
One to four cup capacity
Overflow prevention system
See how current customers feel about this model on Amazon.
Another solid automatic option for you to consider:
The Beko Greek coffee maker.
Add your coffee, water, and sugar (optional) to the pot, insert fully into the machine, and push the start button.
That's it!
In under three minutes, you'll have two fresh cups of coffee. But not just any coffee — foamy, authentically flavored Turkish coffee.
Rinse the cup with water after each brew and hand wash with soap after every five to ten brews.
Key Features:
100% BPA-free
One-touch operation
Coffee in less than three minutes
Easy-to-clean pot
CookSense brewing
See what real-time users love about the Beko on Amazon.
A second option from Arzum Okka, the OK002W is more expensive than the first but offers enhanced features.
It automatically brews into two separate cups at a time in under a minute and a half. Or choose the more authentic "slow brewing" process, which still only takes around four minutes.
Enjoy cup size selection and even a self-cleaning function!
You can add sugar or spices if preferred, but all you need is finely-ground coffee and water to get a foamy cup of bliss.
Key Features:
Self-cleaning
Brews one or two cups at a time
Slow brew option
UL approved
Easy to use
See what makes it worth five-star reviews on Amazon.
This stunning copper Turkish coffee pot is handmade. It's an Ottoman-hammered cezve with a heavy-duty brass handle, solid copper outside, and food-grade tin on the inside.
The high-quality design extends to the spout, making it easy to pour into your Turkish coffee cups — mess-free!
You'll need to handwash your cezve and note that while it works on gas, electric, and most ceramic top stoves, it is not induction-compatible.
Round out your Turkish coffee-making experience by investing in a fancy coffee set. If you have an espresso machine at home, you can use these Turkish coffee cups for espresso, too.
Much like percolators or other stovetop coffee makers, this Ibrik is perfectly suited for camping trips! Especially since there's no need for filters.
Key Features:
Affordable
Durable
Stylish
Makes a great gift
Multi-purpose use
Snag one for yourself and one for a friend off Amazon.
Thick, engraved copper makes this a truly remarkable and authentic piece. These stovetop coffee makers are completely handmade and engraved in Turkey.
The interior has a food-grade tin lining, and the wooden handle has a gorgeous mother-of-pearl inlay.
The capacity of the carafe is just under 15 ounces, meaning you can fill five to six demitasse cups.
Key Features:
Handmade
Thick engraved copper
Budget-friendly coffee maker
Large capacity (15-ounces)
Drip-free pouring spout
Treat yourself by purchasing the CopperBull Coffee Set for Two on Amazon.
---
Turkish Coffee K-Cups for Your Keurig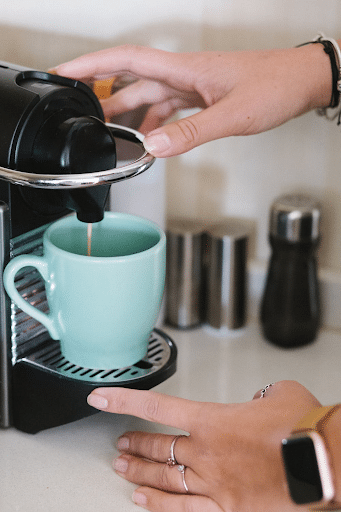 Are you a Keurig enthusiast? Do you want to enjoy the strong flavor of Turkish coffee without the involved brewing process?
We have great news for you then:
There's a shortcut!
There are a couple of K-cup options available for you to try. Just pop 'em in your single-serving brewer and enjoy a piping hot cup in under a minute!
Levant Blends Turkish Coffee Dark Roast Pods
Levant promises to deliver the flavor of traditional Middle Eastern Ibrik coffee at the push of a button. These dark roast pods contain 100% Arabica beans and won't rob you of the full Turkish coffee experience.
Meaning?
The pods allow the fine grounds to pass through, so you still get the "mud" in your cup the same as you do with the traditional preparation! Learn about Turkish coffee fortune-telling and try it with your friends!
Pick up a box of 12 or 24 of these recyclable coffee pods off Amazon now.
ChaldoCup Coffee Pods
Cardamom-infused coffee pods?
Yes, please, we'll take a dozen (or two!)
These K-cups consist of medium roast Arabica beans, cardamom, and other spices, delivering authentic Ibrik-style taste (and that coffee "mud") to your mug in seconds.
They're also 100% recyclable. So you can enjoy them sustainably.
Grab a box for under $25 off Amazon today!
Ready to Try Nitro Cold Brew? Learn How To Make it at Home.
---
Conclusion
That concludes our quick look into the wonderful world of Middle Eastern coffee making!
Whether you choose to try a more traditional cezve/ibrik or you opt for an electric Turkish coffee maker, we know you're going to be swooning with every rich sip.