Whether you came here to learn once and for all what a light roast coffee is, or your trusty Chemex is ready to go, and you're just looking for a new bean recommendation — you've clicked to the right place.
What's the buzz on light roast coffee?
Does it taste … light?
Does it have more or less caffeine than a darker roast?
How should I brew it?
We'll answer all these excellent queries and then some. If you're already a light roast swillin' superstar, scroll a little further down for our reviews on the best light roast coffees on the market.


---
What is Light Roast Coffee?
If you're a fan of breakfast blends, guess what?
It means you're probably already familiar with light roasts!
Light roasts are the lightest coffee beans you'll encounter because they see less heat than the other roasts. They offer more complex flavors than the other end of the spectrum — smoky dark roasted coffee.
Roasting Process for Light Roasts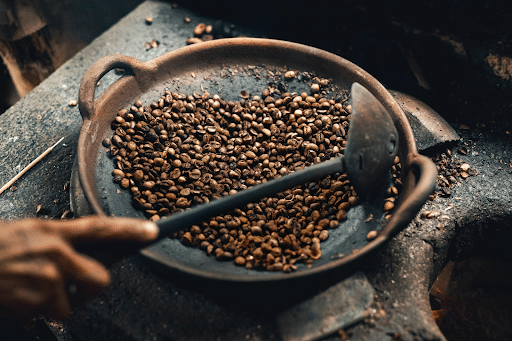 Did you know:
Before roasting, coffee beans are usually green? But green coffee beans won't work in your coffee maker!
There are varying roast levels; the main ones are:
Light
Medium
Medium-Dark
Dark
The most common roasters are drum roasters. For light roasts, the coffee beans can reach a temperature between 350 to 400 degrees Fahrenheit. Once the beans reach "first crack" (an actual audible sound!), your light roast is ready!
Since they aren't roasted as long, you'll also note that light roasts don't have that oily sheen on their surfaces that darker roasts get.
Light roasts also retain more of their origin flavors.
Let's talk about that some more!
Flavor Profile of Light Roast Coffee
Where coffee beans grow in the world and their unique conditions (high-altitude, shade-grown, etc.) influence the bean's final flavor.
But roasting also plays a big role in flavoring beans. The longer a bean roasts, the darker, toastier flavors it tends to take on. Whereas a light roast that doesn't go for so long will stay brighter in flavor.
Tasting notes for light roast coffees often include words like:
Floral
Fruity
Earthy
Milk chocolate
They can even taste like juicy berries, honey, citrus, or slightly nutty!
Caffeine Content of Light Roasts
This is always a point of confusion in the world of coffee. Dark roasts with their heavy-bodied, dark, smoky flavors taste like they should be the caffeine heavy-hitters. Yet, most people claim light roasts hold more caffeine.
Who's right?
It appears that roasting doesn't actually influence (or change) the caffeine content of a coffee bean. What does change is the weight of the bean. The longer a bean roasts, the more water it loses, and the lighter it becomes.
Your cup of coffee will have more or less caffeine depending on what unit of measurement you use (weight or volume). You would need to grind more dark roast coffee beans to match the caffeine of a denser light roast if going by weight.
Acidity Level of Light Roasts
Light roasts are the most acidic. That means they're not a great choice for those suffering from gastroesophageal reflux disease (GERD).
For this reason, many low-acid coffees tend to be darker roasts. (We'll include a light roast type of coffee with low acidity in today's reviews, though!)
Best Brewing Method for Light Roast Coffee
The best way to brew a cup of flavorful light roast is by using a simple method — drip.
The classic pour-over brewing method is a perfect way to enjoy a fresh mug. Pour-over is cost-effective and allows you full control over the end result.
That's because you can:
Measure and grind the precise amount of beans
Control your water temperature
Figure out your preferred extraction time
Investing in a high-quality burr grinder is a must if you're a pour-over enthusiast!
Now, let's look at coffee brands and pick out some beans so you can try it for yourself!

---
Starbucks Veranda Blend
A blonde roast, as you can likely guess, isn't actually blonde. It's a super light roast. Some of them roast until the first crack. But other roasters will pull the beans right before or during the crack!
Starbucks has done its part in bringing the blonde roast into the spotlight. They even offer drinks using blonde espresso. Their Veranda blend is a gentler take on their other roasts.
That first-morning sip will transport you to, well, a veranda.
The flavor is mellow with subtle flavors like toasted malt, nuts, spices, and baking chocolate. You can snag a 20-ounce bag off Amazon for under $10, which is a steal!
Key Features:
100% Arabica coffee beans
Ethically grown
Responsibly traded
Sourced from Latin America
Available pre-ground
Buy a bag now or check out more reviews on Amazon!

---
Kicking Horse Hola
Kicking Horse Coffee company got its start roasting beans in a garage.
While their coffee roasters have now expanded to a much larger operation, one thing hasn't changed:
They're still roasting kicka** coffee up in the Canadian Rocky Mountains!
What makes them so good?
Well, they always source 100% Arabica beans that are USDA-certified organic. Further, they engage in Fair Trade practices. So not only does your cup of coffee taste good, but it's also good for you and the world!
Their light roast offering from Central and South America — Hola — will tantalize your senses. Particularly, your sense of smell. The aroma wafts cocoa powder, brown sugar, and rich nougat.
The tasting notes are of juicy red currants with a creamy honey body. Swoon. We recommend making a pour-over or using it in your drip coffee machine.
You can usually find this organic coffee priced between $1.19 and $1.61 per ounce. However, it varies due to seller, grind type, and shipping.
Key Features:
Organic
Fair TradeKosher
Climate pledge friendly
Available as whole bean or ground
Ready to feel "wild, awake, and spirited"? Buy a one-pound bag on Amazon now.

---
Peet's Luminosa Breakfast Blend
If you're a coffee drinker (and we feel it's very safe to assume at this point that you are), then you know Peet's Coffee!
They've been a well-loved brand for decades. Recently their Colombia Luminosa took on a new name: Luminosa Breakfast Blend.
Luminosa means "shining" or "bright" in Colombia.
When you sip a fresh mug of this blend, you'll be ready to shine brightly yourself, no matter the time of day!
These beans are a Colombian and Ethiopian blend, making them subtly sweet with floral aromatics. The tasting notes are of passionflower, stone fruit, and cacao.
If you want it roasted and shipped the same day, order a one-pound bag directly from Peet's website. Or you can find this breakfast blend slightly cheaper on Amazon.
Key Features:
100% Arabica coffee beans
Certified Kosher
Hand roasted to order
Sealed for freshness
Available ground or whole bean
Tip: We always think a good breakfast blend is best brewed in a French press and paired with fresh croissants. (Or whatever your pastry of choice is!)

---
Don Pablo Decaf Colombian Light Roast
Some coffee lovers absolutely adore their daily cup, yet they can't handle much caffeine.
So what's a caffeine level-conscious coffee lover to do?
Enter our tasty hero — decaffeinated coffee!
Not all decaf coffee satisfies a caffeine-crazy palate, but this one will. Also, you can try it risk-free if you order off Amazon.
Don Pablo's Colombian light roast goes through a Swiss water process* before being artisan roasted in small batches.
The result?
Big flavor! Tasting notes of rich cocoa, sweet caramel, and just a hint of citrus.
As a bonus, it's also low acidity! Not to mention a family-owned company that uses 100% non-GMO Arabica beans.
Plus, it's affordable. A two-pound bag of light roast coffee beans will run you somewhere in the range of $20.
*The water process makes the coffee beans look darker, and they may actually be closer to a traditional medium roast.
Key Features:
100% Arabica beans
Non-GMO
Low acidity
Family-owned
99.9% caffeine-free
Tip: Make a pitcher of cold brew with these beans for even lower acidity!

---
Cameron's Kona Blend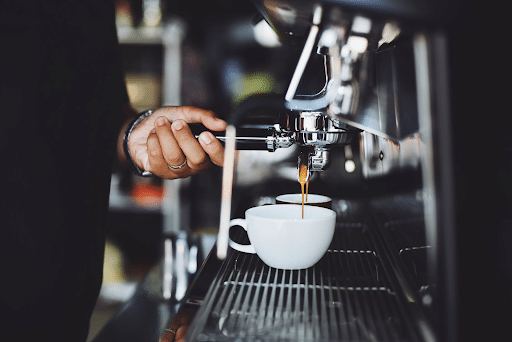 No list of best light roast coffees is complete without a Hawaiian blend!
Cameron's Kona blend roast ground coffee will make every morning feel like an island getaway.
It's bright, rich, and flavorful.
Available as whole bean or pre-ground, this coffee is ridiculously smooth. The flavor undertones are some of our favorite flavors — chocolate and nuts.
Cameron's is also super budget-friendly, great news for multiple cups-of-coffee-a-day drinkers! Less than $8 will bring you home a 12-ounce bag.
Key Features:
Sustainably sourced
Small-batch roasted
Top 10% of Arabica coffee beans
Allergen-Free
Gluten-Free
Did you know: When you buy ground coffee, it's generally a fine grind, making it ready to lock and load into your drip machine! But if you want to use it for espresso, you'll likely need to grind it down to superfine.

---
Real Good Coffee Co Breakfast Blend
They didn't want anyone to misunderstand what they were selling when they named their brand.
Real Good Coffee indeed.
Their breakfast blend delivers a smooth flavor to make your mornings even brighter. It has a brisk citrus flavor to wake up your tastebuds with aromatic notes of chocolate and cream to keep you buzzing!
They recommend you enjoy this blend in your French press, pour-over, or automatic drip. We recommend you enjoy it with a fat stack of pancakes drowned in syrup.
As far as pricing goes, it's not the cheapest on our list, but it's still a great price for gourmet coffee. Bring home a two-pound bag for around $25.
Key Features:
100% Arabica beans
Roasted fresh in Seattle
Grown, sourced, and packaged responsibly
No additives
Kosher
---
Caribou Coffee Daybreak Morning Blend
Not a morning person?
Caribou's Daybreak blend might just change your mind on that!
Even if you don't feel like rising and shining, you'll at least feel like brewing up a pot of this light roast.
Cheery, floral overtones will help you open your eyes to the bright new day. The flavor is of subtle fruit sweetness, sweet caramel, with a nutty finish.
Caribou Coffee maintains an affordable price point. A 20-ounce bag can be yours for under $11 on Amazon.
Key Features:
Rainforest Alliance certified
100% Arabica coffee beans
Small-batch roasted
Also available in decaf
Whole bean coffee or ground options
Tip: If you're a fan of flavored coffees, check out their Vanilla Hazelnut Dreamstate.

---
Coffee Bros Light Roast
Started by two brothers (hence the name!), Coffee Bros are all about quality and consistency.
Their signature blend light roast comes from the finest Arabica coffee beans from Ethiopia and Colombia. It's packaged minutes after roasting in an airtight bag with a degassing valve.
It makes a crisp cup of coffee with a silky body. And just wait until you get a load of these flavor notes:
Honey. Citrus fruit. Floral.
You can purchase a bag for around $1.25/ounce on Amazon. A little on the pricey side, but well worth it!
Get out your grinder, pour-over setup, and tie on an apron. You're a full-fledged barista now!
Key Features:
100% Arabica coffee beans
Whole bean coffee
From Ethiopia and Colombia
Organic
Washed process
Curious about pour-over? Check out this manual coffee carafe or buy a full pour-over coffee maker set.
---
Conclusion
If the words "fruity" and "chocolaty" set your tastebuds a-tingling, you must love light roasts as much as we do.
We hope you found a new favorite in the light roast blends above. Bring home a bag, grind those beans to perfection, and bust out the pour-over.
It's time for caffeinated bliss.