Q: What's a coffee lover's favorite type of tree?
A: Why, a coffee mug tree, of course!
A what now? Do you know those metal wire rack holders that people use for necklaces?
It's like that … but for teacups and coffee mugs! There are many different colors and styles available, from stoneware to satin nickel, marbled to bamboo. You can find a coffee mug holder that will perfectly complement your new kitchen cabinets.
Watch the world of wall decor and cup storage collide in the most beautiful way when you bring home a mounted coffee mug rack.
Not hurting for wall decor?
No worries. If you have the kitchen counter space to spare, you can buy a coffee cup tree stand instead of a hanger!
Pour a cup of brew, take a seat, and let's "window" shop, shall we?
Here are our nine favorite coffee mug trees and why you need to bring one home ASAP.
---
Why Every Home Needs a Coffee Mug Tree
There isn't anything much better than a well-organized home, especially a kitchen where everything is in its place. (Seriously, it's even great for your mental health.) A countertop (or wall hanging) coffee cup holder will free up some precious kitchen cabinet space for you!
Got a favorite mug?
Display it front and center on your mug stand. No more digging around the cupboard in the morning while you're rushing to get the day started.
Your mug collection might be so expansive that you haven't even seen some of your mugs in a while due to them being pushed all the way to the back of the cabinet!
You may discover a new favorite teacup while reorganizing. Or indulge in a cozy bout of nostalgia when you find that humorous coffee cup your best friend picked out for you on that epic road trip back in college.
Lastly, better organization perks aside, coffee mug trees are just undeniably stylish.
Let's take a little stroll through "the trees."
---
1. Gourmet Basics Rotating Mug Tree by Mikasa
Mikasa offers an extensive line of gourmet kitchen basics. Everything to keep your culinary ventures running smoothly, from tiered baskets to wine racks.
This mug tree is simple yet striking. There's something so timeless and elegant about wrought iron.
It's a countertop model, available in antique black, so it fits seamlessly into most existing kitchen decor themes. This handcrafted high-carbon steel tree is ultra-durable and very strong, holding up to eight mugs at a time.
Our favorite feature?
The rotation. That's right, it spins. Basically, it is a carousel ride for your coffee cups!
If you have a large, eclectic mug collection, this might not be the right option for you. But maybe you only have a set or two of matching mugs for a smaller home, and they'll look great on this tree!
It has minimal impact on your cleaning routine. Give it a quick wipe down with a damp cloth from time to time, and you'll be good!
This is also a super budget-friendly pick; you can check the price on Amazon here.
---
2. Spectrum Diversified Euro Countertop Mug Tree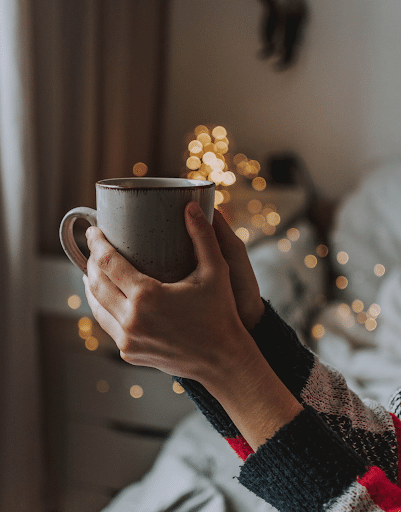 For another basic option — hold the gourmet — check out Spectrum Diversified's Euro coffee cup rack.
Don't let the fancy-sounding name fool you. This mug tree is even more affordable than the Mikasa above!
For a more modern kitchen, this satin nickel countertop tree stand boasts smooth lines. It practically screams, "efficiency!" Your contemporary coffee bar is about to get way more impressive.
The hooks will accommodate ceramic coffee mugs of varying sizes, and the top features a comfortable loop. Meaning if you need to transport your mug tree, you can do so with ease. (Can store it in a kitchen cabinet or out on the kitchen counter, the choice is yours!)
The care instructions for it are the same as the Mikasa, wipe with a damp cloth as needed. Towel dry if necessary.
Check this fresh, modern coffee mug holder out for yourself on Amazon.
Bye-Bye Buyer's Remorse: And if you buy it but later upgrade to a larger mug holder, you can pop this stainless steel tree on top of your dresser. Use it to organize your jewelry that tends to get tangled. Hang necklaces, bracelets, etc.
---
3. Home Basics Scroll Collection Steel Mug Tree
Another great countertop option is this mug tree from the Home Basics line of specialty storage.
Their scroll collection is all durable, rust-resistant stainless steel. It blends ornate scroll-work with modern functionality. This mug tree has a rounded base for balance, so you don't have to worry about it tipping over and harming your beloved hand painted ceramic mugs!
It's best for smaller households as this particular holder stand only has a six-cup capacity. It would also be great for a small office if nestled close to a single-brewer.
Love coordinating kitchen decor?
Then we have great news for you! You can also get a Home Basics Scroll Collection coaster set, paper towel holder, and even a fruit basket.
If you act fast, you can snag this cup holder for 53% off by using your credit card to checkout on Target.
---
4. Polished Bamboo Space-Saving Mug Rack
If your home is eco-friendly and natural, organic products are your jam — this is your coffee mug tree!
This sturdy bamboo mug rack by Wisucelontai is an absolute dream for the modern, space-saving kitchen. It can vertically hold up to six mugs at a time.
You can hang freshly-washed mugs on this tree to dry them. 'Cause don't worry: this cup holder is anti-rust!
Unlike the metal countertop mug stands, this bamboo rack's ultra-smooth varnish won't make any sharp ringing sounds. You know, like when you're fumbling for a mug at some ungodly hour of the morning before your eyes are even all the way open.
Plus, it's one of the most affordable mug trees out there! Priced under $15, this is one storage item you'll never regret purchasing.
Heck, grab a couple and maybe be the first person to start a coffee mug tree forest. At that price, why not?
---
5. Autumn Alley Rustic Galvanized Coffee Mug Rack Organizer
We're excited to talk about this mug tree. (Okay, we've been excited to talk about all of them. Because: coffee.)
Why is this one extra special, though?
Because it has a feature that none of the other models we've seen have had.
Are you intrigued yet?
This awesome countertop coffee cup organizer's base is a basket. That's right! Hang mugs above, store whatever you want below.
But might we recommend your K-cup pods?
Set this galvanized metal basket right next to your Keurig or Nespresso. Or whatever single-brewer you're rocking in your home coffee bar. Now, everything you need for that hot mug of brew is well within reach!
If you're not a pod user, you can store teabags, napkins, sugar, creamer, or any other coffee/tea accessories you have.
Having guests over?
Impress them by bringing this out loaded with fancy mugs and dessert plates for after-dinner coffee and sweets. The premium wood handle makes for easy transporting! (Also, the handle folds down if you ever need to store it!)
One downside is that it only holds four mugs. Oh, and it costs a bit more than the other countertop models. Yet, it's made of durable materials and dripping with farmhouse style appeal!
Click here to bring home this piece of rustic charm.
---
6. Vintage Blacksmith Metal Wall Mug Rack
If you flip for the farmhouse industrial look, you'll flip your lid for this wall rack! The distressed, black powder coating will add extra vintage appeal to your kitchen's existing decor.
And if your pals describe you as having "cups for days," you're going to need way more cup storage than a six or eight-cup countertop mug holder!
So, let's move away from the countertop trees for now to appreciate this stunning metal rack.
A hanging wall rack + your favorite tea mugs = style for days.
The three-inch prongs alternate per row (for six rows) from five to four. That means you can hang a total of 27 mugs on this rack. Ideal for those with huge mug collections begging to be shown off. (Looking at you, the mighty mug collector who buys a new coffee cup in every state they visit!)
This style of hanging rack also gives you freedom of design. Use mugs that match or go wild making up your own multi-colored pattern. Any way you hang them — the result is going to be epic!
As far as pricing goes, it is more expensive than all the coffee mug trees we've looked at so far. However, that's because it's quite a bit larger! Also, it's Fair Trade certified.
Are you totally sold?
Buy it here now.
Note: The hanging hardware is not included.
---
7. Wall Mounted Rustic Wood Cup Organizer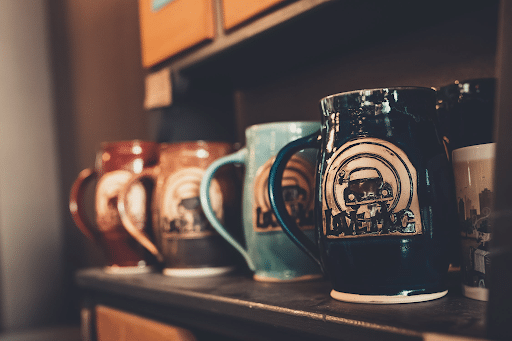 This wall-mounted cup organizer will leave no doubt in anyone's mind that you're into the farmhouse style!
The distressed, weathered wood will bring a warm, natural element into your home. Not to mention more of that awesome vintage charm some of us are drawn to!
The sturdy pine is resistant to cracking. And the high-quality metal hooks are well-spaced to protect your beloved coffee vessels. It has three rows of hooks and will hold eight mugs at a time.
If you're more of a tea drinker, perhaps you don't want to buy a rustic wall rack with "COFFEE" printed in typewriter font across the top. (Or maybe you do because that's your humor style!)
It has a super reasonable price, and you can free up cabinet space and jazz up your kitchen for under $30!
Note: Hanging hardware not included.
---
8. Fox Run Expanding Beechwood Coffee Mug Wall Rack
Let's start with talking about price this time because this is how you can buy a wall rack for a countertop mug tree's low price!
For less than $15, store up to 13 mugs at a time. A baker's dozen! Hmm, maybe also whip up a baker's dozen of muffins while you're in the kitchen.
This expandable rack is so versatile that you'll have to watch out for people trying to hang their hats or scarves on it! (Perhaps a coffee sign would come in handy here.) It's also a very durable construction, so if a coat does get hung on it — no harm is done.
Something else neat about this beechwood rack is that:
You can paint it!
Making it customizable to your unique kitchen decor.
Pick up this convenient storage solution here.
---
9. MaxGear Bamboo Wall Mounted Coffee Mug Rack
Did you see the bamboo mug tree earlier and get super excited … until you realized it only holds six cups at a time?
Then this last but not least option is our attempt to make it up to you!
Opt for a bamboo rack over a tree, and you'll be able to hang eight mugs at a time. This sturdy yet stylish wall hanger usually goes for around $30.
It boasts a smooth polish that won't rust, and all the prongs for hanging mugs rotate 360 degrees. That means you can easily accommodate mugs of varying shapes and sizes.
Treat your mugs to some bamboo by clicking here.
---
Conclusion
Elevate your home coffee bar and grant better accessibility to your favorite coffee mugs with a tasteful tabletop storage rack.
Whether you opt for an eye-catching wall hanger or a stand that looks like an actual tree, we just know you're going to love this newfound system for coffee cup organization.
Now your favorite coffee and tea mugs will see more use and may even spark some fun conversations when you have friends over — for coffee, of course!