Move over regular iced coffee, there's a new sheriff in caffeine town, and her name is cold brew. The process of cold brewing coffee makes for a smooth, mellow sipping experience that we can't get enough of — no matter the temperature outside!
While regular coffee has many benefits, the cold brewing process kicks it up a notch by lessening the acidity in your cup. The brewing time is a potential downside, but you can navigate that roadblock by planning.
Does it matter what type of coffee you use to make your cold brew?
In our opinion, yes, it 100% does. There is the best coffee for cold brew.
While most coffee beans will get the job done, some roasts and blends will result in a better-tasting cup of coffee.
Let's take a look at the 11 high-quality coffee brands that we've found make for the best cold brew coffee.
Saddle up … 'cause we're about to dig our spurs into this list of the best beans (and more!) you can find online. You might find your new favorite coffee, and we may even quit with the Old West talk.
---
What Roast Makes the Best Cold Brew Coffee?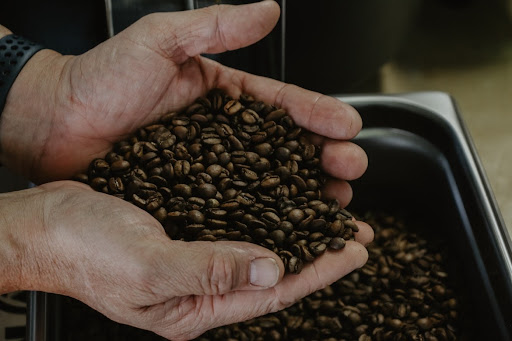 While you can use lighter roasts if you'd like, medium to dark roasts are generally the go-to for most cold brew enthusiasts. That's because the cold brewing process allows for maximum extraction of those dark chocolatey and nutty flavors typical of dark roasts.
You'll notice all our buzz-worthy picks below are medium to dark roast blends.
---
1. Stone Street Cold Brew
Stone street coffee company in New York leads our list with their Colombian single-origin dark roast.
They label this one their cold brew blend because it delivers a smooth, refreshing coffee. Not watery or bitter, with delicious tasting notes of chocolate and nuts.
You can snag a one-pound bag off Amazon in whole beans if you prefer to grind your coffee. But we love the convenience of ordering a bag of already ground beans so you can start that batch of cold brew the moment it arrives!
It has a reasonable price for a single-origin coffee; you can buy it for under $1/ounce.
Key Features:
100% arabica beans
Resealable bag
Low acidity
Artisanally roasted in Brooklyn
Ethically sourced
If you love their cold brew, try out their flavored cold brew blends as well!
Their flavors include:
Chocolate
Chocolate Hazelnut
Hazelnut
French Vanilla
Vanilla Hazelnut
Caramel Nut
Blueberry
If you opt for a bag of whole bean coffee, make sure you have a reliable grinder handy! Or you can get an electric grinder or manual burr coffee grinder if that's more your thing.
---
2. Tiny Footprint Coffee
Tiny Footprint Coffee donates a part of the proceeds to reforestation in Ecuador for every pound of coffee sold. This fact alone makes their product carbon negative.
Doesn't that make you feel even better about your favorite beverage?
You can grab a one-pound bag for under $13 on Amazon. And a pound of their ground coffee should hook you up with 1.35 gallons of fresh cold brew.
You drink coffee, they plant trees, and it's a win-win for the whole planet!
Their cold brew blend is perfectly crafted to deliver silky sweet richness in every smooth sip. It's a mix of light and dark roasts (spiked with some of their best Ethiopian coffees!). Meaning you get bright fruit and floral tones plus darker cocoa flavors.
If that's not the best of both worlds, we don't know what is.
Key Features:
Organic
100% arabica beans
Shade-grown
Craft-roasted
Available as whole bean or coarse grind for cold brew
Read more about Tiny Footprint Coffee's story here.
---
3. Stumptown Holler Mountain
Out of Portland, Oregon, we agree with Stumptown's stance that coffee is about pleasure.
Holler-lujah, our third choice is the holler-worthy pick from Stumptown Coffee Roasters. Their Holler Mountain blend is a hometown favorite — a full-bodied medium roast you'll, without a doubt, flip for.
Why?
Because it packs a punch of chocolatey beans, creamy caramel, hazelnut, and even citrus notes into every eye-opening sip.
As you can imagine, this blend makes for a satisfying cold brew with or without any added cream or sweeteners! (And with this blend, your options go beyond the cold press. Use another brewing method if you need a cup of drip coffee one unexpected chilly morning.)
At around $1.25/ounce, you can order a 12-ounce bag off Amazon for about $15.
Key Features:
100% arabica
Organic
Stay-fresh bags
Available as whole bean or ground coffee
Or sign up for a subscription on their website and get fresh-roasted beans delivered to your door!
Searching for Other Coffee Brew Methods? Check Out Our Complete Guide.
---
4. Cafe Du Monde Chicory
Enjoy the taste of history and tradition with Cafe Du Monde's exclusive coffee and chicory blend. In 1862, the original Cafe Du Monde coffee stands opened on the streets of the French Market in New Orleans. They're now a 24-hour coffee shop, only closing for Christmas and hurricanes!
The baristas often serve their dark roast chicory coffee as cafe au laits (hot coffee plus steamed milk), but it also makes a decadent cold brew at home.
Chicory coffee became popular in the south due to a coffee shortage during the Civil War. The roots of the chicory plant work on their own to produce a caffeine-free coffee-like drink with some health benefits.
When blended, coffee and chicory make for a bold, rich, nutty, and slightly woody-tasting beverage.
You can snag three 15-ounce cans off Amazon for around $0.49/ounce. That's less than $25 for almost three pounds of coffee. Plus, it'll stay fresh thanks to the easy-open cans with lids.
Pair it with a square French-style donut (a.ka. a beignet) if you crave the full flavor experience!
Key Features:
Dark roast
4 parts coffee to 1 part chicory
Gluten-free
Already ground coffee
Comes in an airtight tin with a lid
---
5. Bizzy Cold Brew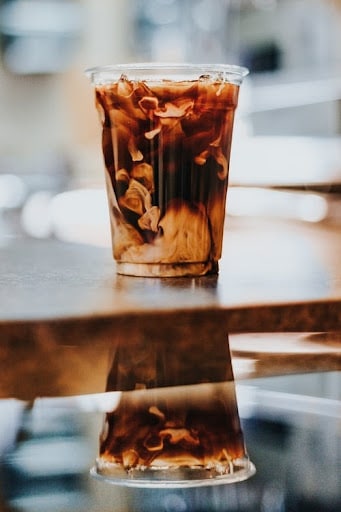 Order up a bag of Bizzy, and you'll be in the cold brew business. It's engineered for the cold brewing process and coarse ground to give you a consistent, extra-smooth drink.
To control the strength of your cold brew, play with your water ratios. Less cold water for stronger, more water for a weaker brew.
(Note: you can use room temperature water, but you'll want to get your cold brew in the fridge ASAP.)
The arabica beans used in their cold brew coffee beans come from Peru, Guatemala, and Nicaragua. It's a medium roast coffee with a flavor profile of sweet caramel and luscious hazelnut.
Bizzy markets to "busy" people and want you to have the best coffee beans for the best price. So, get more done with a cup of their cold brew in hand, "time to get Bizzy."
You can buy a one-pound bag of this smooth and sweet pre-ground coffee on Amazon for under $15.
Key Features:
100% arabica beans
USDA Organic
Ethically sourced
Sustainably produced
Coarsely ground
You can read more about Bizzy's sustainability practices here.
---
6. Lifeboost Single-Origin
Claiming to be the healthiest coffee, Lifeboost wants to provide you with a cup of coffee that will inspire you to be better than yesterday.
Mycotoxins are fungi, but through third-party testing, Lifeboost guarantees your daily fix is mold-free. Their certified organic coffee beans are single-origin, never a blend of different coffees from varying regions.
They offer light roasts, medium roasts, dark roasts, and even espresso. But the one we recommend for your cold brew needs is the medium.
The cold brew process coffee is already said to be lower in acidity, but this Lifeboost coffee is also low acid. So if you suffer from GERD or heartburn, this coffee may be a more acceptable choice for you.
Try a bag of Lifeboost risk-free for 30 days. It is one of the more expensive bags of coffee on our list. At $2.91/ounce, a 12-ounce bag will run you around $35. It's worth the investment if you love it and it helps your health, though!
Key Features:
Single-origin
Low acid
USDA organic
Non-GMO
3rd party tested for mycotoxins & pesticides
Need a New Espresso Machine? We review the Sowtech.
---
7. Cold Brew Lab
Not just for science geeks, Cold Brew Lab is custom-crafted for the cold brewing method.
Medium and dark roast Colombian Supremo beans make up this coffee blend. And, you can even use it in your French press (or make cold brew in your French press!).
It makes for a strong, bold cup of coffee. Enjoy a well-rounded, smooth, low acidic, yet full-bodied coffee flavor.
Want to get fancy with it?
Add your favorite milk (non-dairy or regular), a flavored syrup, and some ice cubes for a barista-style iced coffee at home!
Stock up with a two-pound bag of coarse ground coffee from Cold Brew Lab for around $25.
Key Features:
100% arabica
Pesticide-free
Extra coarse grind
USDA certified organic
Fresh-roasted in NYC
---
8. Wink Coffee Cold Brew Reserve
Comparable to Cold Brew Lab, Wink Coffee engineered its cold brew blend of single-origin beans. It's a medium-dark roast, meticulously roasted, to bring you that smooth cold brew experience you crave.
The coffee flavor is of sweet caramel with a touch of hazelnut, mmm.
You'll also need to grind it yourself, so remember to use a coarse grind for the cold brew method!
Pick up a mighty 2.2-pound bag of this whole bean coffee for under $18 on Amazon.
Key Features:
100% arabica beans
Single-origin (Colombia)
Small batch roasted
Airtight zippered bag
Sustainable
---
9. Cameron's Vanilla Hazelnut Cold Brew
We felt it was only right to include at least one flavored coffee pick for our cold brew list!
You've likely seen Cameron's Coffee all over your local grocer's shelves. That's because it's wicked affordable, and their flavors are nothing but fun, fun, fun.
They jumped on the cold brewing method train by offering their vanilla hazelnut blend. Grind size — coarse (of course, of course).
Order a nutty and sweet 12-ounce bag off Amazon for only $0.69/ounce. That's under $9! Or pick up a bag the next time you grab some essentials from the grocery store.
Key Features:
Allergen-free
Gluten-free
100% arabica beans
Sustainably sourced
Small batch roasted
---
10. Starbucks Cold Brew Pods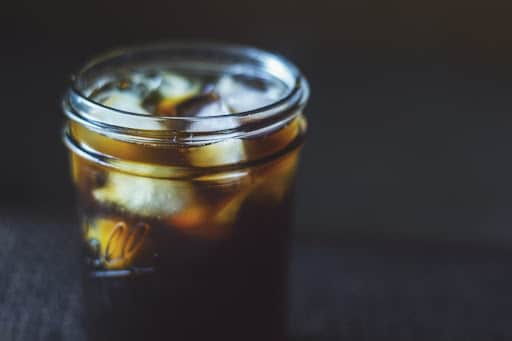 We like to include something for everyone, so here's lookin' at you, pod-ner. Starbucks has put together its signature black coffee into 1.35 fluid ounce pods.
The best part about these pods?
No Keurig is necessary!
The pods have cold brew concentrate packed inside. Peel open, pour over ice cubes and add up to eight ounces of water.
It's delicious and smooth with subtle yet sweet chocolatey notes.
It's also way more cost-effective to buy these pods than order a cold brew from Starbucks every weekday. Each box is only six pods, so we recommend buying this six-box deal off Amazon to get 36 drinks. At this price point, each cold brew will cost you only $1.33!
---
11. Chameleon Cold Brew Concentrate
Prefer your cold brew, not from a pod?
Chameleon has you covered. One 32-ounce bottle of their cold brew concentrate is enough for eight glasses of delicious coffee.
Their concentrate comes from 100% organic and fair trade certified Arabica coffee beans. Just mix four ounces of concentrate with four ounces of cold water (or milk of choice!).
Buy a two-pack off Amazon for under $35.
With almost three times as much caffeine as regular coffee, you'll be buzzing your way through the day — chameleon style.
---
Bonus: High Brew Cold Brew Cans
Skip the baristas, the cold brew coffee makers, and the wait-time. With High Brew cold brew cans in your fridge, you'll always feel locked and loaded.
You'll be able to grab and go coffee at any time of the day, even high noon, before anyone can even say, "draw!"
Stock your refrigerator with a 12-pack of eight-ounce cold brew cans for under $40. Plus, you don't have to limit yourself to the black and bold either.
Grab a variety pack, or try one of these awesome coffee flavors:
Bourbon vanilla latte
Creamy cappuccino
Salted caramel
Double espresso
Dark chocolate mocha
Mexican vanilla
---
Conclusion
Cold press is the "hottest" new thing among iced coffee lovers.
Whether you buy the best cold brew coffee maker you can find or you prefer to make your cold brew in a mason jar, the important thing is your choice of coffee beans!