In the world of manual coffee brewing methods, most of us can identify the French press or a pour-over set-up by sight.
If you've ordered a cup of coffee prepared by either of these methods, you already know the flavor beats brewed from a drip coffee maker.
Yet, how do these two coffee makers differ?
Is one superior to the other in terms of the resulting cup of joe?
If we examine the differences between the two coffee brewing processes, will one emerge victorious?
Let's pit them against each other:
The French press vs Pour-Over Coffee.
Get ready for the pros and cons of each, what kind of equipment they require, and what roasts work best for each process!

---
French Press Vs. Pour Over: What's the Difference?
First, the most obvious difference lies in the coffee makers' appearances.
Differences in Equipment
A French press coffee maker consists of two things:
A carafe (usually glass, but sometimes stainless steel or ceramic)
A metal filter attached to the lid, aka the plunger
A pour-over set-up usually includes a coffee dripper and paper filters. Sometimes it uses a carafe instead of a dripper over a mug, like the Chemex.
Neither method requires electricity*, but both need a separate way to boil water — you can't put them on a stovetop!
*Unless you buy an electric French press, that is!
Equipment Recommendations for French Press & Pour-Over
For a reliable French press with a classic look and an unbeatable price, look no further than Bodum's Chambord Press.
We recommend going for the 34-ounce size over the smaller options. You can make less coffee in it if it's only for you, but with a smaller size, you never have the option to make more at once!
Want something a little more durable than the glass carafe style? You can also grab an entirely stainless steel one, like this one from Utopia Kitchen.
If you want a home pour-over set-up instead, the Hario V60 is a popular choice; you'll need to buy the paper coffee filters separately. Then, you can use the dripper directly into a mug or buy a little coffee server to brew into.
Accessories for French Press & Pour-Over
A few accessories that work for both brewing methods (though arguably are more helpful for the pour-over) include:
With a digital scale, you can precisely measure how many grams of coffee (and water) you want to use. Plus, some, like this digital scale from Greater Goods, come with a built-in timer — which is extra handy for dialing in your brew times!
An automatic grinder means you can buy freshly-roasted whole beans and have them consistently ground right before brewing for optimal flavor.
Some gooseneck electric kettles grant you full control over your hot water temperature. The less expensive ones, like this gooseneck kettle from Bodum, simply boil water, but they still give you control over your pouring rate. This is especially helpful when you're "blooming" your coffee during pour-over. (Though you can "bloom" your French press coffee, too!)
Differences in Grind Sizes
There's also a slight difference in the size of the coffee grounds required for each method. French press brewing needs a coarse grind, while pour-over takes medium-coarse grounds.
Differences in Brew Time
Brew time is possibly where these coffee makers are most similar. Both take under five minutes to brew delicious coffee!
French press needs around four minutes of steeping time, while pour-over takes a little less at three to four minutes.
Pour-over is slightly more hands-on for the brewing process, though.
Differences in Brewing Process
For the French press, the coffee-to-water ratio falls around 1:12. Meanwhile, pour-over uses a lower amount of coffee at 1:16.
Flavor/Mouthfeel Differences
When it comes to the mouthfeel, these two brewing methods are rather like night and day.
With pour-over, you can expect a smooth and light mouthfeel. However, the coffee taste will vary depending on what roast you use (light roast is great). Light roasts will give you fruity, floral origin flavors from the region your coffee beans grew in.
The French press is more rich and bold in its mouthfeel. Most people choose medium to dark roasts for the French press. So your coffee flavors will be of darker chocolates, toasted nuts, and maybe even some smokiness.
Now, let's examine the pros and cons of each method.
Related: French Press vs. Moka Pot
---
Pros & Cons of the French Press Method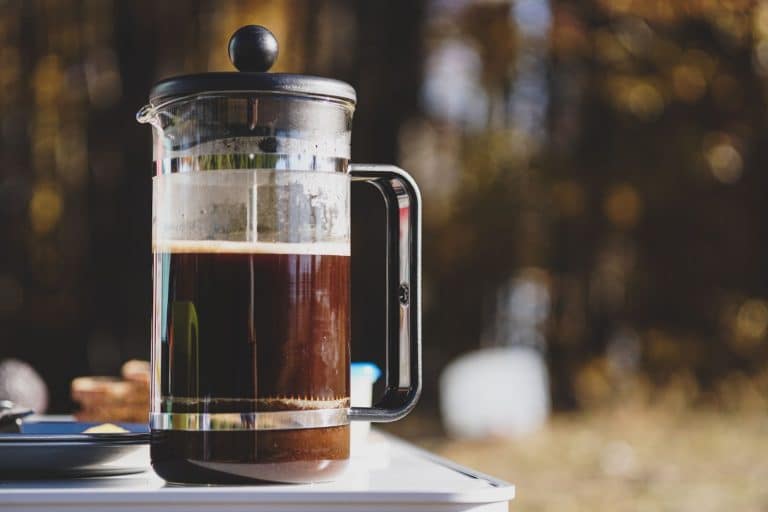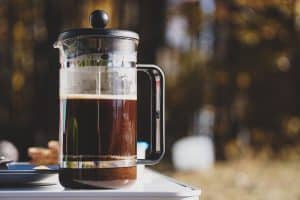 Let's start with the good stuff:
No need for paper filters
Flavorful coffee oils stay in the brew
Ease of use, it's simpler than the pour-over
Larger carafe makes more cups of coffee at a time
Easy clean-up
Can use the French press to make cold brew!
What we find less thrilling:
Sediment in your cup
Slightly longer brewing time
More acidic than pour-over
Related: Full Guide to Making French Press Coffee
---
Pros & Cons of the Pour-Over Method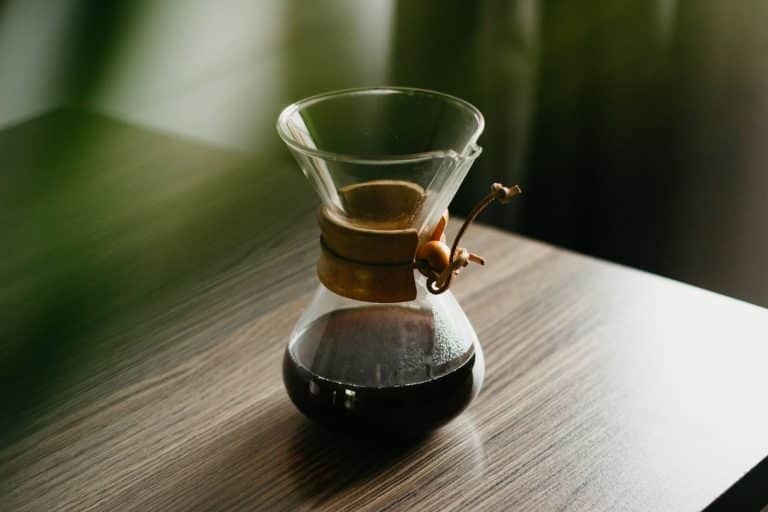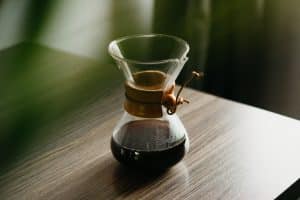 You can probably guess most of the pros based on the French press cons we just covered:
No sediment
Shorter brew time
Easier to clean, paper filters and coffee grinds are both compostable!
Less acidity
Capable of making cold brew
The downsides include:
You'll need to buy paper filters
The paper filters remove the natural oils
More complicated to use
Only makes a single cup at a time
How it Works: Pour-Over Coffee Maker Guide
---
Best Coffee Beans for French Press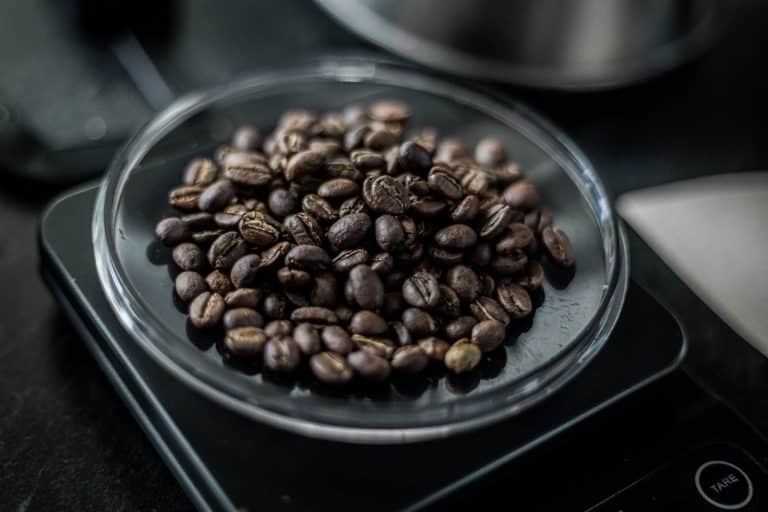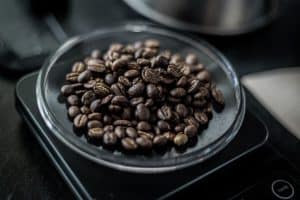 We touched briefly on roasts when we discussed mouthfeel differences. Medium roasts and dark roasts are the usual suspects for French press brewing. This is likely due to darker roasts being oily and easier to extract than light roasts. If you want to make a nitro cold brew at home, the beans also matter.
However, you can absolutely throw a light roast in your French press. The longer brewing process will produce more flavor than if you used a drip coffee machine.
Here are a few of our favorite brands and/or blends from each "roast" category:
Light Roast – Wonderstate Coffee's Kenya Mahiga
If you choose a light roast in your French press, not just any old bag of beans from the grocery store will do.
This light roast hails from Kenya via a 100% solar-powered roastery up in the Driftless region of Wisconsin. Wonderstate describes this one as "bright and punchy" — sounds like your new early morning wake-up wingman!
Let the flavor notes of currant, blackberries, and florals roll over your tongue and awaken your senses.
You can order a 12-ounce bag of whole bean or coarse ground coffee for under $25 (before tax).
Medium Roast – Chamberlain Coffee's Family Blend
Roasted in California, Chamberlain Coffee checks many of the boxes we love to see in a coffee brand. That is, they're organic, they support farmers, and their packaging is sustainable.
Speaking of their packaging: it is truly adorable. Each bag of coffee has a cute cartoon animal like a dog, cat, bird, elephant, or mouse.
The family blend is a warm and comforting medium roast with juicy complexity. You'll experience sweet and fruity tasting notes like chocolate and cherry.
A 12-ounce bag of whole bean or fresh ground typically goes for only $16, but you can get it for less if you sign up for a subscription.
Medium-Dark Roast – Tusk Coffee Company
These special coffee beans grow in Ethiopia (single-origin). They then undergo the roasting process in Savannah, Georgia before making their way to your doorstep.
The owners of Tusk have an honorable goal in mind: to sponsor elephant sanctuaries.
It boasts traditional darker roast flavors of chocolate, nuts, and spice mix with surprising notes of citrus, florals, and even wine. It's Fair Trade Certified, and you can select from a list of different grind sizes or just get whole bean!
Prices start at $16 for a 12-ounce bag of this medium-dark roast.
Dark Roast – Oakland Coffee's Father of All … Dark Roasts
If you're team dark roast all the way, this is a fun one to try. Whether you're a fan of American rock band Green Day or not, their coffee is a force to be reckoned with.
They roast this blend long and slowly to avoid burning. The result is a powerfully dark cup of joe with surprising smoothness.
Even if you wake up feeling like a basket case on the verge of a 21st-century breakdown, one sip of this java will transport you from the boulevard of broken dreams and bid you a warm "Welcome to Paradise."
For just under $16, you can try a 12-ounce bag of whole bean or pre-ground Father of All … Dark Roasts.
For more whole bean coffee recommendations, check our article on the 7 Best Coffees for French Press. Or, if you don't have a grinder, check out our compilation of the 9 Best Ground Coffees for French Press!
---
Best Coffee Beans for Pour-Over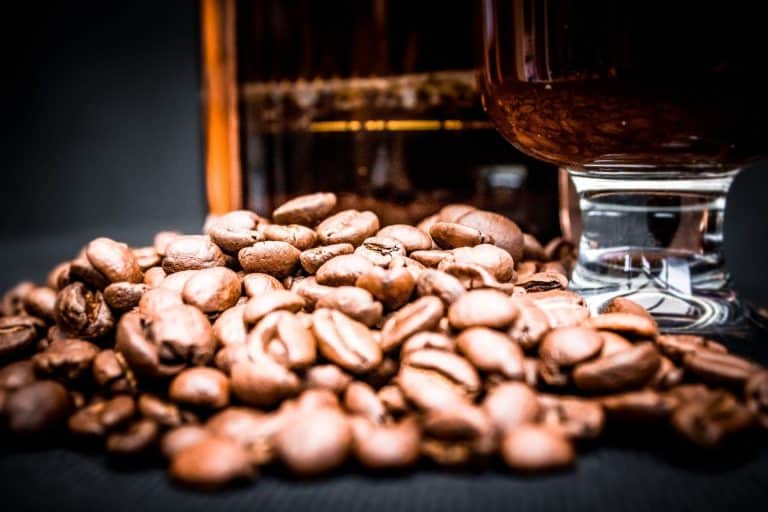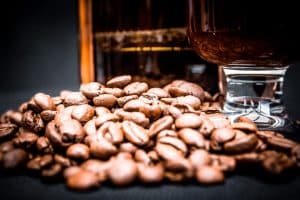 Baristas tend to turn to light roasts for a perfect cup of pour-over coffee. A pour-over coffee brewer allows the delicate origin flavors present in light roasts to really sing. Whereas they'll use Arabica beans for a Turkish coffee maker.
Yet, surprise, surprise, you can also use medium or dark roasts if they're your favorite flavors.
Just like above, here are our brand recommendations depending on the roast level you're looking for:
Light Roast – Grounds & Hounds Single-Origin Mexican Chiapas
What if you could have your coffee and support rescue dogs at the same time?
When you order from Grounds & Hounds, 20% of their profits go toward funding rescue initiatives.
Single-origin means the coffee beans grew and were harvested all in the same region; this one isn't a blend! These Fair Trade certified beans, grown in southern Mexico, have mouthwatering flavor notes of warm vanilla sugar, blueberry, and red velvet.
Single-origins tend to run a bit higher in price, but this one is very reasonable at around $15 for a 12-ounce bag of whole bean.
Medium Roast – Kicking Horse Coffee's Smart Ass Blend
Kicking Horse is here and ready to help you "dust off the dawn."
Their Smart Ass blend of 100% arabica beans is organic, Kosher, and Fair Trade certified. So it's really an all-around great blend for all coffee brewing methods. It even works as espresso or for making cold brew!
You can order a 10-ounce bag of this whole bean coffee off Amazon for only $10 or order directly from the Kicking Horse website, starting around $12.
Medium-Dark Roast – Huckleberry Coffee's Bom Senso
If you want something dark but not too dark, look for coffees labeled as "medium-roasts." The Bom Senso from Huckleberry roasters in Denver is a comforting and rich blend. Each cup includes nutty tasting notes of almond, milk chocolate, and caramel.
You can find this one exclusively through Trade Coffee. You can buy it as a one-time purchase. Or, you can sign up for a Trade Coffee Subscription and get freshly-roasted beans delivered to your door on your preferred schedule!
For a one-time purchase, a 12-ounce bag of Bom Senso is $18.50 before shipping.
Dark Roast – Kona Coffee's Private Reserve Dark Roast
Kona coffee, like those offered by Koa Coffee, comes exclusively from the "Big Island" of Hawaii. Kona coffee grows in rich, volcanic soil. It's then handpicked by farmers whose families have worked these lands for generations.
You can read more about it in our article, The 7+ Best Kona Coffees [Where to Find Them].
Since this coffee is so exclusive, it does come at a high price. An eight-ounce bag of whole bean coffee starts at $30. Or, you can save a few dollars by doubling your order to a full pound for $58.
Did you know automatic pour-over coffee makers exist? Learn more here.
---
Conclusion
To say that one non-coffee machine brewing method is superior to the other depends on what's more important to you as a coffee drinker.
An easier process? A giant cup of joe?
Then the French press coffee maker is your winner.
Want a more involved ritual? Complex flavors?
Then you're a pour-over coffee lover through and through!