Temperature control. Burr grinder. Bloom time.
Do these words mean anything to you?
If you answered "yes," then you're probably all about that home brewer life!.
And your favorite brewing method to play barista with?
Why the manual pour-over, of course!
And this makes total sense to us; the pour-over brewing process makes for a bold, flavorful cup. There's not much better than waking up to a mug full of rich, steaming java.
Did you know that there are automatic pour-over coffee brewers these days?
If this idea has your caffeine senses tingling (or buzzing?), keep reading. We'll take a look at the seven best automatic pour-over coffee makers on the market this year!

---
The Best Automatic Pour-Over Coffee Makers
I've tried dozens of different products, and these machines make the best coffee in my opinion:
The Technivorm Moccamaster
OXO Brew 9-Cup Coffee Maker
The Cuisinart Pure Precision
Kitchenaid 8-Cup Pour-Over Brewer
Breville Precision Brewer
Bonavita Connoisseur
The Redline MK1 Coffee Brewer
I'll give a more detailed review below, but I want to take a second to explain why automatic pour-over coffee makers are so helpful.
---
Why Choose an Automatic Pour-Over Coffee Maker?
If you love the ritual of brewing your own morning coffee, you may be wondering why you'd bother switching out your Chemex buddy for an automatic.
We hear you!
Here are a few points for you to consider:
Saves you time when you're in a rush
Brews multiple cups at a time
Keeps coffee hot until you're ready to drink it
Controlled extraction times
Water temperature regulation
Of course, there are some downsides. The initial purchase is more expensive than manual pour-over equipment, and you're less involved in the brewing process, which many people enjoy.
But automatic pour-over machines aren't fully automated. These coffee makers can't select or grind beans for you just yet!
Interested?
Check out which automatic pour-over coffee machines are topping our best-dressed list this season.
---
Our Top Pick: The Technivorm Moccamaster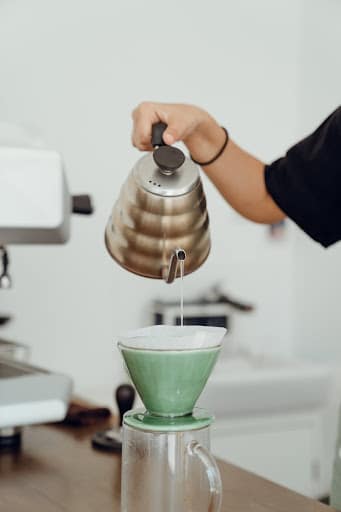 Picture this:
You accidentally "snooze" your alarm clock one too many times. You're running late for work. You know the office has one of those single brewers, fully stocked with various flavored coffee pods.
But you?
You enjoy bold, flavorful coffee. That's why you're a pour-over enthusiast.
Imagine if you had an automatic pour-over coffee maker in your kitchen. Capable of brewing you a fresh cup in four to six minutes at the touch of a single button.
That's right.
In just six minutes, you could be strolling out the door with a full carafe of hot coffee. The thermal carafe will keep your beloved coffee warm while you commute, and it comes with a travel lid for extra convenience.
That could be your life if you bring home the Technivorm Moccamaster. There's a reason why it's one of the Specialty Coffee Association's (SCA) certified home brewers.
But wait, there's more!
The Moccamaster ensures your coffee brewing procedure gets the perfect temperature every time.
The copper boiling element is capable of rapidly heating water and keeping it between 196 and 205 degrees Fahrenheit. It's intelligent enough to know to switch itself off once the water reservoir is empty.
Speaking of the water tank, this one is made from sustainable plastics and durable metal housings. It holds up to ten cups of cool water at a time.
What do other users love about this machine?
The dripless pouring spout and blissfully quiet brewing cycle get a lot of attention!
Pros:
Brews up to 40-ounces at a time
Stainless steel thermal carafe
One-touch operation
Auto-off feature
Five-year warranty
Cons:
The most expensive machine on our list
While this coffee maker generally floats around the $300-$350 mark, you can check the current price here.
Pro tip: Use your thermal carafe plus travel lid to cart cold brew around in the summertime!
---
OXO Brew 9-Cup Coffee Maker
If you've spent any amount of time in the kitchen, there's a good chance you're already familiar with OXO. They make all sorts of great products, from cooking and bakeware to automatic drip machines.
If a $200 price tag is more your speed than the one on the Technivorm, then the OXO Brew may just be the machine for you (hey, that rhymed!).
And just because it's a bit cheaper, that doesn't mean it isn't a high-quality home brewer.
This puppy is also certified by the SCA.
Set this sleek design on your countertop and let its microprocessor-controlled brew cycle play barista for you. It replicates the pour-over method you so love, yet it can produce two to nine cups of coffee at a time! (You know what we say — more coffee, fewer problems!)
The OXO brew heats water and holds it at the perfect temperature for your java. It uses a rainmaker shower head to evenly saturate your coffee grounds, allowing for full flavor extraction.
At-home users report that this machine filters even fine grounds well, is fun to watch brew coffee in the morning (cause the water bubbles around!), and, most importantly, makes great coffee.
Pros:
Double-wall stainless steel carafe
Two-year warranty
BetterBrew™ precision controls
Soft, non-slip grip
Pause & pour feature
Cons:
---
The Cuisinart Pure Precision
Cuisinart is one of those brands that if it were a person, it would be head chef. A long-time leader in kitchen appliances, their 8-cup pour-over coffee brewer is no slouch either.
This is a coffee machine you will want to write home about … or just invite the family over for coffee. You've got a full thermal carafe* of it now, after all!
*Glass carafe available if you prefer.
It normally runs around the same price point as the OXO Brew, but you can check the current price here.
Another SCAA-certified home brewer, the PurePrecision grants you flavor strength control. Choose from mild, medium, or bold for your brewed coffee. Further, it lets you select hot or extra hot for temperature control.
Now you can enjoy coffee-bar quality taste right from the comfort of your own home. Roll out of bed to a waiting full carafe of brew by using the 24-hour programmable timer.
Can't wait for a full pot before indulging?
This baby has that snazzy brew-pause feature many of us are so fond of, letting you sneak a cup before the whole brew cycle completes.
Customers enjoy that it pre-wets the grounds before brewing (that important step we call "blooming"). This pre-infusion impacts the final flavor, making for a better-tasting cup of joe.
Pros:
Charcoal water filter
Comes with paper filters
Programmable auto on/auto shut-off
Self-cleaning feature
Three-year warranty
Cons:
---
Kitchenaid 8-Cup Pour-Over Brewer
Another big name in kitchenware, Kitchenaid offers up its own automatic pour-over brewer. They stuck with the more classic look of traditional drip coffee makers in their design.
This eight-cup brewer is available as digital or non-digital.
Both meet the Gold-Cup standard of the Specialty Coffee Association of America!
But, don't be fooled by its dripper appearance. This machine mimics the manual pour-over process like a well-seasoned barista. All while being fully programmable.
Hello, modern convenience.
This coffee maker heats the water to the optimal range, and no loss of heat during extraction equals a bright, full-flavored cup! Or cups, rather … you can brew up to eight cups of coffee at a time. (For some of us, that's maybe on the low side!)
Pro tip: If you want to ditch the paper filters, you can invest in a reusable metal coffee filter instead.
Pros:
Includes starter pack of paper filters
One-touch medium and dark roast brew settings
1-year hassle-free replacement warranty
BPA-free plastic
Visual display shows you every step of the process
Cons:
One user reported the hot plate coating started to peel
You can check out its current price on Amazon by clicking here.
---
Breville Precision Brewer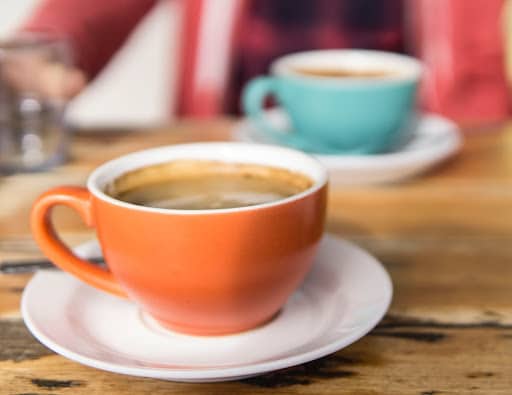 Another amazing option for your automatic brewing needs, the Breville Precision brewer has it all and a bag of chips (not literally).
With a gold cup brew setting, this machine automatically adjusts your water temperature and brew time to SCA standards.
Other preset modes include:
Fast
Strong
Over ice
Cold brew
And my brew
You can customize the bloom time, temperature, and flow rate with my brew, giving you the same control as your manual pour-over method.
Get the coffee taste you know you love best.
The brushed stainless steel looks striking in any setting, and the drip coffee machine itself is easy to clean. The large thermal carafe holds up to 60-ounces, but you can brew smaller batches if you prefer.
This awesomely versatile coffee maker is comparable in price to the Moccamaster; check it out here.
What else do people love about the Breville Brewer?
The carafe is spill-proof and has a wide mouth, meaning it's easier to fill and clean! Read more five star reviews on Amazon.
Pros:
Includes both flat bottom and cone filter baskets
Adjustable digital temperature control
Steep and release valve (patent pending)
Six unique brewing modes
Two-year limited warranty
Cons:
---
Bonavita Connoisseur
Are you ready for this?
The Bonavita Connoisseur is adorable. (And we kind of dig that price tag, too!)
It offers an optional pre-infusion mode, so you don't have to sacrifice your bloom time if that's a dealbreaker for you. When it comes to pour-over coffee, that's a non-negotiable for us personally.
The showerhead design allows even saturation, which we manual pour-over brewers know leads to max flavor extraction.
Very important stuff (sips full-flavored coffee, nods).
Oh, and before you ask, this cutie is up to the SCA's Golden Cup Standard.
Customers appreciate that the thermal carafe keeps their fresh brew hot for up to three hours. You can read more reviews on Amazon by clicking here.
Pro tip: Pre-warm your double-wall carafe with hot water first.
Pros:
Affordable
One-touch brewing
Double-wall stainless steel carafe
Removable parts (showerhead, filter basket, and carafe lid) are all dishwasher safe and BPA-free
Audible signal alerts you when coffee is ready
Cons:
The lid doesn't fit on the carafe when the basket is in place
---
Our Budget Pick: The Redline MK1 Coffee Brewer
For those of us who want good tasting coffee and to respect our new year's resolution of sticking to our budgets …
Enter — The Redline MK1!
Typically available at just over $100, you can't really beat the price. And just because it runs a little cheaper, that doesn't mean you're not going to end up with premium quality tasting coffee.
It has the features we care about most:
Optimal brewing temperature
A pre-infusion mode for bloom time
One-touch operation
A brew pause option
Also, it's just plain stylish!
Redline infuses their designs with vintage car vibes. So you can feel revved up while you're getting revved up.
Coffee drinkers appreciate this drip machine's ease of use, how fast it brews, and that the carafe doesn't leak. Read more reviews on Amazon now.
Pros:
2-year limited warranty (plus, 60-day return policy)
Stylish design
Single switch to brew
Wide-mouth water reservoir for easy filling
Full pot in less than six minutes
Cons:
Uses glass carafe and hot plate instead of a thermal carafe
Another great budget pick is the Bodum Bistro, but sadly it's currently unavailable.
---
Conclusion
Coffee lovers everywhere enjoy the automatic pour-over coffee machine. It's simply the best of both worlds; the convenience of an automatic coffee maker meets the unbeatable flavor of pour-over coffee.
Let the automatic coffee machine handle the brewing temperature, flow rate, and saturation.
In turn, it can free you up to focus on seeking out high-quality beans or finding that perfect setting on your awesome new burr grinder.
Enjoy better-tasting coffee without having to work harder or spend extra time. Now, we can all sleep in and hoist a mug of freshly brewed coffee. No more choosing one over the other!