After you've learned the art of pour-over coffee, it's hard to go back to a drip coffee machine. Pour-over gives you control over so many factors resulting in a better cup of coffee every time.
Yet, this process to brew coffee isn't always the most ideal for busy mornings. What if you could speed things up a bit?
We have good news:
There are automatic pour-over coffee makers!
All the convenience of a drip coffee maker meets all the unbeatable coffee taste of a manual pour-over.
Sound too good to be true?
We thought so, too, until we encountered these quality coffee machines. Get your grinder ready — here's our buying guide for the best automatic pour-over coffee makers and where to find them.

---
What's the Difference Between a Pour-Over Coffee Maker and a Drip Coffee Machine?
Let's clear this important distinction up before we dive into the list (unless you're a coffee drinker in the know, then feel free to skip ahead!).
The most significant differences lie in temperature control and pre-infusion saturation.
When you make a manual pour-over cup of coffee, you control all the brewing process nitty-gritty, like:
The heated water
The flow rate
Even the bloom time
This brewing method results in a high-quality single cup of coffee.
An automatic pour-over machine will mimic this brewing process by maintaining the ideal brewing temperature and pre-infusing your coffee grounds. And you can get a whole pot instead of that single cup.
Drip coffee machines often run cheaper because they don't have the same heating elements and showerheads.
---
1. Top Pick: Technivorm KBT Moccamaster
Certified by the official Specialty Coffee Association (SCA) and handmade in the Netherlands, you've likely already heard some buzz about our top pick.
The Technivorm Moccamaster is an easy one-button operation, perfect for your early morning caffeinating routine.
The stainless steel thermal carafe holds (and keeps warm!) up to 10 cups of coffee at a time. Plus, it has a travel lid in case you need to take your brew on the go.
Key Features:
Five-year warranty
Automatic shutoff after brewing
4-6 minute brew time
The plastic water tank is BPA/BPS/BPF and phthalate-free
Copper boiling element
You can order it in black or brushed silver through Williams Sonoma and get free shipping. Or, if you're a Prime member, you may get it faster by ordering on Amazon (black, brushed silver, or stone grey available).
Either way, the Technivorm Moccamaster will run you close to $330.
Check out their only-slightly-more-expensive KBG model as well for fun, retro color options!
---
2. OXO Brew Precision 9-Cup Coffee Maker
Two of our favorite words when looking at coffee makers:
Fully programmable.
Some of our not-so-favorite words:
Hand wash only.
But, it's a teensy price to pay for all the great features!
The BetterBrew by OXO controls water temperature and optimizes brew cycles. The water is kept in the ideal range of 197.6 to 204.8 degrees Fahrenheit. Whether you set it to make two cups or a whole carafe, the rich coffee taste is undeniable.
We hear it's also great for brewing tea, whatever that is!
Key Features:
Rainmaker shower head for coffee pre-infusion
Pause and pour feature
Double-walled stainless steel carafe to keep coffee warm
SCA-certified home brewer
Two-year warranty
Get this nine-cup automatic pour-over brewer directly from OXO for just under $210 (if it's your first purchase, subscribe to their emails for 15% off). Or, save on shipping if you're a Prime member, and order through Amazon.
OXO is part of 1% for the planet; that means 1% of their annual sales support environmental nonprofits!
OXO also makes great airtight storage containers you can use for coffee beans or coffee grounds. The containers are BPA-free plastic, and they're dishwasher safe. Just be sure to keep those beans out of direct sunlight!
Looking for more coffee accessories for your countertop? Check out a comprehensive list of the best coffee mug trees
---
3. Kitchenaid KCM0801OB Pour-Over Coffee Brewer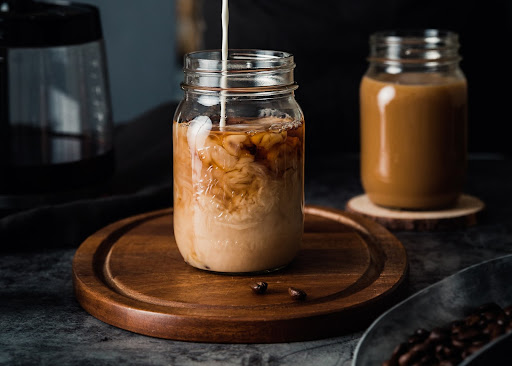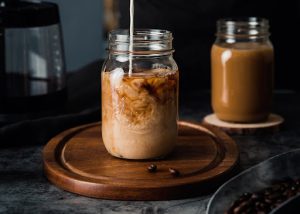 Kitchenaid has always been a leading brand when it comes to kitchen appliances. Get all the pour-over flavor with one touch of a button in their programmable eight-cup coffee brewer.
Key Features:
Includes starter pack of paper filters
Gold cup standard (SCAA certified)
It comes with a coffee scoop
One-year hassle-free replacement warranty
Glass carafe
You can choose between digital or non-digital for this coffee machine for about a $10 price difference. If you go non-digital, this brewer is just shy of $150. Check the price for the digital version on Amazon here.
Want to save some money and help cut back on product waste?
Amazon and Walmart.com both sell "renewed" versions of this coffee maker. You can snag a pre-owned coffee machine for around $90 on Amazon or around $110 from Walmart.
When you buy a renewed product from Amazon, it's backed by a 90-day guarantee and should work and look like new.
---
4. Cuisinart CPO-800P1 PurePrecision Electric Pour-Over Coffee Maker
Another big name in kitchen appliances, no list of the best coffee makers would be complete without a Cuisinart option.
Like the Kitchenaid, your purchase includes a starter pack of paper filters. It has a stainless steel permanent filter basket and is 24-hour programmable.
Also, it has a pre-infusion mode.
What does that mean?
This machine pre-wets your coffee grounds before brewing, allowing them bloom time just like with a manual pour-over!
Key Features:
SCAA certified
Flavor strength brew settings (mild, medium, bold)
Temperature control (hot or extra hot)
Brew pause feature
Limited three-year warranty
You can decide between a glass or thermal carafe since either one boasts an eight-cup capacity, and the price difference is about $20.
If you like to brew coffee and sip it over several hours, we highly recommend the thermal carafe. If you're more interested in saving money, grab the glass option!
Note: The hot plate will continue to "cook" your java after brewing it, resulting in a less desirable coffee taste. That's why opting for a thermal carafe plus a machine with an auto-shutoff is the best move.
---
5. Breville Precision Brewer Pour-Over Coffee Maker
We love this brushed stainless steel machine because it looks straight out of a science lab. In fact, we suggest you get some beaker-style coffee mugs to use with this one.
Science and coffee lovers, prepare to be amazed!
Much like a fancy espresso machine, the Breville Precision Brewer boasts a thermo-coil heating and pump system as well as PID digital temperature control.
The pour-over adapter has a silicone shower head with an adjustable bloom time. That's not all that's adjustable, though; you also can control the hot water delivery speed!
Key Features:
Two-year limited warranty
12-cup stainless steel carafe
Six pre-programmed coffee settings
Adjustable water temperature
Small cup detection
Two of those six preset brewing modes are "cold brew" and "Gold Cup," so this machine has a lot of your bases covered!
You're right; we should tell you the other four presets — fast, strong, iced, and my brew.
What is the My Brew setting, you ask?
It's where the magic happens. Once you've figured out your perfect cup of coffee, you can program and save it!
Customize the parameters, such as:
Bloom time
Brew temperature
And flow rate
If pour-over is your passion, you'll love the customization of this machine. Plus, it costs less than a Technivorm Moccamaster! Check the price on Amazon of the Breville Pureprecision now.
Related: Pro/Con Comparison: Moka Pot vs. French Press
---
6. Bonavita Pour-Over Coffee Brewer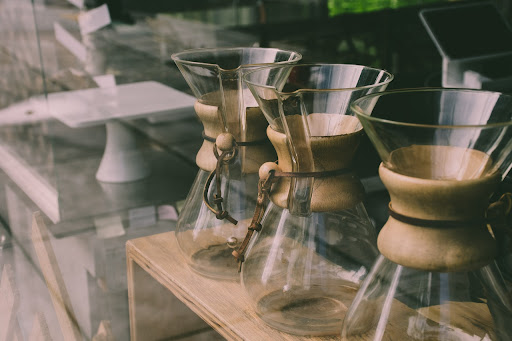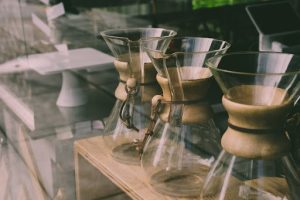 We're pretty sure Bonavita means good life, which is what you'll be living with this automatic pour-over coffee maker. It was independently tested to show it brews Golden Cup Standard coffee (a standard from the SCAA, of course!).
It has all the perks, like a powerful and precise heater to maintain brewing temperatures of 195-205 degrees Fahrenheit. An optional pre-infusion mode with a wide showerhead allows coffee ground saturation and degassing before brewing.
You can expect about six minutes to brew all five cups. You can also expect great coffee!
Key Features:
Dishwasher safe parts: brew basket, carafe lid, showerhead
All plastic is BPA-free
One-touch brew
Automatic shutoff
Two-year limited warranty
Ready for the good life?
You can bring home a Bonavita 5-cup thermal carafe coffee maker (order on Amazon) for only around $130, making it one of the less expensive options on our list.
---
7. Chemex Ottomatic 2.0 Pour-Over Coffee Maker
Looking for something with a different aesthetic?
The Chemex Ottomatic is a true showstopper.
Sleek, minimalist design. Rawhide leather accents (unless you go for a handled option). Iconic glass funnel shape.
Speaking of the rawhide accents, you get to pick your color from a whole slew of options:
Original
Kelly green
Saffron yellow
Gumball orange
Crimson red
Royal blue
Concrete grey
Jet black
What more could you want? Oh, did we mention it makes hot or iced coffee?
It's programmed to heat water to the SCA standard (196.7-204.8 degrees Fahrenheit), has a pre-infusion mode, and its hot plate won't burn your coffee.
Key Features:
A small pack of Chemex bonded filters included
One-year limited warranty
Coffeemaker cleaner included
Auto shutoff for hot plate (after 90 minutes)
Iced coffee mode
Order this elegant coffee machine here. You can get the six or eight-cup capacity classic, with a handle or without, or if you already have a Chemex glass funnel that'll fit it, you can order the machine without the carafe.
The six-cup classic is $350 before shipping, but it's only $2 more for the larger size. Depending on where you live, shipping may bump your purchase up closer to $400, but this one is currently unavailable on Amazon, unfortunately!
What are the best ground coffees for French press machines? Discover our top 9 picks!
---
Bonus: Best Automatic Pour-Over Machine for a Budget
We get it. You want (and deserve!) great coffee but aren't in a position where you can reasonably drop $300 on a new machine. Our cheapest options on the list were the renewed Kitchenaid models.
If buying a used product doesn't feel right either, here's a little something else to consider …
Zojirushi EC-DAC50 Zutto 5-Cup Drip Coffeemaker
Tiny, yet mighty, that's how we'd sum up the Zojirushi. Its compact, space-efficient design makes it an excellent choice for smaller kitchens, apartments, or dorm rooms.
It stands just shy of eleven inches high and about nine inches along its base (with a depth of six inches). It has a five-cup capacity glass carafe with an automatic keep-warm function.
Key Features:
Removable water reservoir
Replaceable water filter
Coffee measuring spoon included
Filter basket sits inside glass carafe
One-year warranty
It's currently 20% off the usual list price of $88 on Amazon, meaning you can order up this little coffee buddy for under $70.
---
Conclusion
Your local barista might miss you cause we foresee you'll be making most of your coffee at home from now on. Maybe pop in your favorite coffee shop from time to time for the odd latte or to pick up a freshly-roasted bag of coffee beans!
Once you've ordered your awesome new pour-over coffee maker, now all that's left is to pick a favorite mug!
Well, and brew coffee, of course.