There's no right or wrong way to take your coffee.
Drinking a cup of black coffee allows all the original flavors in the beans to shine through. Adding a little cream or sugar can play up those tasting notes in a pleasing way.
Then you have your flavored coffees, which are available in almost every dessert flavor you can dream up nowadays!
There's another way you can change your caffeine experience, though — flavored syrups.
Typically these are added to espresso-based drinks, but there are no laws against putting them in your regular brewed or iced coffee.
Whether you have an espresso machine or not, these best flavored syrups for coffee will have you feeling like a bonafide barista.


7 Best Brands of Flavored Syrups
If you've ever peered over the counter at your favorite coffee shop while the barista fixes your flavored latte, you might recognize some of these brands.
Coffee syrups don't need refrigeration and should be stored at room temperature — away from heat sources or direct sunlight. As a general rule, the shelf life of coffee syrup is three to six months after opening. (If using a pump, it's a bit shorter at 1-2 months.)
1. Monin
A company that started in France, Monin's gourmet coffee syrups are well-known worldwide, with a history dating back over a century.
They're committed to environmentally friendly practices, responsible sourcing, and giving back to local communities. Most Monin syrups use pure cane sugar (no high-fructose corn syrup here!) and natural flavors. Specifications are available for every flavor, with most being gluten-free, Kosher, Non-GMO, and free from artificial preservatives.
If you're feeling wild, try their 2023 flavor of the year — hot honey — in your next espresso drink experiment! It sounds more appropriate for chicken over coffee, but you'll never know until you try it!
2. Torani
A certified B corp, Torani syrups started in California (with recipes from Italy!) back in 1925 with five flavors* and has expanded to over 150. Their syrups aren't just great for espresso drinks; you can use these for Italian sodas, fancy cocktails, or even poured over ice cream!
Like Monin, Torani uses pure cane sugar and natural flavors over artificial ingredients. They also offer a sugar-free line of syrups that use sucralose as the sweetener.
They do use some artificial colors in flavors such as cherry, lime, and lemon (you can pick them out easily by their bright color!).
*If you're curious, the five flavors were: Lemon, Orgeat, Grenadine, Anisette, and Tamarindo.
3. Davinci Gourmet
Following the trend of the first two syrup brands, DaVinci has a commitment to sustainable practices like the responsible sourcing of raw ingredients.
Their website has a whole page devoted to recipes; you can use their syrups in everything from pancakes to milkshakes.
If you want to avoid artificial flavors and colors, check out the DaVinci Gourmet Naturals line of syrups.
4. Ghirardelli
Well-known chocolatiers, these products from Ghirardelli are more sauces than syrups. Think thick, chocolatey (or caramel flavor) goodness! If you're feeling fancy, try their Black Label Chocolate Sauce.
You can purchase these in convenient squeeze bottles, which means you can swirl caramel or chocolate around the glass like Starbucks does before adding your coffee drink! They're not only perfect for making mochas and hot chocolate, but you can also top your ice cream or other desserts with them.
Ghirardelli premium sauces are:
Non-GMO
Free from preservatives*
And contain no artificial flavors or colors
*According to their website, two flavors have preservatives: hot fudge and sweet ground sauce.
5. Upouria
With a name that intentionally sounds a lot like "euphoria," Upouria syrups offer a tantalizing line of high-quality flavors ranging from classic to fruity to sugar-free.
Upouria sweetens their syrups with sugar, but some of their fruit syrups do contain artificial coloring if that's a concern for you. (And if you think fruit syrup doesn't belong in coffee, well, you may be forgetting the warm embrace of a raspberry mocha.)
Upouria syrups are made in the USA, gluten-free, and vegan. Their line of sugar-free syrups is also free from calories and carbs, making it friendly for those following the keto diet!
6. Starbucks
If you're a die-hard Starbucks coffee lover, good news! They sell their own line of flavored coffee syrups so you can recreate your favorite coffee drinks (like frappuccinos!) at home.
Bring home Signature Starbucks Cafe flavor in a 12-ounce easy-pour bottle. Available in classic flavors like vanilla, caramel, and hazelnut. Or, if you're watching carbs, grab the sugar-free vanilla instead!
The preservatives used in Starbucks coffee syrup include:
citric acid
sodium benzoate
potassium sorbate
These are fairly common preservatives, but it's worth noting that benzoate and sorbate are considered artificial ingredients.
7. Amoretti
Handcrafted in SoCal, Amoretti's premium syrups run a bit higher in price than other syrups. As a business, Amoretti has been around since 1989. They believe in quality over quantity and produce a whole slew of other products for culinary use (e.g., extracts, food colors, craft purees, and nut flours).
Amoretti's premium coffee flavorings tick a lot of boxes:
Gluten-free
GMO/GEO free
Kosher
Preservative free
No artificial sweeteners*
And they come with a portion-controlling pump!
*Their sugar-free syrups use sucralose, which, while derived from sugar, is not considered a natural sweetener!
Discover: The 11 Best Flavored Coffees on the Market
Popular Coffee Syrup Flavors [+ Brand Recommendations for Each]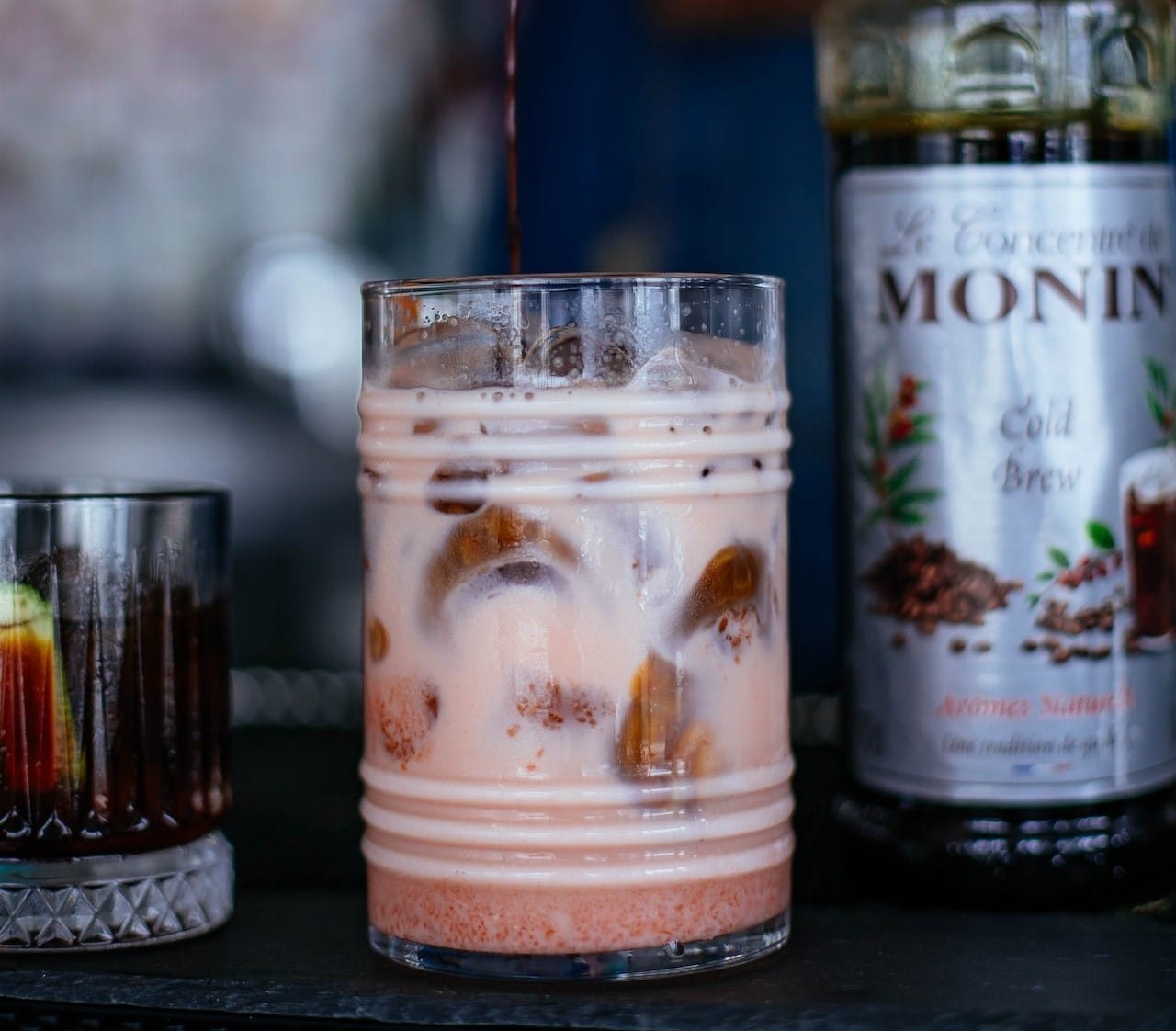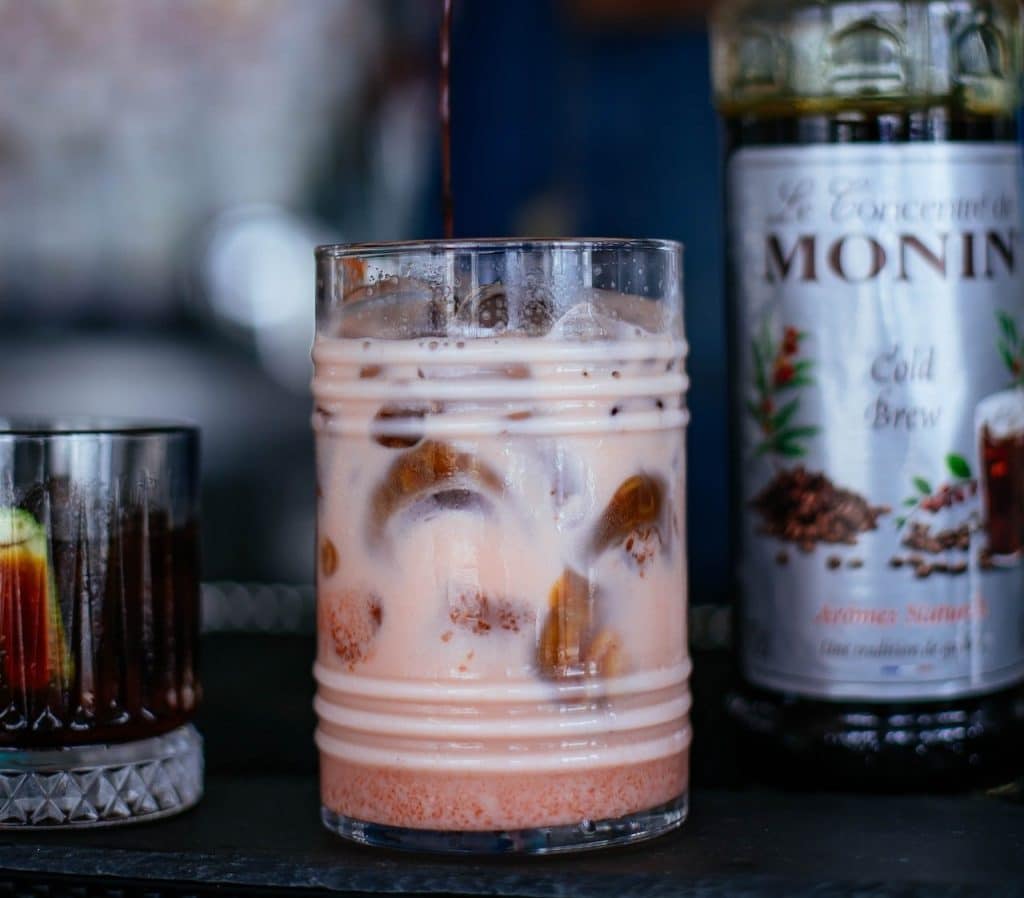 Now for the super fun part, discussing the best coffee syrup flavors.
There are many different flavors that we can't cover them exhaustively here. You'll see the classic picks, of course, and then some of our seasonal faves.
Make your morning coffee or afternoon cold drinks more exciting with these popular flavors.
Best Vanilla Syrups
If you want a basic vanilla, we recommend going for Monin's organic vanilla syrup. You can buy it directly through Monin or order a bottle from Amazon for about $18.
For French Vanilla fans, opt for Torani's 25.4 fluid-ounce bottle. It's well-priced at $15 on Amazon. You'll get the sweet indulgence of custard flavor, plus they throw in a locking coffee syrup pump.
Looking for something extra fancy?
Amoretti's Premium Madagascar Bourbon Vanilla Bean Syrup is waiting to make your dreams come true. Swirl it into your next cappuccino — you won't be disappointed (you can even see the vanilla specks in it). It is a premium price tag, though, at $30 for a 25-ounce bottle.
Best Chocolate and Caramel Sauces
You know we have to give this one to Ghirardelli! Their chocolate, white chocolate, and caramel squeeze bottles are available in an affordable 3-pack on Amazon. At around $22, that's only about $7/bottle!
Each bottle is a full 16 ounces, and they don't require refrigeration. Once opened, though, it's best to consume them within three weeks.
With these decadent sauces, you can make mochas, white mochas, caramel macchiatos, and more!
Salted Caramel
If you can't get enough of salty with savory, we are with you.
For salted caramel coffee lovers, we recommend Monin again here. The 25-ounce bottle will only set you back $13 and boasts a "clean label." That means only natural ingredients such as pure cane sugar, water, natural flavors, and some sea salt, of course!
And we know we already covered vanilla, but we have to let salted fans know that Upouria makes a salted vanilla coffee syrup. You can find it on Amazon for $15!
Best Nutty Flavored Coffee Syrups
Coffee contains naturally nutty flavors, so it makes sense that these syrups complement your favorite hot (or cold) beverage!
Almond and Amaretto
Amaretto is a sweet Italian liqueur, part of its flavor comes from bitter almonds (which aren't actually a true nut!). Amaretto coffee syrup contains no actual liqueur, instead relying on natural flavors to capture the essence.
We like Torani for both Amaretto and Almond flavored coffee syrups. You can find both on Amazon for around $12 each.
Hazelnut
You can't really go wrong with any brand of hazelnut syrup; it makes absolutely delicious coffee drinks. That said, we'll recommend you to Starbucks for this one.
A 12-ounce bottle of hazelnut syrup goes for about $18 on Amazon right now.
Toffee Nut
Mellow nuttiness mixed with sweet toffee, yum! Grab this unique flavor ride from Monin for $11.
Best Seasonal Flavors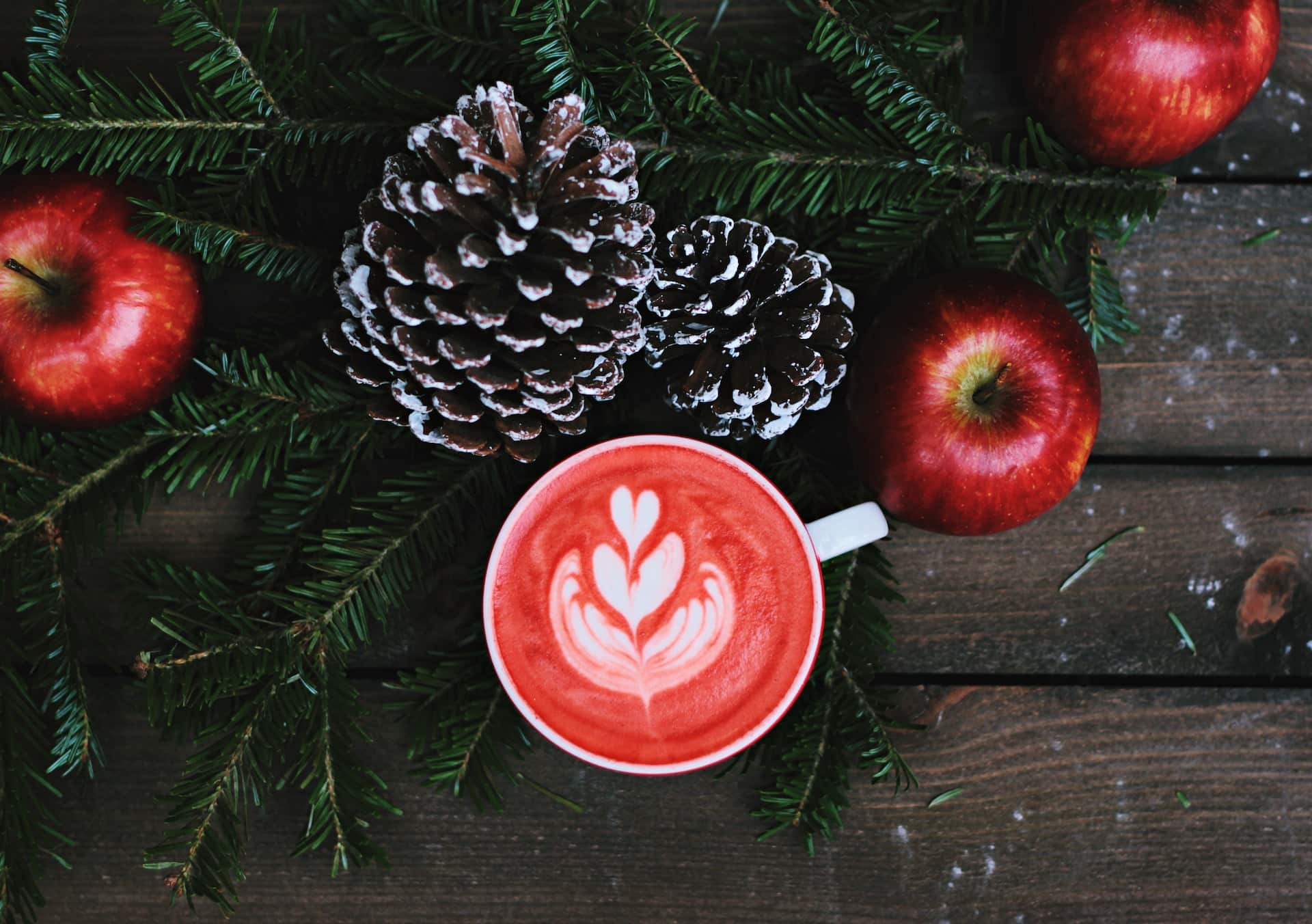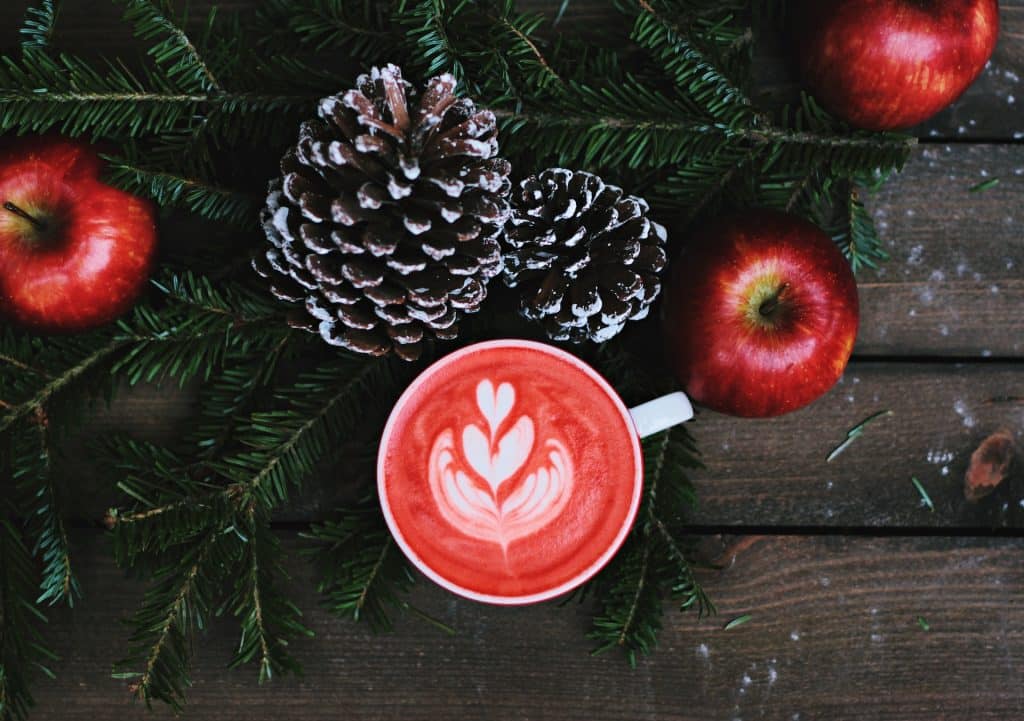 We say seasonal, but we enjoy most of these flavors year-round, to be honest!
Irish Cream
Make St. Paddy's Day even more festive by adding some non-alcoholic Irish Cream syrup to your morning coffee! You can also do Irish Cream sodas for the kids or try one of Monin's fancy recipes, like an Iced Irish Brownie Mocha (you'll need chocolate sauce, too).
Order a bottle now so you'll be prepared for when the Irish Cream cravings hit. It's less than $20 for a 25-ounce bottle on Amazon.
Lavender
Especially lovely in the spring and summer, lavender syrup is rapidly spreading through coffee shops in the form of iced lattes. It's also a welcome addition to cold-brew coffee!
Go with Davinci Gourmet for your relaxing lavender fix. The standard 25-ounce bottle size will set you back $22, but it's well worth the money!
Gingerbread
Merry Christmas! That's what your cup of coffee will taste like when you splash in some gingerbread flavor syrup. A hot gingerbread latte on a snowy, cold winter's day is almost as good as a warm hug from a loved one.
Buy a 25-ounce bottle of Monin's gingerbread syrup for $13 here.
Peppermint
The refreshing, crisp taste of peppermint doesn't seem like a good match for coffee, but mix it with some chocolate sauce (regular or white) and feel your heart melt in your chest from pure bliss.
For your peppermint mocha needs, turn to Torani; they have it for under $11!
Pumpkin Spice
If pumpkin spice lattes (PSLs) top your gratitude list every Thanksgiving, well, did you ever consider the possibility of buying the syrup and enjoying them on demand? Whoa.
Amoretti offers a premium pumpkin spice syrup for around $20. Let the warming spices of cinnamon, nutmeg, and clove cleanse your coffee aura even "out of season!"

Best Sugar-Free Coffee Syrups
Most coffee syrups sit around 20 grams of carbs per two Tablespoon serving. That's why sugar-free options have gained such popularity.
Several of the brands mentioned above carry a line of sugar-free syrups.
Let's talk about a brand that wasn't on the original list that deals exclusively in "skinny" flavored syrups: Jordan's Skinny Syrups.
For sweeteners, you'll almost exclusively find sucralose used in sugar-free syrups, and Jordan's syrups are no exception. Jordan's skinny syrups are made in the USA, Kosher, gluten-free, diabetic, and keto friendly.
They have many flavors, including:
Vanilla
Salted Caramel
White Chocolate
Cinnamon Dolce
Hazelnut
Butter Toffee
Can't decide? Then don't! Get the classic flavor variety six-pack on Amazon for $40.
Are Flavored Coffee Syrups Gluten-Free?
For gluten-intolerant or celiac readers, it's always best to double-check all labels. Gluten can be found in many pre-made sauces, so it's best not to assume that every coffee syrup is gluten-free.
Some of the best gluten-free syrups include:
*Hazelnut and peanut allergens present.

How To Make Your Own Simple Syrup
If you're a DIY-er, you can easily make your own simple syrup at home! That way, you're in complete control of the ingredients and don't have to worry about artificial colors, gluten, or potential allergens.
You only need two simple ingredients.
Ingredients:
1 cup water
1 cup sugar (granulated will work best, brown sugar will work in a pinch!)
Directions:
1. Combine sugar and water in a saucepan over medium heat.
2. Allow the water to come to a boil, then turn down the heat and simmer for 2-3 minutes.
3. Stir until the sugar is fully dissolved.
4. Remove from heat and let it fully cool before transferring syrup to a glass bottle for storage in the refrigerator.
5. Enjoy within a month or freeze for later use.
Swaps and Add-Ins:
You don't have to use sugar; you can make simple syrup with honey, maple syrup, or even coconut sugar. Sugar substitutes can be used for sugar-free options, but their ratio and shelf life may vary from the original recipe.
The easiest way to take your simple syrup to the next level is to add some vanilla extract (or any other extract flavor you have on hand and love)! If using the 1:1 ratio of sugar to water, use one tablespoon of extract.
If adding any flavoring, mix it in after the sugar has dissolved but before you remove the saucepan from the heat. Let it stay on the heat for up to 30 seconds before removing and cooling.
You may also like: How To Make a Spanish Latte at Home
Conclusion
Buying (or making!) flavored syrups to use at home can make your daily caffeine ritual even more special.
Perhaps you'll still drink a cup of black coffee in the morning but in the afternoon?
When that afternoon slump hits, you can turn it around with an ice-cold lavender latte, all thanks to these coffee syrup brands!