If you've been scoping out our brew guides, you'll see we often recommend using a digital scale to get your coffee brewing recipes just right.
Perhaps you've been using a standard food scale, and that's been working out alright.
But did you know there are kitchen scales designed with coffee in mind?
The best coffee scales not only weigh your coffee beans/grounds in grams but also have built-in timers. That means your French press won't over-extract, and your pour-over coffee doesn't end up under-extracted.
Here's our list of the seven best coffee scales, so you can bring one home today!

---
What to Look for in a Coffee Scale
We've broken down the best brewing scales by category, and here's why:
For espresso, you want a scale that's stable for setting your portafilter on and that can do precise measurements.
If you're a manual brewer (pour-over, Chemex, Aeropress, French press, moka pot, etc.), you don't just want high-precision measurements — you want a scale with a timer!
If you use an automatic drip, a timer isn't a selling point, but if the scale was also a grinder …
Lastly, if you just need a scale to measure in grams without breaking the bank, we've included a budget-friendly option at the end.
What is a Tare Button?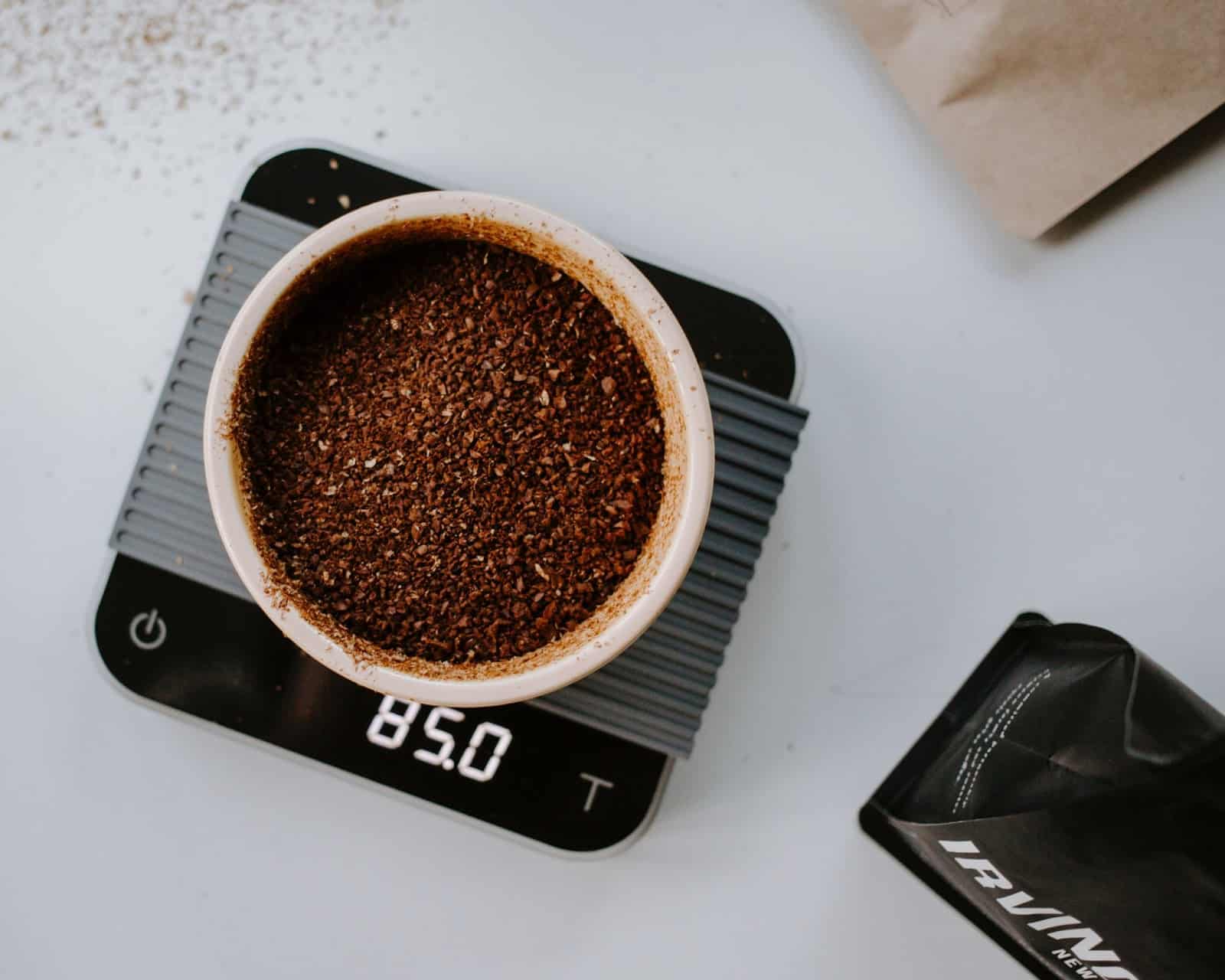 If you're new to scales, you're going to see "tare" mentioned a lot and might wonder what that's all about.
Tare refers to the empty weight of a container. It's the weight that needs to be subtracted from the total, so you know how much your "goods" weigh.
For example, if you're measuring espresso, you would place your empty portafilter on the digital scale and then hit the tare button. Now your scale weight should show zero, and you can start loading your coffee grounds directly into the portafilter.

---
Best Scales for Pour-Over Coffee (Including Chemex)
Both of these digital coffee scales meet the criteria listed above for what to look for if pour-over is your go-to coffee brewing method. Great coffee starts with good coffee gear.
HarioV60 Coffee Scale
You might recognize the name Hario V60 from their super popular ceramic coffee drippers. Turns out, they make a great coffee scale for pour-over enthusiasts as well!
This coffee scale will turn off after five minutes if not in use (but don't worry, this feature isn't active while you're using the timer).
Key Features:
Measures in 0.1-gram increments
Built-in timer
Anti-slip rubber feet
Slim and easy to store
Includes 2 AAA batteries
This scale can be yours for just under $50 on Amazon.
Acaia Pearl Coffee Scale
If you want a scale of the caliber that professional baristas use in their coffee shops, you need the award-winning Acaia Pearl with Bluetooth connectivity.
It comes in classic black, classic white, or pitch black, so it'll fit with any kitchen decor scheme.
Key Features:
Flow-rate indicator
USB-C rechargeable (cable included)
Adjustable backlight for indoor/outdoor use
Heat-resistant pad accessory
1-year warranty
This high-quality scale comes with a higher price tag, of course. Buy one off the Acaia website for $150 (before taxes and shipping).
Wondering about coffee-to-water ratios for pour-over? Read: How to Use a Pour-Over Coffee Maker
---
Best Scale for French Press & Aeropress
Any of the pour-over scales will also work well with immersion brewers like a French press or an inverted Aeropress. However, the Timemore is a more affordable option than the Acaia, with enough features to get your most pressing business done.
The Timemore Black Mirror
Sleek and aesthetic, the Timemore scale is accurate and stable with fast response times (which is pretty much how I'd like the world to describe me, too). It measures in a range from 0.5 grams (minimum initial weight) all the way to 2000 grams.
Key Features:
Auto-off function after 3 min of standby (15 if the timer is going)
USB-C rechargeable (lithium battery life lasts ~10 hours)
Accuracy to within 0.1 grams
Auto-timer
Silicone pad
One caveat: Users of this scale warn that the buttons on the weighing platform are quite sensitive.
Read more reviews or add the Timemore Black Mirror to your cart on Amazon, where it's currently discounted to $58 (regular price point ~$65).
You may also like: Aeropress Vs. French Press Coffee: Which is Better?
---
Best Espresso Scales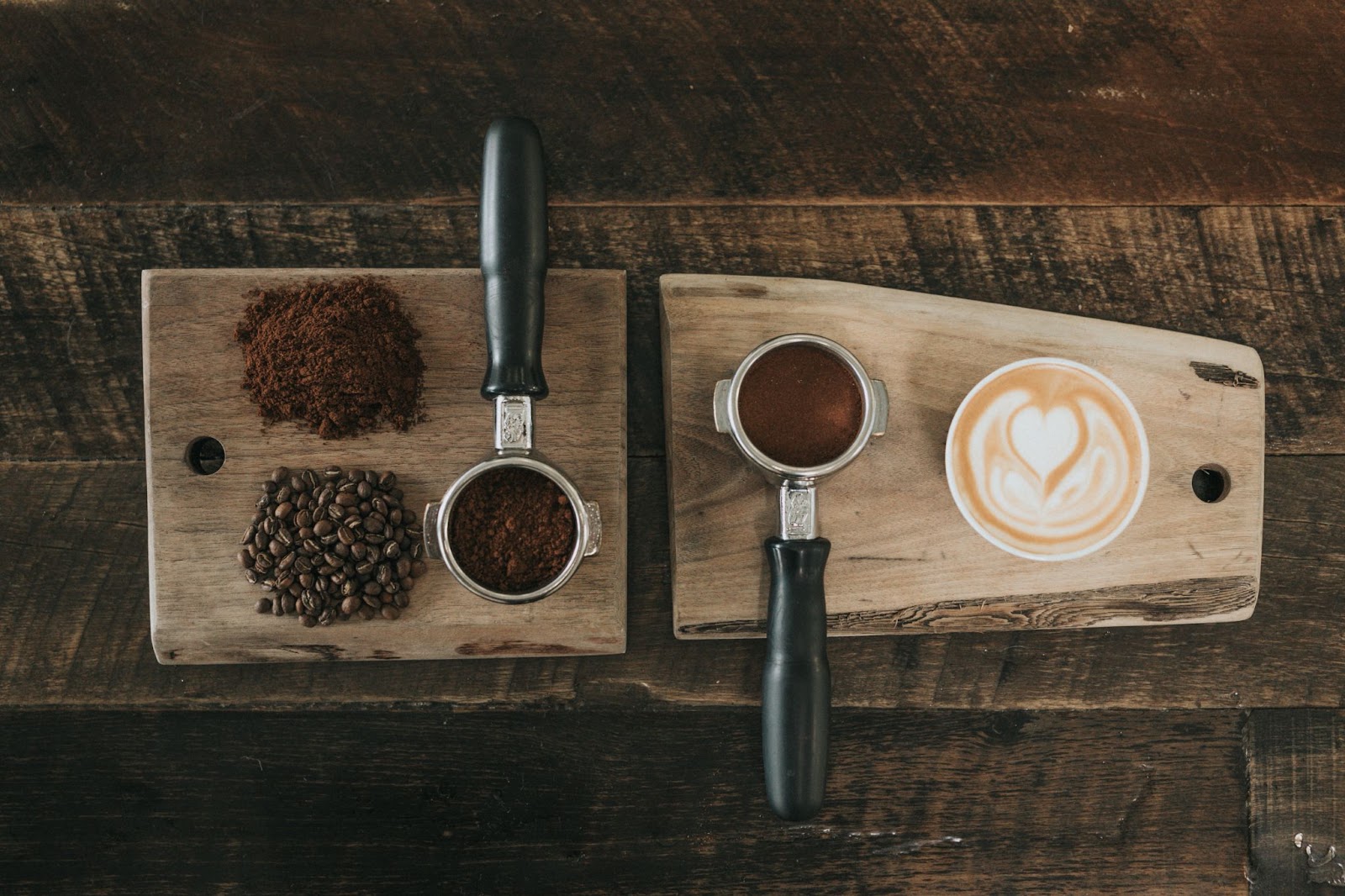 Espresso machines require a fine grind, and what better way to measure out your finely ground espresso than with a top-of-the-line coffee scale?
Acaia Lunar
We love the minimalist look of the Acaia Lunar. But don't let its seemingly simple looks fool you — this durable, water-resistant scale does it all. It's small enough to fit on the drip tray of your espresso machine, measuring your coffee even as you pull your shot.
Key Features:
Real-time flow-rate indicator
Timer
Sensitive enough to log weight changes due to temperature or evaporation
Rechargeable USB-C, lithium-ion battery that lasts 30-40 hours
2-year warranty (covers water damage too)
Mobile app compatible (Bluetooth connectivity)
Pick one up in black, silver, or white off espressoparts.com for $250.
Brewista Smart Scale II
For a professional feel with a smaller price tag than the Acaia, turn to the Brewista Smart Scale II.
Key Features:
USB rechargeable battery
Auto tare function & timer
Accuracy within one-tenth of a gram (2000-gram capacity)
Water-resistant coating
Six different modes (Five for espresso, one for manual)
Buy one off Brewista's website or find it on Amazon for under $90.
---
Best Drip Coffee Scale: OXO Conical Burr Coffee Grinder
If you like to keep your caffeine ritual more hands-off with a drip coffee maker, you can still benefit from a digital coffee scale. We particularly like this one from OXO since it's two things in one (multifunction, we love to see it!).
Are you still buying pre-ground beans and using a Tablespoon to measure out your morning amount of coffee?
While these methods work, switching to grinding your own coffee beans and weighing them could make a world of difference for your tastebuds.
Key Features:
Built-in scale measures grounds by weight
Auto shut-off
Holds 1 lb of coffee beans at a time
38 grind settings*
Low-speed motor (no overheating your beans!)
As far as pricing goes, this is not in our budget section for good reason. Good coffee grinders are an investment, and this one is currently going for almost $290 on Amazon.
*A major selling point if you own many different types of home brewers!

---
Top-Pick for the Budget-Conscious Coffee Lover: KitchenTour Scale
The idea of precisely measuring your coffee appeals to you, yet the price of a fancy coffee scale? Not so much.
We've got you.
The KitchenTour coffee scale offers high precision at a fraction of the price of other digital scales. It has a respectable range of 0.3 to 3000 grams, too!
Key Features:
Waterproof silicone mat (removable)
Backlit reverse LCD screen
Built-in timer
Auto-off time function
Non-slip bottom
Ready for the best part? It's currently over half off on Amazon, going for under $25 when it's usually $50!
---
Conclusion
No matter what brewing process you prefer, Turkish coffee maker or nitro cold brew, there's a coffee scale that can help you out in the kitchen. Keep your old kitchen scale with its slow response time for baking tasks; nothing should slow you down on the quest for your first cup of coffee of the day.