Have you ever seen an under counter coffee maker?
They're not a new concept.
Some have been around so long they're vintage now!
They come in a few varieties, some from major brands you're sure to recognize. But, others may surprise you (looking at you, mountable coffee makers!). And, don't worry, we'll cover which type of coffee maker to get so it won't damage your cabinets.
Small kitchen or not, we love saving precious counter space for our necessary kitchen appliances. This fun list of under counter coffee makers is sure to make you swoon.
Almost as hard as a good cup of coffee!
Get ready to free your countertops without sacrificing your several cups of coffee a day habit.
---
1. BLACK+DECKER SpaceMaker Coffee Machine
The ultimate in space-saving technology.
An "under the cabinet" 12-cup programmable coffee maker that you can mount under your cupboards.
A useful trick for anywhere in your home is to make use of vertical space. This coffee maker does just that by hanging below your cabinet — it eats up zero counter space!
But don't let the fact that it needs installing intimidate you. Black and Decker make it simple with detailed instructions and a mounting template.
You'll need an area 17 inches long, and once mounted, it hangs down about 13 inches. This Black and Decker SpaceMaker is handy for small apartments, office kitchens, or even RVs.
Key Features:
Removable water reservoir
Keep fresh indicator
Sneak-a-cup feature
12-cup glass carafe
Quick-touch programming (auto brew)
Check out what real-life users are saying about it on Amazon.

---
2. Cuisinart Coffee-on-Demand 12-Cup Programmable Coffee Maker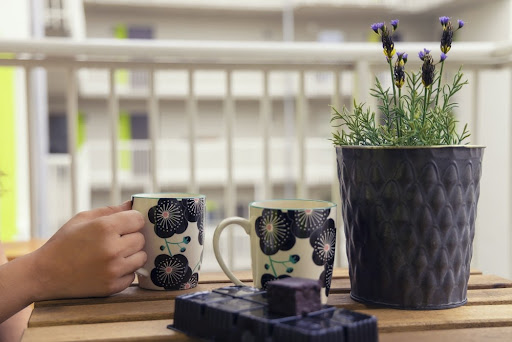 What do we want? Coffee!
When do we want it? On-demand!
That's how we imagined the sales pitch meeting for this Cuisinart 12-cup coffee maker going.
Cuisinart has been in the kitchen appliances business since the 1970s. And if you have other machines from them, we're willing to bet they're your favorite. This brand is reliable, lasts, and looks striking on your countertop.
Their model DCC-3000 machine is fun because it has the feel of a single-serve coffee maker yet the capacity of a regular coffee pot. Meaning it brews a whole batch, keeps it hot and fresh, and you can dispense one mug-full at a time with ease.
It's 100% programmable, of course.
This feature is super handy if you're planning on entertaining and have a lot of other prep work on your plate. Set it and forget it. Then when you're slicing dessert asking, "who wants coffee?" the irresistible scent of fresh brew will already be circulating.
And most important (for our purposes), it does run a little tall but should still tuck well under most kitchen cabinets. 14.7" length by 13.7" width. We love that it doesn't have any awkward angles to work with, though.
Key Features:
Removable water tank
27-inch cord
Self-clean
Auto shut-off
Permanent gold-tone filter
As far as coffee makers go, it's very affordable. Grab yours off Amazon for under $120.
---
3. Mr. Coffee 10-Cup Coffee Maker | Optimal Brew Thermal System
Is there a Mrs. Coffee? Have you ever wondered?
Moving on.
At 13.11" by 14.33", this space saver coffee maker is ever so slightly squattier than the Cuisinart. However, it should tuck under most cabinets and won't claim too much countertop surface area.
What's tired?
Coffee makers with warming plates that burn your coffee before you can drink the whole pot.
What's wired?
Coffee makers with thermal carafes to keep your coffee nice and toasty and fresh for hours while you work from home.
But there's even more to love about the Mr. Coffee 10-cup Optimal Brew Thermal System. Like how the fresh brew timer keeps track of when it made the coffee for you — so kind! And the gold-tone reusable filter cuts down on waste from paper filters and saves you money on every brew.
Key Features:
High 205-degree brew temperature
20% faster than other coffee makers
Thermal carafe/no warming plate
Grab-a-cup auto-pause
Removable water reservoir
At around $70, Mr. Coffee knows how to keep you (and your wallet) happy and buzzing!
---
4. Hamilton Beach 2-Way Brewer Coffee Maker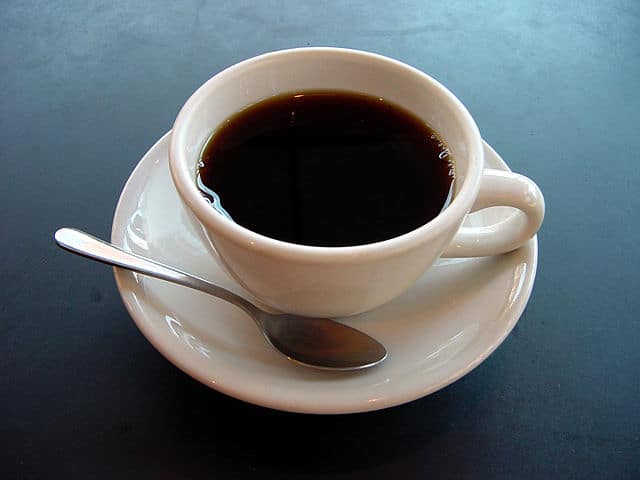 Here's a pick for coffee lovers who prefer to "keep their options open." The Hamilton Beach 2-Way Brewer lets you choose between a single cup or a whole pot. Sleek and versatile, all while being compact still!
It's comparable in size to the Cuisinart, measuring 13.69" by 15.44".
Having the option of a single-cup coffee maker is always appreciated for these on-the-go lifestyles many of us lead. So brew right into your favorite travel mug and head out the door. Or if working from home, brew up to 12 cups of coffee!
One thing to note is that the Hamilton Beach 2-way brewer is not k-cup compatible. Instead, use your favorite ground coffee in the filter basket and select "bold" or "regular" brew strength.
Key Features:
Auto-pause and pour
Brew strength control
24-hour programmable
2-hour auto shut-off
Included mesh coffee scoop
Order a 2-way brewer off Amazon for under $70.
Searching for the Best Light Roast Coffee? We found 8 of the best light roast coffees on the market.
---
5. Ninja CE251 Programmable 12-Cup Brewer
Best known for their blenders, Ninja is also in the business of coffee makers!
It's ready to snuggle into a cozy corner on your countertop at 8" x 10" x 14" dimensions. Then, program your Ninja 12-cup coffee machine to brew coffee before your feet even hit the floor in the morning.
Now, that's what we call living!
The 12-cup glass carafe has a flavor straw that keeps coffee circulating while brewing to keep every cup flavorful. An advanced broiler means every cup of coffee will be piping hot!
Lastly, Ninja throws in a coffee scoop that has its own storage space on the coffee maker. A place for everything, and everything in its place — we dig that.
Key Features:
Dishwasher-safe
Delay brew
Custom brew strength options
Adjustable warming plate
60-ounce removable water tank
Available on Amazon for around $100.
---
6. DeLonghi BCO430 Combination Pump Espresso and 10-Cup Drip Coffee Machine
If your go-to cup of coffee is a cappuccino, you need an espresso machine!
DeLonghi delivers with their combination pump espresso and 10-cup drip coffee machine. You'll love playing home barista with the frothing wand.
The brewing options are endless with this combo machine: Americanos, cafe au laits, lattes, and more.
Key Features:
Gold-tone filter
15-bar pressure
Removable 40-ounce water tank
Manual frother
Brew pause feature
Espresso machines can be pretty pricey, but you can order this one off Amazon for under $300.
---
7. Keurig K-Mini Plus Coffee Maker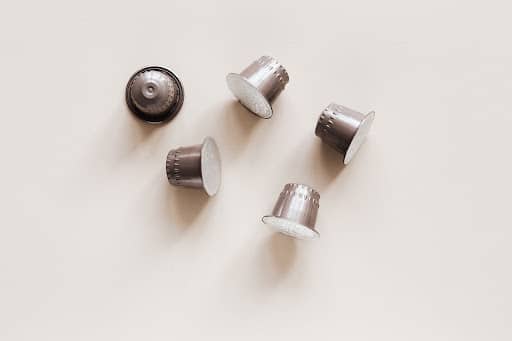 Keurigs are everywhere these days.
Homes, offices, you name it.
They offer a lot of options when it comes to brewers. For our space-saving purposes, we've gone with this super-compact design.
The K-Mini Plus is a single-serve brewer that allows you to choose to brew between six to twelve ounces at a time. It's also travel-mug-friendly with a removable drip tray.
As far as compact coffee makers go, it's pretty elite. The machine is 12.1" tall when closed, 16.8" when you open the water reservoir lid. Meanwhile, the width sits at only 4.5" with an 11.3" depth.
Key Features:
Energy efficient
K-cup & cord storage
Compatible with My K-cup
Matte finish
Removable water reservoir
Pair it with this awesome under cabinet K-cup holder!
Get your K-Mini off Amazon for less than $90.
---
8. Elite Gourmet Americana Combo Coffee Maker
In the market for a coffee maker with a more retro look?
The Elite Gourmet Americana lends mad nostalgia vibes to your home kitchen. And it's not just a coffee maker!
That's right … this baby is a combo.
This multi-functional appliance features a 500-watt toaster oven, a 4-cup capacity coffee maker, and a 5.5" griddle. Now, you can make toast and fry an egg while your coffee brews with this breakfast station hero.
It's only 9.1" tall, making it under-the-cabinet friendly. But you will need a little extra room width-wise, as it measures 15.2" across.
Key Features:
3-in-1 breakfast center
Reusable filter
Compact design
Pause-n-serve function
Removable parts are dishwasher safe
Go retro on your breakfast for less than $55!
Skip the Heartburn. Try our picks for the best low acid coffee.
---
9. Nostalgia RCOF12AQ Retro 12-Cup Programmable Coffee Maker With LED Display
If that last choice got you excited, wait until you get a load of this one. Nostalgia brand, retro series, this 12-cup coffee maker is out-of-this-world charming.
You won't mind giving up precious counter space to this adorable coffee maker since it packs an aesthetic punch. The dimensions are 7.75" by 10.25" by 14.25", so it's still pretty compact and will fit easily under the cabinet.
It has a reusable filter and removable filter basket. The water tank also has easy-to-read markings but is not removable.
Key Features:
2-hour auto-shutoff
Pause & Serve
Anti-drip
Simple controls
Keep warm function
Bring home a heavy dose of Nostalgia for under $120.
---
10. Smeg Drip Coffee Maker
The Smeg Drip Coffee Maker will make you say, "aww."
It's that cute. The coffee maker looks a bit retro mixed with some outer space vibes (in our humble opinion).
It's available in several colors to match any kitchen. You'll be serving drip coffee in style with the Smeg and brewing anywhere from one to ten cups of coffee.
The dimensions are 9.75″ by 10″ by 14.25″. Unfortunately, it does not have a removable water tank (like the Nostalgia above), but you can easily fill it with a glass carafe.
Key Features:
Delicate or Intense strength settings
Auto-start feature
Option to turn off the audible sound
Automatic descale cycle
Scratch, stain, and corrosion-resistant
Grab yours (and check out other Smeg appliances) off the Williams Sonoma website for under $210.
---
11. Mueller French Press Double Insulated 304 Stainless Steel Coffee Pot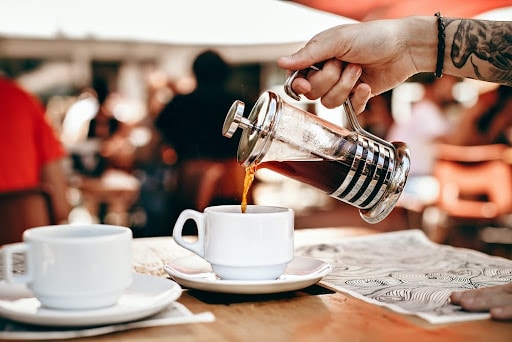 Our list wouldn't be complete without a French press coffee pot. While it isn't a coffee machine, it's unrivaled in the space-saving department.
Without hassle, you can store a French press under, inside, or even on top of a cabinet. The dimensions are a manageable 7.05" by 8.25" when assembled.
This double-insulated European-engineered Mueller French press is sleek stainless steel. We chose it because if you do want to store it out in plain sight — it'll go with any decor!
We love that it comes with a bonus travel-size coffee canister, so you can take your French press on the go (anywhere you have access to hot water).
The stainless steel canister also holds enough beans (or ground coffee!) for two whole batches, perfect for a quick camping trip.
Key Features:
Dishwasher safe
Drop/Rust Proof
Travel-friendly
Multiple-use
Affordable
It's also the most budget-friendly option, so snag yours off Amazon for around $30!
Need a grinder to go with your French press purchase? Check out this manual burr grinder.
---
Conclusion
Wave bye-bye to countertop clutter while breathing in the heavenly scent of brewing coffee with one of these mighty machines.
You really can have your counter space and drink your coffee, too, by opting to buy one of these 11 space-saving appliances.
You deserve to have the best coffee every single day at the touch of a button.
Happy caffeinating!