Do you love a steaming mug of light roast coffee, but are less enthused about the heartburn that follows?
Were you recently diagnosed with gastroesophageal reflux disease (GERD)?
Or are you simply trying to be more mindful of your digestive health by choosing lower acid options?
Whatever the reason, don't give up hope! From tips to naturally lowering the acid content of your favorite brew to a list of our favorite brands for low acid coffee — we've got your back.
Keep reading to discover which coffees are the most acidic and whether or not you need to make the switch to a low acid coffee.

---
Acidity Levels in Coffee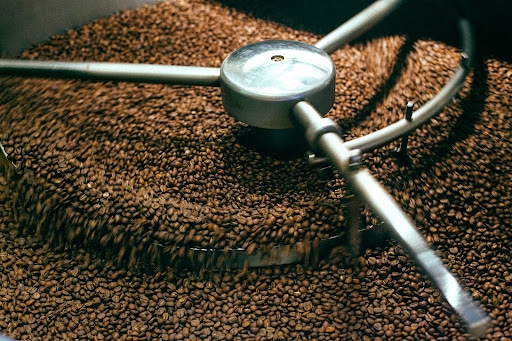 If you drink coffee all day with no problem then you've likely not given much thought to acid levels in coffee. Unfortunately, for some of us, coffee doesn't sit so well.
Some science:
The pH scale goes from zero to 14. Food and beverages with a pH level between zero and seven classify as acidic. Coffee hits around 4.85 to 5.10.
The process of roasting coffee beans and your brewing method both play a role in the acidity of your cup of coffee. Some claim where the beans grow plays a role in their acidity level as well. It appears high-altitude might make for a more acidic cup of joe.
For example: the longer a bean gets roasted, the less acid it ends up containing.
That's good news for dark roast fans!
Acidic Coffee and GERD/Acid Reflux
Gastroesophageal reflux disease (GERD) and acid reflux are two separate conditions. Although, both can often be treated with over-the-counter medications and lifestyle changes (like switching to a low acid coffee!).
Acid reflux is when your lower esophageal sphincter (LES) is weak or fails to tighten properly after you eat. When that muscle doesn't do its job, acid from your stomach comes back up your esophagus — unpleasant!
If you experience acid reflux more than twice a week, you might have GERD. This a chronic digestive issue that affects around 20% of adults. That's pretty high.
Should You Be Drinking Low Acid Coffee?
If you experience discomfort after drinking coffee — absolutely!
For the rest of us, it can still be a beneficial choice.
Just because you don't suffer heartburn or acid reflux after drinking coffee, doesn't mean the acid isn't causing problems in your body.
A low acid coffee might lead to less inflammation and may also be better for your tooth enamel.
How Can You Make Coffee Less Acidic?
A quick way to cut down on acidity?
Add a splash of milk!
Without getting too scientific on you here, the proteins in milk bind to one of the acids present in coffee. This bind makes the chlorogenic acid less bioavailable.
If you're dairy-free, try experimenting with milk alternatives. Soy, oat, or hemp milk are plant-based options that are higher in protein content.
We especially enjoy adding milk to dark roast coffees, which are already lower in acid content.
If you are willing to make the switch to decaf coffee, acid levels in those blends can be up to 15% lower.
Or, another option, how do you feel about cold brewing coffee?
Studies are showing that cold brew coffee has up to 70% less acidity than regular brewed java. (Keep in mind, cold brew is different than iced coffee!)
Based on these facts, picking up a decaf dark roast, cold brewing, then adding a splash of milk may equal the lowest acid cup of joe.
Or you could choose what we feel is the best option:
Look for low acid coffee beans!
To help you out, here are our current favorite low acid coffee brands.
---
1. Tieman's Coffee Fusion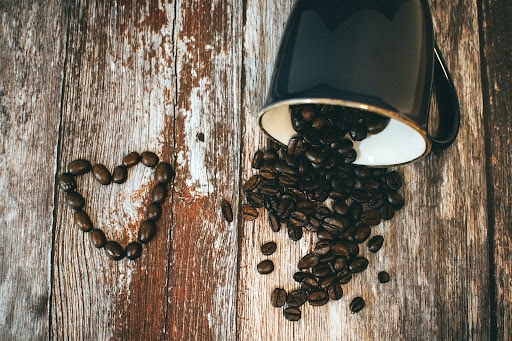 At the top of our low acid list, this dark roast is more than just great tasting coffee. It's a fusion coffee.
What do we mean by that?
Tieman infuses their Arabica bean blend with:
Matcha green tea (for 5-7 hours of sustainable energy)
Goji berry (anti-inflammatory)
Rooibos red tea (for stomach settling)
The dark roast is very dark (like a French roast), but they offer their low acid coffee in a medium roast as well. They have a semi-dark decaf option available as well.
You can buy a 10-ounce bag to try it out and once you fall in love, order it in bulk two-pound bags to save money! Also, you get the choice between ground or whole bean. (Very handy for those of us without a coffee grinder at home.)
We recommend French press, but this coffee tastes great with any brewing method!
Key Features-
100% Arabica beans
Ultra-smooth
Sourced from Central & South America
5x more antioxidants than a cup of green tea
No artificial ingredients
Check the price on Amazon now.
---
2. Puroast Coffee
How much lower in acid content is Puroast compared to regular coffee?
Try 70%!
Puroast's roasters are powered by clean, renewable energy. So, you can feel extra toasty about your daily mug of java.
If you're new to the brand, we recommend checking out their house blend first. But, they have other options to choose from (and a wide selection of decaf).
Their Lost Art blend strikes a fine balance between a dark and medium roast. They have a Colombian Supremo and a Colombian dark roast. There's also an Espresso roast. Or try their organic French roast for those on the hunt for something darker.
For coffee drinkers who love flavor, try their vanilla, hazelnut, mocha java, or nutcracker sweet.
Most blends are available to purchase as 12-ounce bags or in 12, 24, 72, or 96 count single-cup serving boxes.
Whether you do single-brewer, automatic drip, or another method of brew — your stomach will be happy!
Key Features-
Kosher
7x more antioxidants than green tea
Sustainably sourced
Chemical/pesticide free
Roasted using renewable energy
Buy a bag of ground coffee or whole bean Puroast on Amazon now.
---
3. Tyler's Acid-Free Coffee
Coffee lovers with ultra-sensitive tummies, rejoice! Coming in at number three, we have the world's first and only acid-free coffee.
Tyler's organic coffee is single-sourced from farms in Chiapas, Mexico. The price is a bit higher than other low acid coffee brands, but you can expect high-quality beans!
With a unique Z-roasting process and no bitter aftertaste, there's no denying how special Tyler's coffee is. It's even recommended by a doctor of urology.
They claim the regular blend has twice the caffeine of other coffees. So start with one cup or check out their decaf if caffeine is a concern for you.
Available ground (medium to fine), whole bean, or in single-serving cups.
Brew this organic coffee as a pour-over, in your French press, or in your convenient single-brewer at the office.
Key Features-
USDA organic certified
100% Arabica beans
Neutral pH level
Protects tooth enamel
100% money-back guarantee
Check the current price of a bag o' beans on Amazon here.
---
4. Lucy Jo's Coffee
We present to you: Mellow Belly.
This medium-dark roast will rock your world, but not your digestive tract!
Sourced from Indonesia and Brazil, this blend is seriously delicious. Sweet, earthy, and a bit of spice flavor greet your tongue with every smooth sip.
Another medium-dark option from Lucy Jo: Brain Storm.
This blend boasts a nuttier, chocolatier flavor while still being blissfully low acid.
For coffee drinkers seeking a darker roast, try Lucy Jo's Sumatra or French roast blend.
We're partial to a French press, can you tell?
Yet, any which way you brew up these organic beans will result in a fantastic cup of coffee.
Key Features-
Organic
Family-run
Small-batch roasted
100% Arabica beans
Low acid
Ready to buy? Find it on Amazon here.
---
5. Mommee Coffee
It's marketed toward pregnant women, but we think everyone should know about this one!
Mommee Coffee is made to fit every stage of pregnancy. That means you can trust that their low acidity coffee beans have been extra-carefully tested for quality.
The acid content is up to five times lower than most regular coffees. Specifically, it is 60% lower in chlorogenic acid.
What we love most about the brand?
The various caffeine content choices!
You've got full caff and decaf, pretty standard. But Mommee Coffee takes things a step further with half caff and quarter caff options. Their full caff is a medium roast. Half and quarter are medium-dark roasts.
And decaf is their dark roast offering.
If you buy their coffee pre-ground it's a medium grind, best for use in an automatic drip. If you grind your own whole beans, this coffee is delicious as espresso, cold brew, pour-over, French press — you name it!
Key Features-
Organic
Low acid
Fairtrade certified
Founded by women
Available in varying caffeine levels
Check out what this awesome coffee goes for on Amazon.
---
6. Java Planet Guatemalan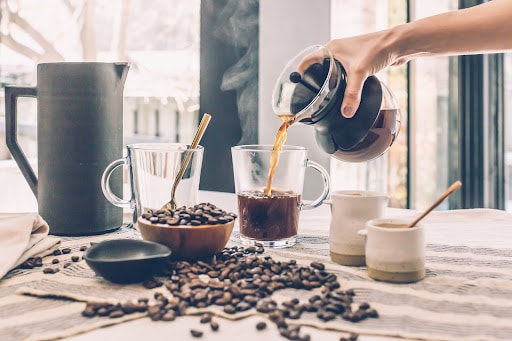 We're choosing to highlight the medium-dark Guatemalan blend today.
Why?
Well, perhaps because we have strong feelings about chocolate and caramel flavor profiles in our coffee.
Combined with a creamy body?
Yeah, major swoon.
That said, Java Planet's Colombia organic single-origin blend is an utter delight as well.
Back to the Guatemala beans. They're shade-grown, under guava, plantain, and banana trees. Lending a delightfully fruity undertone to the otherwise chocolate-y beans.
Java Planet is dedicated to doing what's right for all creatures. Their certifications back their commitment to protecting workers' rights. They also put a focus on protecting wildlife (they're bird-friendly!) and the environment.
How best to enjoy these beans?
Buy a pound of them whole, then grind them fresh to fit your preferred brewing method! French press, drip, or pour-over, your mornings are about to get even brighter.
Key Features-
Single-origin
100% organic Arabica beans
Family-owned
Fairtrade
Rainforest Alliance certified
See a selection of their coffees on Amazon.
---
7. Lifeboost Dark Roast Coffee
Ending our epic list of caffeinated indulgences today, we have Lifeboost.
Sourced from organic farms in Central America, these single-origin beans are shade-grown. They are given the finest treatment from planting to picking and roasting to packaging.
They are hand picked and hand washed. Then they are sun-dried and spring water washed. (That sounds so lovely, right? How do I get that treatment?)
Sustainable farm practices, no use of pesticides, shade-grown, etc.
You name it — they've probably done it!
These pricey coffee beans are even third-party tested for heavy metals, mycotoxins (mold), and more.
How low acid is Lifeboost coffee?
It frequently tests at pH levels of 6 or higher. For reference, water is pH level 7.
If you're feeling nervous about the higher price of these beans, they do offer a 100% no-risk money-back guarantee. You've got 30 days to tell them if this coffee just doesn't do it for you!
Wondering how best to brew up such highly-praised beans?
Any way you grind it, you'll reap the health benefits. So go for whichever method produces your favorite taste. Whether that be French press or shots of espresso, automatic drip, or pour-over!
Key Features-
GMO and pesticide free
Single-origin
Sustainably farmed
Tested for mycotoxins
Fairtrade
Want gourmet coffee delivered to your door fresh each month?
Sign up for a subscription on Lifeboost's site now.
---
Conclusion
When you switch to a low acid coffee, you can have your mug of brew — hold the acid reflux!
We hope one of our seven favorites ends up being the best low acid coffee for your lifestyle.
There are enough benefits to drinking low acid coffee to consider making the switch. Even if you don't struggle with heartburn, acid reflux, or GERD. Your less-inflamed body and strong, healthy teeth will thank you!